Yamaha TTR90 (Seat Height, Top Speed, HP, etc.) – Dirt Bike Worth Buying?
BraapAcademy.com earns a small commission from qualifying purchases.
This does NOT cost you extra.
Have you found a Yamaha TTR90 and you're considering it? Or, do you already own one and you'd like some more info on it? Either way, here is a full Yamaha TTR 90 review that will go over the specs, reviews, pros and cons, and characteristics of this reliable kids dirt bike.
The Yamaha TTR90 is a great overall dirt bike for younger riders, however, it isn't necessarily the best dirt bike for everyone. Not only will we look at the specs and reviews, we'll also cover why this may, or may not, the right pick for you.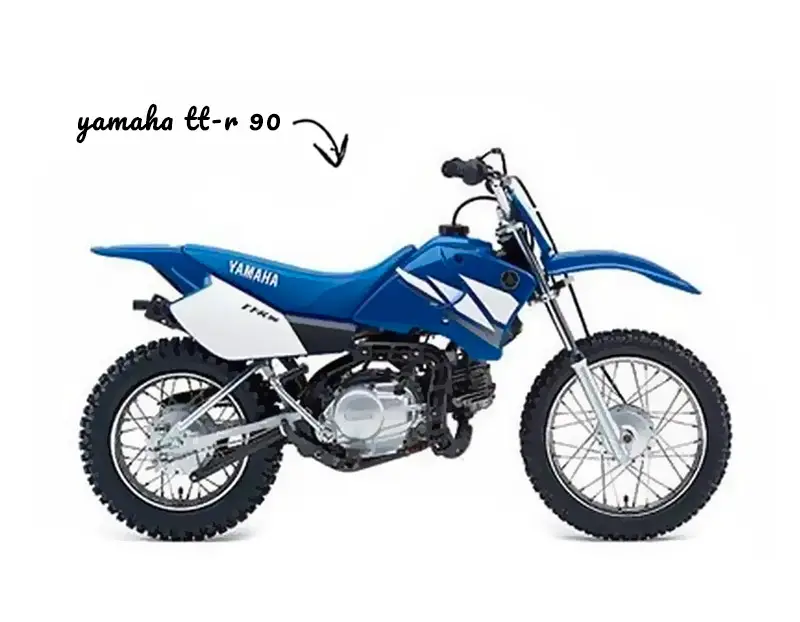 By the end, you should have a good idea of what type of dirt bike this is, what maintenance it needs, how much you should expect to pay for one, and quite a bit more.
---
What is a Yamaha TTR 90?
The TTR90 Yamaha is a 90cc 4 stroke dirt bike made for trail riding and beginners.
It has a nice-and-soft suspension, a good low-to-mid range power, and a short seat height. In addition, it has electric start, which is quite nice, especially young riders.
Yamaha sold the TTR90 dirt bike from 2001-2007, when they released the 110cc Yamaha dirt bike that had an updated motor, body work, and chassis.
Overall, these are great little dirt bikes for cruising around your property and going on adventures in the woods. They can be used as a pit bike for adults, however their are better pit bikes out there.
Who Should Buy?
A Yamaha TT-R90 is a great trail riding dirt bike and a beginners dirt bike. In fact, it's one of the best dirt bikes for 8 year olds, or 10 year olds, depending on the rider's size and ability.
Typically, this bike would fall under the following categories, however, these are just estimates and it ultimately depends on the rider.
Age range: 7-13 years-old
Rider Height: 4'6″ or taller
Again, these are just estimates. If you want an easy-to-ride, good bike to learn, and you're a little taller or a little older, who cares!? This dirt bike could still be a solid choice.
Depending on personality and size, this could be a great dirt bike for a wide variety of people. My first dirt bike was a 1970's Honda XL 175. That was NOT a good motorcycle to learn how to ride on. Eventually, I moved to riding my dad's 1980's XR 200. That was MUCH easier to ride than the older XL.
What's my point? The Yamaha TTR90 is sized, geared, and powered for easy riding and learning on, unlike some other dirt bikes out there.
History
As mentioned, Yamaha TTR 90 history dates back to 2001 when they were first released.
Other than changing out the Yamaha TTR 90 graphics kit and plastics, there really haven't been many major updates to the bike throughout the years.
But here's an interesting fact I found while researching the TTR dirt bike.
What does TTR stand for in a Yamaha acronym TTR 90 dirt bike?
The TT-R acronym means "trails and racing." The TT-R is an upgraded (and updated) version of Yamaha's older TT dirt bike from the 70's, 80's, and 90's. As expected, the "R" stands for "racing" on these dirt bikes because they share similar parts as Yamaha's MX line up.
How do I know all this? I learned this from a guy on Thumper Talk.
Yamaha TTR90 Specs
Here are the TTR 90 specs that I've rounded up from around the web, and the owners manual.
Engine Specifications
Chassis Specifications

Miscellaneous
Okay, so those are the main Yamaha TTR 90 specifications. As a recap, here are the most important TTR90 Yamaha specs that most of us are looking for:
Manufacturer: Yamaha
Model Name: TT-R90, TTR90, TTR 90
Common Name: Yamaha TTR 90
Dirt Bike Type: Offroad, Trail dirt bike, Mini bike
Years Made: 2001-2007
Seat Height: 26.4 inches
Wet Weight: 141 (all fuel, fluids, etc.)
Top Speed: 40-50 mph
Horsepower: 5.5 hp
---
TTR 90cc Engine & Transmission
These 90cc Yamaha trail bikes are known for being one of the best dirt bikes for beginners. And much of that reputation comes from these durable 90cc engines.
Not only are these Yamaha 90 dirt bikes durable, dependable, and easy to maintain, they have plenty of power for young, beginners. These small dirt bikes can basically go anywhere a parent would like their child to go… and probably then some.
Overall, the midrange power and low-end torque that these kids four stroke Yamaha dirt bikes put out is very rideable and controllable.
Does a Yamaha TTR 90 have a clutch? In a word: no. But if you want to get technical, yes the dirt bike has a 3-speed clutch, but it is automatic clutch. 🙂
Horsepower
The Yamaha TTR 90 has 5.5 horsepower. Yes, LOL, not-quite 6 HP. The good news: it's plenty. Believe it or not, the newer Honda CRF 110 horsepower is basically the same, at 6 HP.
All 5 (and a half) of these little ponies help young riders hook up and control their dirt bike much more efficiently than typical race dirt bikes. While the TTR90 definitely won't throw a monster roost like some of the other Yamaha MX bikes, they do provide great control and power.
Due to it being so easy to handle and ride, you'll find that these Yamaha trail dirt bikes will actually make many riders faster through trails and woods than some of the larger, faster models.
Top Speed
Okay, so how fast does a TTR 90 go? A Yamaha TTR 90 top speed is about 45 mph.
When it comes down to it, the final top speed that you're (or your child) is able to reach can, and will, vary slightly. Anything from a rider's size, the terrain, slope, altitude, jetting, and no doubt, a few other factors, will all contribute to either a slower or faster top speed.
Here's a good example of a rider falling right into the top speed on a TTR90.

Of course, there are plenty of modifications that you can do to make a TTR90 faster (or slower). For example, by simply changing out the gearing on a dirt bike can significantly change the maximum speed of a TTR 90.
That said, as long as the dirt bike has stock gearing, a stock Yamaha TTR 90 will go around 45 MPH – plenty fast for a kid's trail bike.
Engine Specs
Engine Size: 89cc (considered a 90cc)
Horsepower: 5.5 HP
Engine Type: 89cc air-cooled SOHC 4-stroke
Transmission: 3-speed, automatic-clutch
Starting: Kick start
Cooling System: Air-cooled
Fuel Capacity: 1.08 Gallon
Fuel Type: Petrol / Gasoline
Fuel Supply: Carburetor
Maintenance
So, just how much maintenance does a Yamaha TTR 90 need? A TTR90 Yamaha dirt bike maintenance schedule (because it's so light) is one of it's strongest selling points. Since these don't need as much maintenance as MX dirt bikes and some of the other higher performance machines out there, they are a breeze to take care of.
What motor oil does a Yamaha TTR 90 use? YamaLube 10w-40
Oil Capacity:
Periodic oil change: 0.85 US qt (0.8 L)
After complete draining: 1.06 US qt (1.0 L)
---
Yamaha TTR 90 Handling
All things considered, the TT-R90 is a good handling beginner bike.
Because of it's low center of gravity and low seat height, young and short riders fond that controlling and maneuvering the TTR Yamaha 90 is easy-enough. Although this Yamaha may not be the "best" handling dirt bike out there, there really isn't anything wrong with it either.
Weight
The cub weight of the Yamaha TTR 90 is 141 pounds. That's light.
In fact, when you compare the curb weight of the slightly larger dirt bikes, you'll notice that the Yamaha TTR 110 weight is nearly 18 pounds heavier, at 159 pounds, and the Honda XR100 weight is even heavier than that, at 174 pounds.
What does curb weight mean? Curb weight refers to how much the dirt bike weighs when ready to ride (90%+ tank of fuel, all oils, etc.).
If you're looking to compare the weights of different dirt bikes, just make sure to compare the dry-weight to dry-weight, or curb-weight to curb-weight.
Does a TTR 110 have a weight limit? Actually, yes. The owner's manual states that the bike is designed for a rider who weighs 88 pounds, or less.
Seat Height
The Yamaha TTR90 seat height measures 24.6 inches off the ground.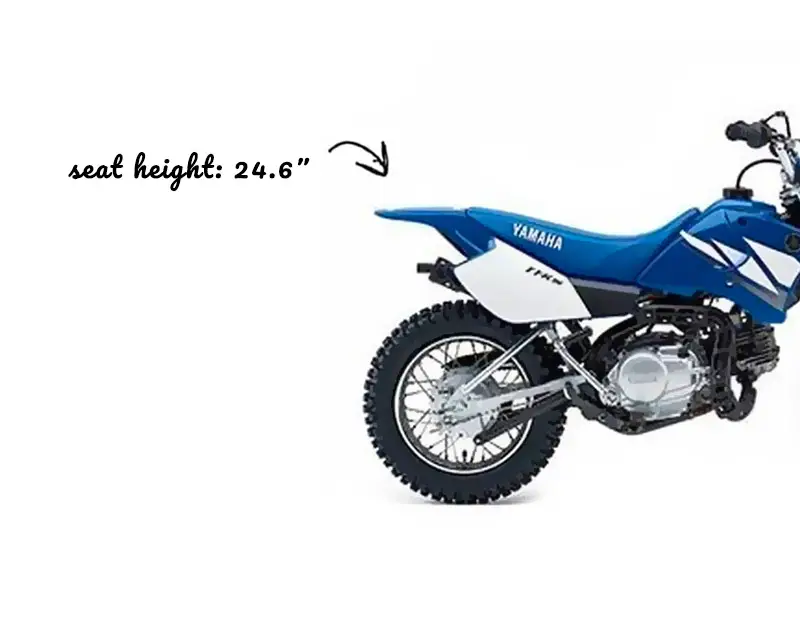 This is a good seat height for 8-10 year olds, or anyone else who's vertically-challenged. Typically, a TTR 90 is good for someone who is around 4'6″ (or taller), but that is just an estimate. By comparison, the KLX 110 seat height is 26.8 inches, and is considered a decent sized dirt bike for anyone who's about 4'8″ tall, or so.
Either way, the low seat height, paired with the low center of gravity and easy-to-control power-band, make for a good Yamaha dirt bike for beginners.
NOTE: It's not common, but if you're shopping for a used TTR90, it is possible that the previous owner altered the seat height. With some adjustments/modifications, the dirt bike could be a little shorter or a little taller. Either way, make sure to have your kid sit on the bike before you buy it… unless it's going to be a surprise.
Suspension
Again, depending on the rider and his/her weight (and the type of riding), the TTR 90 dirt bike suspension does it's job. These small, little kid dirt bikes are designed for light riders (88 lbs or less) and again, they're not motocross bikes with track-ready suspension.
Front suspension: Telescopic fork (4.33 inches of travel)
Rear suspension: Swingarm, (1.89 inches of travel)
A note about the suspension on these dirt bikes: if you are planning on getting your child (or yourself) into racing, and you would like to get a dirt bike that can handle some jumps, whoops, and aggressive braking, the stock TTR90 suspension is probably not going to cut it. And to be fair, the rest of the bike won't either.
Having said that, beginners don't usually ride aggressively, and the soft springs and valving actually make for a better, more controllable ride for most young dirt bikers.
Handling Specs
Chasis
Frame Type: Steel backbone frame
Brakes
Front Brake: Drum, 95mm
Rear Brake: Drum, 110mm
Wheels and Tires
Front Tire Size: 14 × 1.40
Rear Tire Size: 12 × 1.60
---
Is the Yamaha TTR 90 a Good Dirt Bike?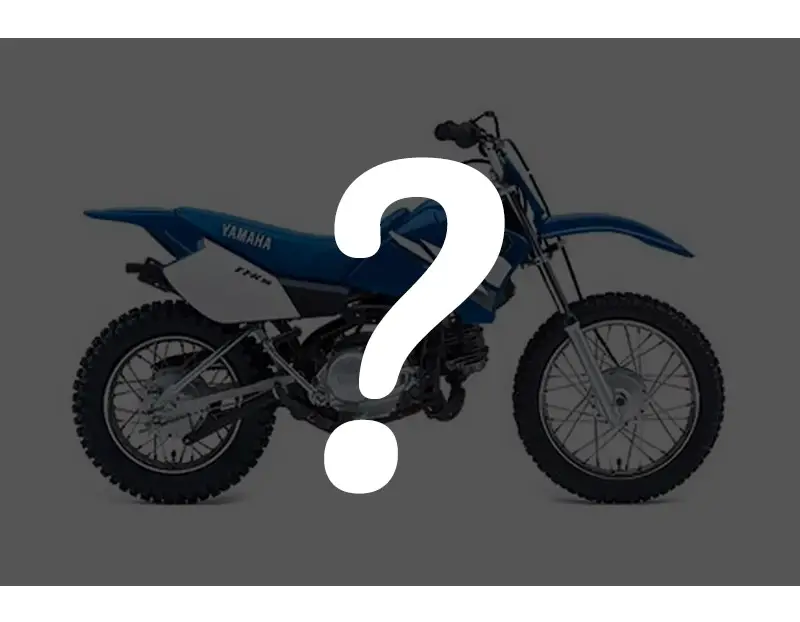 Yes, absolutely. The TTR90 Yamaha is a great dirt bike for 8-10 year olds, and/or those looking to graduate from a 50cc to the next size up.
Naturally, you'll want to take into account the type of riding and the terrain that the bike will be used for, but overall, it is a good dirt bike for kids and beginners. Here are a few more reasons to buy one, and a few reasons NOT to.
Buy if…
You're looking for a good bike to learn on and take trail dirt riding
The bike will be for a rider who's about 4'6″ (give or take a few inches)
You prefer trail and enduro riding over tracks
The rider weighs 88 lbs, or less (give or take a few pounds)
It's designed for a beginner and/or smaller riders
Don't buy if…
You are looking for a motocross dirt bike
Jumping and track riding is important to you
You are not tall, or you want a short dirt bike
You want a 2 stroke
Overall, the TTR 90 is a really good dirt bike for a large majority of young riders. Just remember, it's a piece of machinery that was made by imperfect humans, for a certain type and size of rider, and it will eventually be outgrown.
Of course, it is a dirt bike for kids, so outgrowing is bound to happen.
Positive Reviews
Proven reliability
Beginner-friendly power and handling
Short seat height of under 25″
Good power and torque for beginners
Simple to work on and maintain
Smooth, controllable power from the Yamaha 90cc engine
Can be a decent pit bike
Negative Reviews
Suspension isn't great for big or aggressive riders
Many used TTR's have been neglected (because they run forever)
Not as popular as a KLX 110 pit bike
The updated TTR110 is considered a better dirt bike
Buyers Guide (Best Year, Pricing, etc.)
Okay, so now that we've covered all of the details and specs, let's get to the pricing, years to buy, and what to look out for. First of all, we'll start at where to buy one of these used, and in good condition.
Since these dirt bikes have been discontinued, the only way to buy one is to find a used one for sale.
Where to buy?
Whenever I'm looking to buy a used dirt bike (okay, just about anything) I always check these options first:
Craigslist
Facebook Marketplace
From a friend
Yes, there are many more places to buy a cheap Yamaha TTR90 dirt bike for sale, but I like checking these first. I think you'd agree that seeing a dirt bike in person, sitting on it, starting it up, riding it, inspecting all of the little items like the dirt bike grips, handlebars, dirt bike handguards (if it's got them), and anything else, is a good idea before buying it.
What's the TTR90's best year?
With these dirt bikes, there really isn't a "best year" unless you consider "newer" as better. For the Yamaha TTR 90 dirt bikes, any year is a good because they are almost identical.
Ultimately, if you can find one with a hour meter for dirt bike installed from new (or close to it), you'll be able to see how many hours are on it. Just remember that if you convert dirt bike miles to hours that anything from 250 – 330 hours is considered high.
The lack of TTR 90 changes by year is by design. I'm sure you've heard the saying, 'if it's not broken, don't fix it?' Well, Yamaha is apparently a true believer in that philosophy.
How much does a Yamaha TTR 90 cost?
Since Yamaha is no longer making this dirt bike, we'll have to figure out what they are selling for used. The good news – figuring out what the Yamaha TTR90 value isn't too much work.
What's a Yamaha TTR90 worth?
If you look up (for example) a 2007 Yamaha TT-R90 on JD Power, you will find that the "suggested list price" of $1,749, and an "average retail" of $465.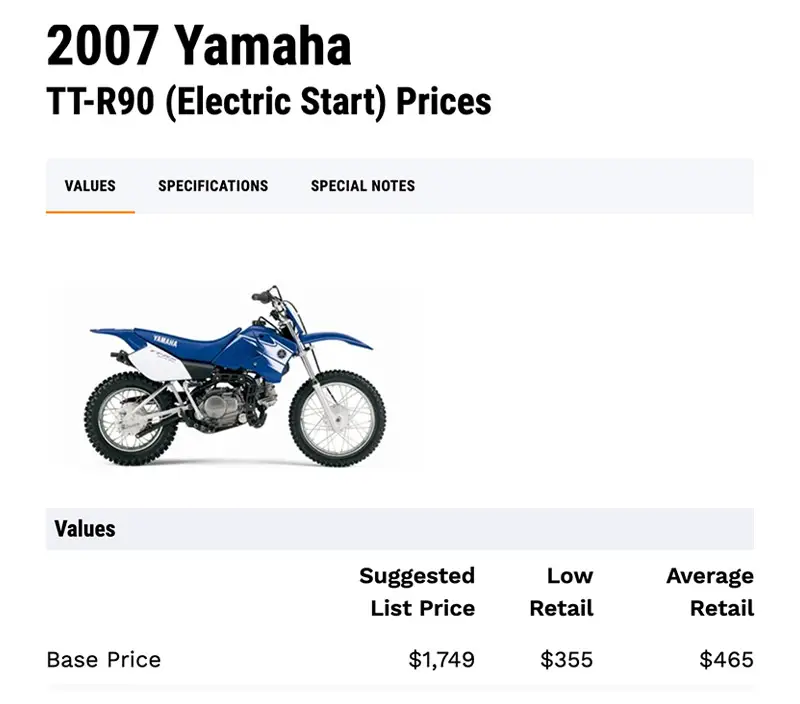 With that $1,749 "Suggest List Price" in mind, I also did a search on Facebook Marketplace to see if I could find any cheap TTR90 dirt bikes on there. Unfortunately, that didn't turn out so well…
I only found one that was less than 250 miles from me. The one that was close did look and sound like a nice dirt bike, but I wouldn't buy it for an 8-10 year old. Here's the ad:
2002 Yamaha TTR90 – $2,200

TTR90, Fast 50's high seat, bar risers with full size Tusk handle bars and new tires front and rear.
There were only three other 90's that I found, but they did sound nice. Again, all three were over 250+ miles away from where I'm at. Anyway, this should at least help form a solid idea of the price range for these bikes.
Here's a list of the other dirt bikes, with their prices.
2005 Yamaha TTR 90 – $1,500
2005 Yamaha TT-R90 – $1,300
2007 Yamaha TTR90 – $1,075
Other than those three, there were quite a few TTR 50, TTR 110, TTR 125, and TTR 230 dirt bikes that came up near me, but only those were the only four 90cc dirt bikes that I found on FB Marketplace.
Here's the ad for the $1,500 TTR:
2005 TTR 90 – $1,500

TTR-90, electric and kick start, great shape just bought my boy a 80 two stroke. Perfect for beginners and or your camp ground fun. $1,500 obo
To be honest, that one looked a bit rough. I'd personally pass on even looking at it. Here's the ad for the other '05:
2005 TTR90 – $1,300

Low hours Electric start, new battery Automatic shift with 3 gears. Has the green sticker. Registration paid in June. Will not respond to "Hi, is this still available" Runs and is in good shape, my son isn't interested in riding anymore is why I'm selling.
This 2005 actually looked pretty good. It did have a little surface rust on the aftermarket exhaust, but nothing major. Plus, it's $200 less than the other '05 model.
I did look at the 2007, but I've got to tell you… it was junk.
After only finding one real contender on FB, I tried searching Craigslist to compare. I found ZERO.
In the end, it looks like the value of a typical used TTR90 is about $1,350. The price range could range anywhere between $1,000 (although typically it's more) all the up to $1,800, possibly more if it's got a bunch of mods done to it.