Kawasaki KLX 230R Review (Top Speed, Specs, Price, etc.) – Worth Buying?
BraapAcademy.com earns a small commission from qualifying purchases.
This does NOT cost you extra.
Are you looking to get a Kawasaki KLX230R or do you have one and you'd like to get some specific specs or details on it? Either way, here's a full Kawasaki KLX 230R review that will cover all of the need-to-knows like the top speed, horsepower, weight, and more.
We will not only look at all of the specifications for the dirt bike, but we will also cover the needed maintenance, positives and negatives… and just about everything else you could need to know about this 230R Kawasaki dirt bike.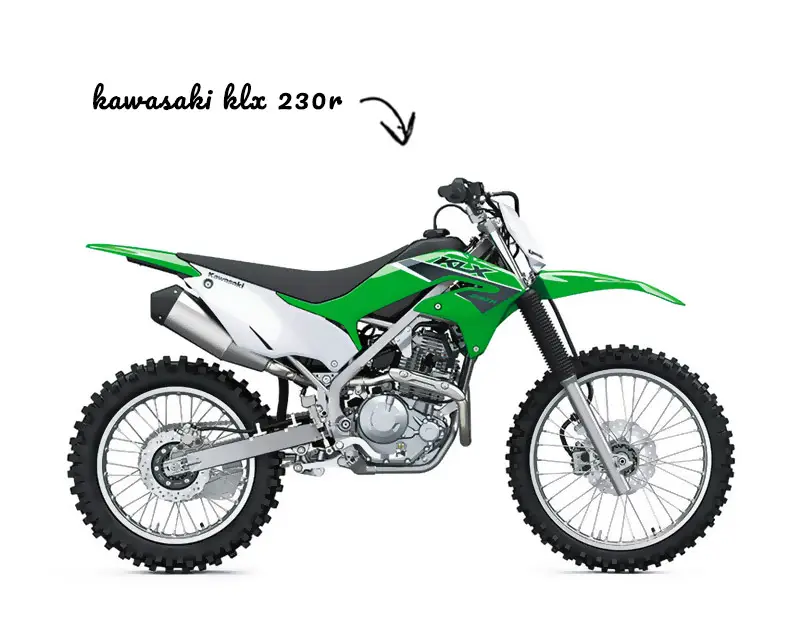 The Kawasaki 230R KLX really is a nice all-around dirt bike, but that doesn't mean it's the best choice for every rider. Because of that, we will look at all of the characteristics that come along with this dirt bike, and we will look at why this would (or wouldn't) be a good fit for what you're after.
---
What is a Kawasaki KLX 230R?
The KLX 230R is one of Kawasaki's entry-level mid-sized dirt bikes. It is a fairly low-budget trail bike (not a motocross bike) that is designed for casual trail riding and just cruising around on and having fun.
There are two different KLX230R models to choose from:
These two Kawasaki dirt bikes are virtually the same, but with different seat heights and overall heights. Mainly, this comes from the different rear shock used on the "S" model that doesn't have as much travel.
Type of Dirt Bike
The Kawasaki KLX230R is a good dirt bike for taking out for easy, casual riding. If you're in the market for well-rounded dirt bike to take up in the woods or cruise around while camping, etc. It is also a solid choice for beginners.
However, the KLX 230R is not a race bike. If you're looking to get into motocross racing or enduro racing, you'd be better off choosing a more high performance machine.
The size, gearing, and power-delivery of these KLX 230R dirt bikes are great for learning. They aren't too peppy, however they're still plenty powerful to get you around the mountain and to have some fun.
History
These 230R Kawasaki dirt bikes haven't been around long, so the Kawasaki KLX 230R history only dates back to 2020. From the first model to today's model, there aren't many differences.
In 2021, Kawasaki released the shorter version of the bike, naming it the KLX230R S.
Kawasaki KLX 230R Specs
Here are the Kawasaki KLX 230R specifications that I grabbed from the Kawasaki website:
Model
KLX230R
Engine Type
4-stroke single, SOHC, air-cooled
Bore and Stroke
67.0 x 66.0mm
Compression Ratio
9.4:1
Fuel System
DFI® with 32mm Keihin throttle body
Ignition
TCBI Electronic Advance
Transmission
6-speed, return shift with wet multi-disc manual clutch
Final Drive
Chain
Suspension
Front: 37mm telescopic fork (9.8 inches of travel)
Rear: Uni-Trak® linkage system and single shock with adjustable spring preload (9.9 inches of travel)
Brakes
Front: Single 240mm petal disc with a dual-piston caliper
Rear: Single 220mm petal disc with single-piston caliper
Tires
Front tire: 80/100-21
Rear tire: 100/100-18
Wheelbase
53.5 inches (1359mm)
Rake (Caster Angle)
26.5°
Trail
4.4 inches
Seat Height
R-Model: 36.2  inches (919mm)
S-Model: 35.4 inches (899mm)
Ground Clearance
R-Model: 11.8 (299mm)
S-Model: 10.8 inches (274mm)
Curb Weight
Model: 253.6 pounds (115kg)
Fuel Capacity
1.7 gallons
Color
Lime Green
I've picked out the important KLX 230R specs that most of us are curious about, and added a few that were not on the Kawasaki website. Here are the remaining items:
Manufacturer: Kawasaki
Common Name: Kawasaki KLX 230R
R-Model: KLX230R, KLX 230R, KLX 230 R
S-Model: KLX230S, KLX 230S, KLX 230 S
Dirt Bike Type: Offroad, Trail dirt bike
Years Made: 2020-2023 (present)
R-Model, Seat Height: 36.2″
S-Model, Seat Height: 35.4″
R-Model, Curb Weight: 253.6 lbs
Top Speed: 65 mph
Horsepower: 17 hp (from factory)
---
KLX 230cc Engine & Transmission
These Kawasaki 230R dirt bikes are well-known for being durable. The straightforward design of these 2-valve engines makes for an easy-to-maintain, long lasting motor. Also, the the low-midrange power from these motors are smooth and controllable, making slower speeds more manageable and fun.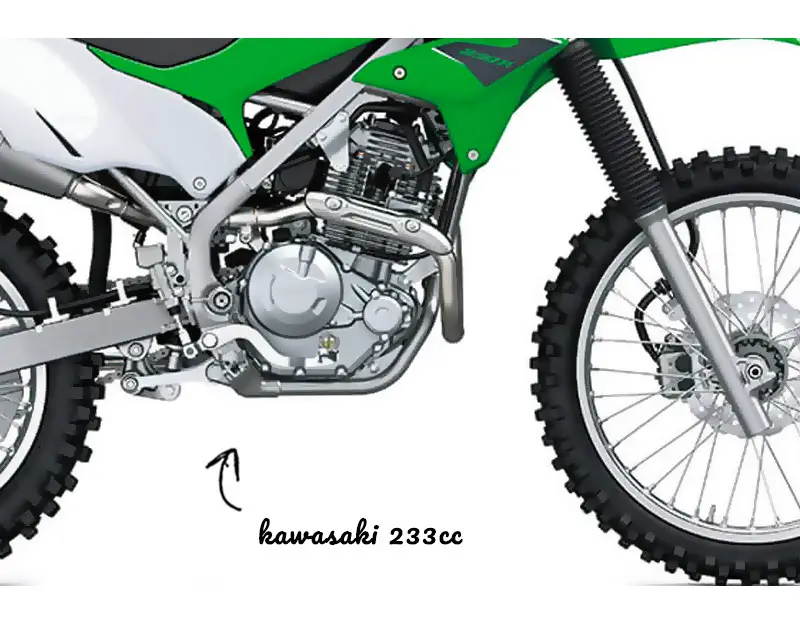 Paired with these 230cc engines, the KLX is equipped with a 6-speed, manual clutch transmission.
Horsepower
A stock Kawasaki KLX 230R has 17 horsepower.
So, just how much is 17 horsepower? By comparison, the Honda CRF230F horsepower rating is only one more, at 18 HP, and it's two more than the Yamaha TTR230.
Even though 17 hp may seem a little low, it's actually a decent amount for this type of dirt bike. It's important to remember what these are designed to do. These dirt bikes from Kawasaki are designed for easy, slow to mid-speed rides. The KLX 230R engines are made to deliver a decent low-to-mid range power that is easy to "roll-on" and control.
Yes, these bikes have plenty of power for cruising around, but they do lack that "snap" power that some of the more high performance models deliver. For example, you may be used to snapping the throttle in order to lift the front tire over a rock or roots… that doesn't really happen on these dirt bikes. It takes a good "pull" on the handlebars and a throwing back of your weight to make that happen on these dirt bikes.
Overall, the 230R KLX is not going to throw a mile-long roost like some of motocross dirt bikes, but again, it is not supposed to.
Top Speed
Okay, so with "only" 17 horsepower, how fast does a KLX 230R go? Good question.
A stock Kawasaki KLX 230R can go 65 mph, give or take a few depending on a few factors. There are many factors that can determine how fast these dirt bikes can go.
For example, a rider's size, the condition of the bike, whether the ground is flat… you get the idea. There are a few different things that will effect the final top speed that you are able to reach on one.
In addition to the "non-bike" factors, there are modifications to these dirt bikes that will also help to determine the top speed. This can be as easy as changing the size of the rear sprocket, front sprocket, or both sprockets. Of course, any boring out the engine could also help.Engine Specs
Engine Size: 233cc (considered a 230cc)
Horsepower: 17HP
Engine Type: 4-stroke single, SOHC, air-cooled
Transmission: 6-speed, return shift with wet multi-disc manual clutch
Starting: Electric start
Cooling System: Air-cooled
Fuel Capacity: 1.7 gallons
Fuel Type: Petrol / Gasoline
Supply: Fuel injection
Maintenance
One of the great things about these trail bikes is how easy they are to maintain.
When it comes to an entry-level, beginner dirt bike, you don't want to spend the same amount of time maintaining it as you do riding it. These KLX 230R S and 230R dirt bikes do not require as much hands-on maintenance as a high performance race bike.
In fact, as long as you keep fresh oil, fresh gas in the tank, the bike should last you a very long time.
What motor oil does a Kawasaki KLX 230R use? Kawasaki Performance 4-Stroke Oil – SAE 10W-40
Oil Capacity:
1.07 L (1.13 US qt) (When filter is not removed)
1.17 L (1.24 US qt) (When filter is removed)
1.30 L (1.37 US qt) (When engine is completely dry)
How much maintenance does a KLX 230R need?
Here is the maintenance list that I took from the owner's manual. This will at least give us a clear view of what the maintenance requirements for this dirt bike are.
Spark plug – clean, gap
Clutch and friction plates – inspect
Clutch cable – adjust
Valve clearance – inspect
Air cleaner element – clean
Idle speed – inspect
Throttle grip play – inspect
Spark arrester – clean
Fuel hose connections – inspect
Evaporative emission control system – inspect (California model)
Brake fluid level – check
Brake pad wear – check
Brake hose connections – check
Spoke tightness and rim runout – check
Drive chain wear – check
Drive chain – inspect, adjust, lubricate
Drive chain guide and slipper – inspect
Front fork – clean and inspect
Front fork oil – inspect
Nuts, bolts, fasteners – inspect
Steering play – inspect
Steering stem bearing – grease
Rear sprocket – inspect
Battery – inspect
Chassis parts – lubricate
Wheel bearing – check
Swingarm and Uni-trak linkage pivot – inspect and grease
Rear shock absorber – inspect
Frame – inspect and clean
Wheels/tires – inspect
I realize that this list looks long. But don't let that intimidate you. Basically, any dirt bike you get will come with an owner's manual that will give you ALL of the maintenance that you should do. That's what the list above is.
What that long list of to-dos does not tell you, is that the KLX230R maintenance schedule frequency is. For each item on that list, the recommended timing of inspection is after the initial (first) 5 hours of riding, and then every six months after that. That comes out to every 50 hours of riding.
Most used dirt bikes don't even have 50 hours of total riding on them.
Does that still sound like a lot? It's not! To compare, a Honda CRF 250RX maintenance schedule calls for these same items to be inspected and/or adjusted after every 3.5 hours of riding. Big difference.
---
Kawasaki KLX 230R Handling
The KLX230R is a decent handling dirt bike, but it's still not the absolute "best" out there. It's suspension and handling ranks mid-pack, but that still translates into an easy, comfortable ride.
Similar to the smaller 110cc KLX, the low center of gravity and low seat height are great for beginner riders. Because of this, the KLX 230R is easy to ride for most adults and teens who are tall (and skilled) enough.
Usually, kids will learn to ride dirt bikes on a 50-110cc before they graduate to a mid-size dirt bike. For example, a kid may prefer learning to ride on a Kawasaki KLX 110 and then slowly stepping up in size to a 140cc before jumping on a 230. In the end, I recommend not pushing your kid too hard. Remember – the goal is to have fun.
Weight
The curb weight of the Kawasaki KLX 230R is 253.6 pounds, unless you purchase the California model, which weighs 262.3 pounds.
Interestingly, both the 230R and the KLX 230R S weigh the same. More often than not, the "smaller" model of a dirt bike will weigh slightly less. For example, the R, L, and F-models of the Kawasaki KLX 140 weight increases the taller/bigger the dirt bike is.
What is "curb" weight on a dirt bike?
The difference between "curb" and "dry" weight is just whether the dirt bike has a full tank of fuel or not.
Knowing this, the "dry weight" on a dirt bike does NOT include the weight of a full tank of fuel. Conversely, the "curb" weight of a dirt bike DOES the weight of the fuel and all other oils and fluids.
Seat Height
The Kawasaki KLX 230R seat height measures 36.2 inches and the KLX 230R S seat height is almost one inch shorter at 35.4 inches.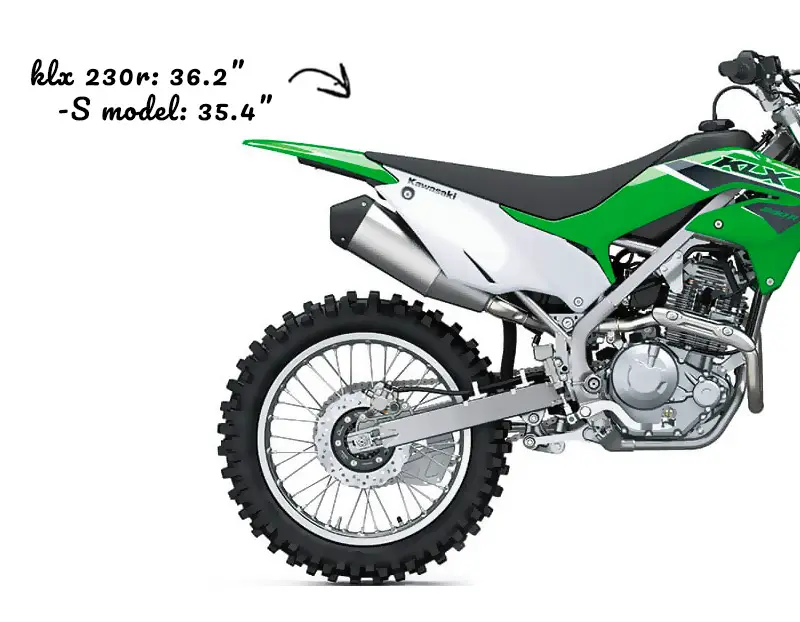 KLX 230R seat height: 36.2 inches
KLX 230R S seat height: 35.4 inches
As long as you're buying a new KLX 230R, or at least, a stock one, this gives you an idea on what size rider is best suited for these dirt bikes.
How tall should you be to ride a Kawasaki KLX 230R?
With this mid-size dirt bike having a seat height at just over 36 inches, a rider who's around 5'8″ or taller. Stepping down to the shorter "S" model would be a good idea for someone shorter than that.
Suspension
Depending on the weight of the rider and what type of riding he/she is doing, the suspension is pretty decent for an entry-level trail bike.
Generally, these mid-size trailbikes have a soft, fairly squishy suspension that bottoms out more-often than you'd like. But that's not the case here.
The KLX 230R Kawasaki suspension is somewhat firm and holds up well, but still provides a nice, gentle feel.
KLX230R Model
Front suspension: 37mm telescopic fork (9.8 inches of travel)
Rear suspension: Uni-Trak® linkage system and single shock with adjustable spring preload (9.9 inches of travel)
KLX230R S Model
Front suspension: 37mm telescopic fork (8.7 inches of travel)
Rear suspension: Uni-Trak® linkage system and single shock with adjustable spring preload (8.8 inches of travel)
Handling Specs
Brakes
Front Brake: Single 240mm petal disc with a dual-piston caliper
Rear Brake: Single 220mm petal disc with single-piston caliper
Wheels / Tires
Front Tire Size: 80/100-21
Rear Tire Size: 100/100-18
---
Is the Kawasaki 230R a Good Dirt Bike?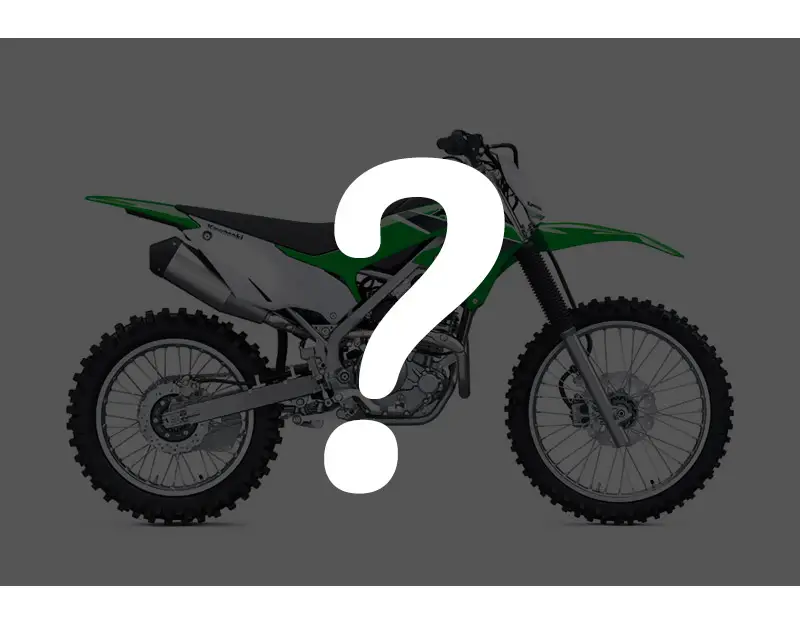 Yes, the Kawasaki 230R is a solid mid-sized dirt bike. As mentioned, it isn't necessarily the right pick for every rider out there.
Who Should Buy
Here are the main reasons one should, or should not, buy one:
Reasons to buy:
You are a beginner just getting into riding
It's a good dirt bike for trails
Easy to work on and maintain
Lasts a long time (with proper maintenance)
You're looking for a cheap, good mid-size dirt bike
A buddy of yours is selling you one and… why not!?
Reasons not to buy:
You want to start racing motocross
Looking for that "peppy" 2-stroke ride
If you want a street legal dirt bike (checkout the KLX 230 dual sport)
Positive Reviews
Okay, overall the Kawasaki 230R KLX is a good dirt bike for what it's designed for. Here are a few of the main positives this bike is known for:
Proven reliability
Beginner-friendly power and handling
Good power and torque for beginner riders
Simple to work on and maintain
Smooth, controllable power from the Kawasaki 233cc
Electric start
Kick stand
Negative Reviews
Again, there's not one dirt bike that can be good at everything. Here are a few of the negatives this dirt bike is known for:
Suspension isn't good for big or aggressive riders
Hard to find used (too new)
Not an aggressive, high-performance machine
Idle can be too high for some riders (prevents stalling but tough downhills)*
*Here's a great Kawasaki KLX 230R video review that addresses the high-idle issue as well as a few others.

Buyers Guide
Are you ready? You've made it this far down the page, so you must be interested, or at least considering one of these. So, now that you've done your research, where's the best place to buy a KLX230R?
The easiest will probably be through your local dealer, but if you're like me, you may want to try to find a nice used one first.
Whenever I'm in the market for a vehicle (ATV, dirt bike, side-by-side, etc.) I basically always look at used options first. There are TONS of dirt bikes out there that never get ridden and are just-as-good as new… but for much less money.
Here's where I always start:
Local Kawasaki dealer (if buying new)
Craigslist
Facebook Marketplace
A friend
Are there other places you can look to find a cheap Kawasaki KLX 230R dirt bike? Yep. MANY more places. Really, as long as you're able to see, sit, and ride the bike in person, that's what matters.
Best Year(s)
What is the best year for a Kawasaki KLX 230R dirt bike? The good news: any year is a good year.
As mentioned, the Kawasaki KLX 230R has been made since 2020. With that in mind, there hasn't been much room (or need) for changes throughout the years.
Pricing (Cost vs Value)
How much does a new Kawasaki KLX 230R cost?
A brand new 2023 Kawasaki KLX 230R costs $4,749, the same price as the 230S model. Here's the pricing snippet for the "R" and "S" models that I grabbed straight from the Kawasaki website:
MSRP: $4,749
Destination Charge: $245
Freight and Materials Surcharge: $300
Dealer sets the actual destination charge, your price may vary. Specifications and pricing are subject to change.
How Much is a Used Kawasaki KLX 230R worth?
So that we can put together an accurate price range for a used 230R Kawasaki KLX, I've spent some time doing a bit of research.
First, I checked Kelley Blue Book to see what a 2020 Kawasaki KLX 230R is worth. The prices KBB gives are as follows:
Trade-In Value: $3,290
Typical Listing Price: $4,785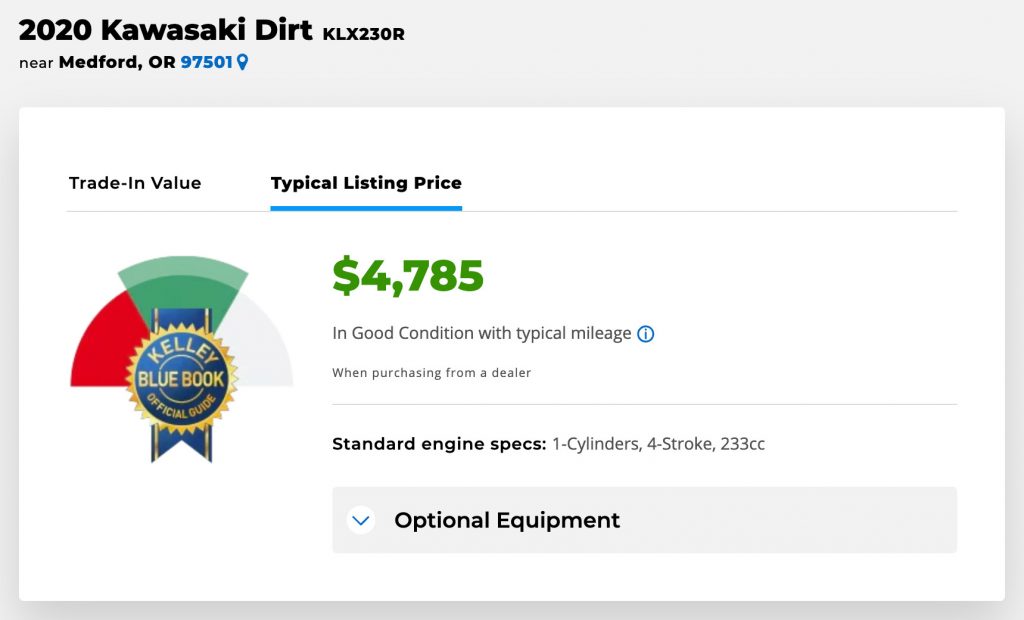 With the $3,200-$4,800 price range in mind, we can do a quick search on Facebook Marketplace to see if that is actually what these dirt bikes are being listed for.
Here are the Kawasaki KLX 230R years that I was able to find for sale on FB Marketplace:
2020 – $4,800 (very nice… picture was taken in the living room! LOL)
2021 – $4,600 (wife's bike, cool graphics, looks brand new)
2021 – $3,500 (only ridden four times)
2021 – $3,500 (wife's bike, ridden three times)
2022 – $3,000 (needs front tire, but looks great)
After spending some time searching for a cheap KLX230R on Facebook, it's easy to figure out which of the bikes from the list I'd like to look at first. The 2021 Kawasaki KLX230R was the cheapest and newest of the bunch. All of them looked like they were in great shape.
Here's the ad for the 2022 model:
"Bike needs new front tire but other then that it's a brand new bike . Just sits in my garage Title in hand"
And in order to get an even more complete look at pricing and availability, I searched on Craigslist to see what I could find. I found two. Here's the ad for the first one:
2020 klx 230r – $3,500

"I have a 2020 klx 230r with some aftermarket stuff clean title with about 30-35 hours in it willing to trade for a 2 stroke 125 or 150"
I've got to tell you, this one does not look too nice. When compared to the pictures of the other KLX models, this one a certainly the most "used" of the bunch. This one is out of the picture. Also, the next one I found is not one I'd be interested in buying, but it is a nice bike.
Here's the ad:
2020 Kawasaki KLX230R MOD – $4,499

"Project bike with more than $8k invested. Custom top to bottom. Bruce Triplett modified fork, aftermarket shock, cerakoted hubs, gold excel rims with HD stainless spokes, heavy duty tubes, braided stainless brake lines, Pro Circuit full exhaust, all smog stuff deleted, powder coated frame, skid plate, Pro Taper bars, ODI lock on grips, aftermarket perches/levers, etc…. This was my take on a modern XR. It is a GREAT bike! Contact for details."
Is KBB Value Accurate?
It isn't uncommon for the Kelley Blue Book pricing for dirt bikes to be a little on the low side. But, when it comes to the KLX230R, KBB is right in there. The prices of bikes seem to range from about $3,000-$4,600.
If you can find a nice and clean, cheap KLX230R for around $3,000, go for it. In the end, I'd try to pick one up for as close to $3k as I could… depending on how well kept it has been.