Kawasaki KLX 300R Dirt Bike Review (Full Specs) – Worth Buying?
BraapAcademy.com earns a small commission from qualifying purchases.
This does NOT cost you extra.
If you are considering the purchase of a Kawasaki KLX 300R dirt bike, or you already bought one and would like to get some details about it, you're in the right place. I've put together as complete of a Kawasaki KLX 300R review as I could. We'll look at all of the important specs like the top speed, horsepower, weight, and more.
Ultimately, this 300cc Kawasaki dirt bike is a decent dirt bike, however, it isn't perfect, and it isn't necessarily the right choice for everyone.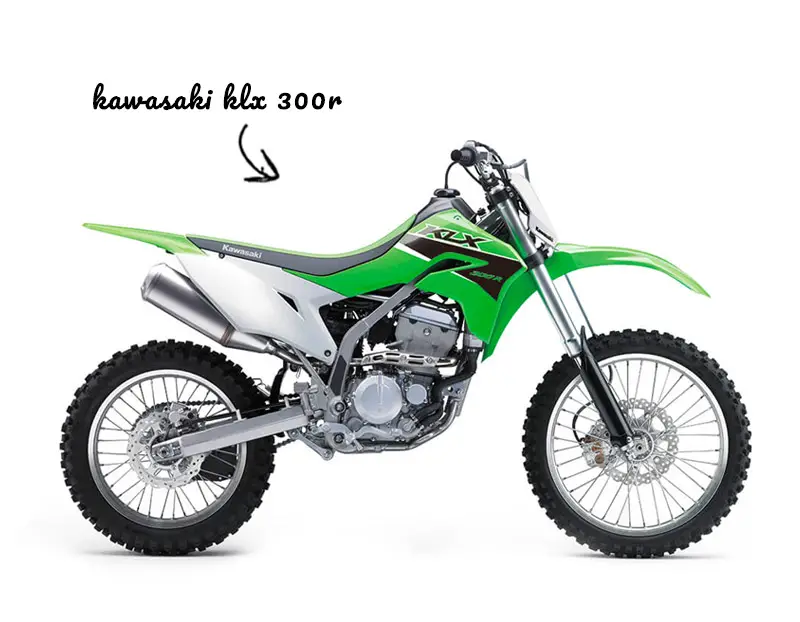 Because there are a few nuances and specifics with this Kawasaki 300R dirt bike, we'll take a look at what its best, and worst, at. We will look at the type of riding the dirt bike was designed to do, the type of rider it was designed for, and more.
Really, you should be able to leave here with a solid idea of what type of dirt bike this is, what kind of regular maintenance it needs, and how much they cost.
---
What is a Kawasaki KLX 300R?
The KLX 300R Kawasaki is a 292cc 4 stroke dirt bike.
Not to be confused with the dual sport or the supermoto versions, the KLX300R is a dirt bike. And while it is a large(er) dirt bike, it is still a good option for beginner to intermediate riders.
Performance-wise, it's kind of an entry-level dirt bike, even though it actually isn't. They aren't cheap (or terribly inexpensive), but they aren't highly-tuned, performance machines either. The older models are often said to be similar to the Honda XR 400 and XR 250 dirt bikes.
Overall, these are great all-around dirt bikes. They are not race bikes – enduro or motocross – but they are still more than capable of putting a smile on your face, and they're much easier to maintain and they last longer.
Who Should Buy?
To be honest, most guys would probably be happy with one of these, but not all.
For starters, this is hot a high-performance dirt bike. For a 300cc (technically 292cc), it does have a good midrange and low-end torque, but if you're thinking that since this is a 300 Kawasaki dirt bike you'll be able to pull wheelies by blipping the throttle… sorry, but that's not happening.
Here are reasons to, and not to, buy a KLX 300R Kawasaki:
Buy one if:
You want a good dirt bike to learn on
You'd like a mid-sized dirt bike for putting around or trail riding
You prefer trail and enduro riding over tracks
Not planning on racing MX tracks
You just want a good all-around dirt bike to have fun on
You aren't into rebuilding and maintaining more than riding
Don't buy one if:
You are looking for a motocross dirt bike
Jumping and track riding is important to you
You are not tall
You want a 2 stroke
Drag racing or riding at the dunes is a priority
History
The Kawasaki KLX 300R has a rich history dating back to its inception in 1997.
Generally speaking, there have been basically two different models of the KLX 300R – the '97-07 models, and the '20-present models. Overall, the newer KLX 300R models are "better" but that doesn't mean that the older ones aren't good.
Here is the list of updates that were made to these 2020 Kawasaki dirt bikes:
Electronic Fuel Injection (EFI)
Electric start
No headlight
Four-position handlebar mounting system
Updated bodywork (more narrow)
That's a good list, and I think you'd agree that those are all "improvements" to the dirt bike. But that doesn't mean that they don't come at a cost. Because of these upgrades, the newer models do weigh more.
Kawasaki KLX300R Specs
Here are all of the KLX 300R specs that I was able to copy from the Kawasaki website:
Engine Specifications
Chassis Specifications

Miscellaneous
| | |
| --- | --- |
| Colors | Lime Green |
| Model ID | KLX300R |
Those are the main Kawasaki KLX 300R specifications, however here are the most important KLX300R Kawasaki specs that are most relevant:
Manufacturer: Kawasaki
Model Name: KLX 300R, KLX300R
Common Name: Kawasaki KLX 300R
Dirt Bike Type: Offroad, Trail dirt bike
Years Made: 1997-2007, 2020-2023 (present)
Seat Height: 35.4 inches
Wet Weight: 282.2 (all fuel, fluids, etc.)
Top Speed: 75-85 mph
Horsepower: 24 HP
---
KLX 300cc Engine & Transmission
These 300R Kawasaki trail bikes have cemented their place as one of the more reliable, easy-to-ride, all-around dirt bikes. But that doesn't mean that these dirt bikes, or their engines, are perfect.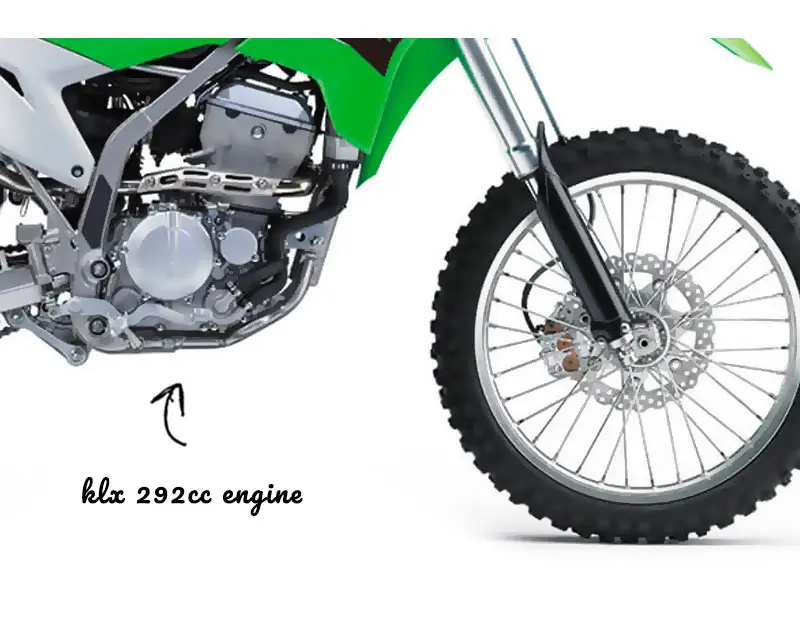 While the design of these engines has clearly proven itself to be solid and reliable, the power delivery is quite specific.
How so?
If you're looking for the kick you'd get out of a two-stroke or a KX450, or some other motocross dirt bike, then you're looking at the wrong kind of dirt bike. These are not built to run or perform like those. And that's not necessarily a bad thing.
The Kawasaki KLX 300R engines are smooth, controllable, and reliable. Quite different than the race-bike engines.
Horsepower
The Kawasaki KLX 300R has 26 horsepower.
Twenty-six ponies may not sound like a lot coming from a 300cc KLX engine, but it's actually decent.
By comparison, a Kawasaki KX250X horsepower rating is 39.9 HP (but it is a high-performance dirt bike), while the Kawasaki KLX 230 horsepower comes in at 17.3 HP.
Is 26 horsepower enough for a dirt bike? It is.
Even though these 300cc dirt bikes don't "rip" like you might expect them to, they do put their power into the tire and hook up great. In reality, most beginner to intermediate riders will feel more comfortable and in control on one of these dirt bikes than they would on a race bike. And that usually translates into better, faster, and safer riding.
NOTE: One of the most recommended (and free) modifications to make to your KLX 300R is to remove the guts out of the muffler. This will not only make the dirt bike sound better (good), it will add some "braap" power so that the bike will respond a bit better.
Top Speed
How fast can a Kawasaki KLX 300R go? The top speed for a Kawasaki KLX300R is about 70 mph, give or take a few.
Here's a video of a guy who says he got up to about 75 mph. Whether he gets it up to 75 mph, you decide…
The maximum top speed of a Kawasaki KLX 300R may be slightly different for each person, but it won't be too much different.
And while its true that your size, the terrain, gearing, exhaust, and a handful of other factors can contribute to a different max top speed, the KLX 300R will generally go between 65-75 MPH stock.
Engine Specs
Engine Size: 292cc (considered a 300cc)
Horsepower: 17.3 HP
Engine Type: 4-stroke single, DOHC, liquid-cooled
Transmission: 6-speed, return shift with wet multi-disc manual clutch
Starting: Electric start (only)
Cooling System: Liquid-cooled
Fuel Capacity: 2.1 Gallon
Ignition: TCBI Electronic Advance
Fuel Type: Petrol / Gasoline
Maintenance
As touched on briefly, the KLX 300R Kawasaki maintenance schedule and requirements are not bad. And they are especially "not bad" when compared to some of the Kawasaki motocross and enduro race bikes.
Basically, as long as you keep the oil and gas fresh, it's probably going to run for a very long time. But still, that doesn't mean that you shouldn't keep the air filter clean and the chain lubed, but it's all really basic stuff.
Below is the list of items that either need to be inspected or adjusted. According to the maintenance schedule that I copied out of the owner's manual, most of the following items are simply "inspect," but some do require more effort.
Kawasaki KLX 300R Maintenance Schedule
Throttle cable – adjust
Clutch cable – adjust
Air cleaner element – clean
Engine sprocket – inspect
Coolant's level – inspect
Radiator hoses and connections – inspect
Evaporative emission control system – inspect
Clutch and friction plates – inspect
Spark arrester – clean (every 120 hours)
Spark plug – clean, gap
Idle speed – inspect
Valve clearance – inspect
Brake adjustment – inspect
Brake fluid level – inspect
Brake pad wear – inspect
Drive chain – lubricate (every 5 hours)
Drive chain wear – inspect
Drive chain guide and slipper – inspect
Rear sprocket – inspect
Fuel system – clean
Fuel hose – inspect
Steering play – inspect
Steering stem bearing – lubricate
Front fork – clean and inspect
Rear shock absorber – inspect
Swingarm and UNI-TRACK linkage pivots – inspect
Swingarm and UNI-TRACK linkage pivots – lubricate
Frame – inspect
Wheel bearing – inspect
Wheels/tires – inspect
Spoke tightness and rim runout – inspect
General lubrication – perform
Cable – inspect
Nuts, bolts, fasteners – inspect
Engine oil – change
Oil filter – replace
Coolant – change (every 2 years)
Brake fluid – change (every 2 years)
Brake master cylinder cup and dust cover – replace (every 2 years)
Brake caliper piston seal and dust sear – replace (every 2 years)
Brake hose – replace (every 4 years)
Front fork oil – change (every year)
Fuel hose – replace (every 4 years)
Air cleaner element – replace (if damaged)
Yes, that is a long list of to-dos. The good news – most items don't need to be inspected, changed, replaced, or lubricated after every ride. Most of the items call for inspection every 2.5, 7.5, 15, 30, and 60 hours.
The required maintenance on these dirt bikes is rated at "medium." For example, the KLX300R requires a little less work to keep up than that the YZ250F maintenance requirements, but it also demands a bit more work to keep up than the Kawasaki KLX 230R maintenance schedule calls for.
What motor oil does a Kawasaki KLX 300R use?
Kawasaki performance 4-stroke oil, SAE 10W-40. (non, semi, and full-synthetic is okay)
Oil change capacity:
1.0 L (1.1 US qt) (When the filter is not removed)
1.1 L (1.2 US qt) (When the filter is removed)
1.3 L (1.4 US qt) (When the engine is completely dry)
---
Kawasaki KLX 300R Handling
When it comes to handling, the KLX 300R is a good handling dirt bike for most beginner to intermediate riders.
In fact, one of the better aspects is how easily most riders are able to handle this dirt bike. Because it isn't overpowered or too highly tuned, it delivers a smooth power that the suspension and ergonomics are able to handle.
Plus, the adjustable new Ergo-fit is pretty killer.
"ERGO-FIT® is an interface system designed to allow riders to find their ideal riding position… the handlebar, footpegs and seat… can be adjusted through a combination of interchangeable parts and parts with adjustable positions. This enables a wide range of riders to find a riding position that offers both comfort and control."
Is ERGO-FIT a perfect system? Not quite, but it is a step in the right direction. It will be nice once we get dirt bikes that can be adjusted to our exact fit without needing to purchase additional parts.
But overall, these are still great all-around handling dirt bikes.
Weight
The cub weight of the Kawasaki KLX 300R is 282.2 pounds (386.6 pounds for the California model).
Also already touched on, is the weight "issue" with these dirt bikes. Ironically, the old Kawasaki 300cc models were quite a bit lighter and faster. So much so, that the newer models are over 48 pounds heavier than the older models.
Here is how it breaks down:
2007 Kawaskai KLX 300R weight: 233.7 pounds
2023 Kawasak KLX 300R weight: 282.2 pounds
That's 48.5 pounds weight difference. Fairly significant, I'd say.
Overall, the dirt bike is a bit on the heavy side, but not enough to disqualify it from being a decent option.
Seat Height
The Kawasaki KLX 300R seat height measures 35.4 inches off the ground. That's fairly tall.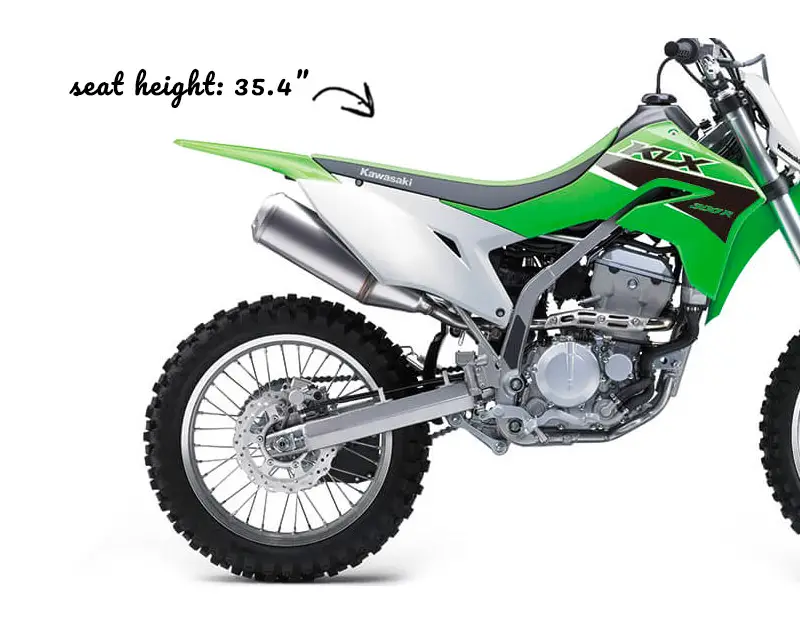 Typically, a seat height of 35 inches is a good fit for someone around 5'6″-5'8″ tall, but that is simply an estimate. Also, just for comparison purposes, a Honda CRF250F seat height is 34.8 inches off the ground, while a Yamaha TTR 230 seat height is 34.3 inches.
Obviously, those are all basically the same, but the 300 KLX is fairly tall.
Suspension
The suspension on the Kawasaki KLX 300R is adequate.
It isn't a motocross bike, so don't expect to be able to overshoot your Travis Pastrana back flip attempt (or a tabletop) and not bottom out… you'll feel it. But on the flip side, the somewhat plush/softer suspension does great in the woods, especially if you take the time to dial it in.
Both the front and rear suspension are adjustable, making it almost a "must-do" for each new owner. Dialing in the suspension on your dirt bike will make a difference.
Front suspension: T43mm inverted telescopic fork with adjustable compression damping (11.2 inches of travel)
Rear suspension: Uni-Trak® with adjustable compression, rebound damping, and spring preload (11.2 inches of travel)
Overall, the Kawasaki KLX300R dirt bike is designed for trail riding and outdoor adventures, and for that, it does great.
Handling Specs
Chasis
Frame Type: Tubular, Semi-Double Cradle
Brakes
Front Brake: Single 270mm petal disc with a dual-piston caliper
Rear Brake: Single 240mm petal disc with single-piston caliper
Wheels and Tires
Front Tire Size: 80/100-21
Rear Tire Size: 100/100-18
---
Is the Kawasaki KLX 300R a Good Dirt Bike?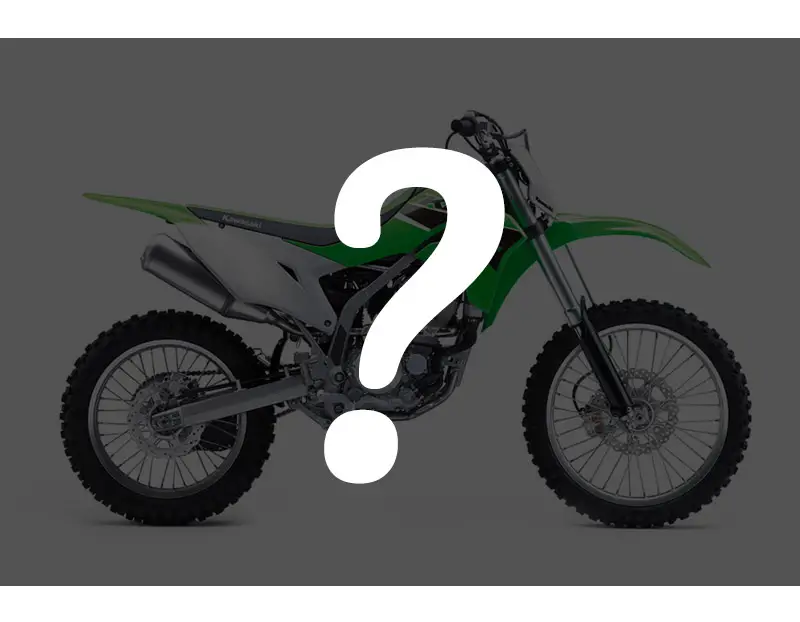 It is! The Kawasaki KLX 300R is a great all-around dirt bike.
Just how can a heavy 300cc dirt bike that doesn't have much "snap" be good? Yes, it is a bit heavy, but it is also good running, easy and fun to ride, well-built machine. If you are looking for an all-around dirt bike that provides "tons of fun" for many different riders, this is a solid choice.
Even though I'm not a huge "team green" guy, this Kawasaki is a good dirt bike.
Positive Reviews
Beginner-friendly power and handling
Good low-end torque
Simple to work on and maintain
Smooth, controllable power from the Kawasaki 300cc engine
Electric start
Disc brakes front and rear
Fuel-injected
Comes with a kickstand
Kawasaki Lime Green!
Negative Reviews
Suspension isn't built for super-aggressive riding
Quite a few used KLX 300's have been neglected
Fairly expensive for lack of "high-tech" performance
Not as peppy as you'd like/expect from a 300cc
Buyers Guide (Best Year, Pricing, etc.)
Is it safe to assume that you are considering buying one of these? After all, you've made it this far down the page.
If so, great, if not… well, stick around because you're almost there. Only a couple of sections left:
Where to buy
best year
value
Where to buy?
If you're looking to buy a new KLX 300R, it's pretty obvious that you should head to your closes Kawasaki Dealer. Otherwise, I'd just recommend checking CL and FB Marketplace. Ultimately, I always check these places first. I love buying used… especially if the previous owners are as hands-on and meticulous as I am with my bikes.
Local Kawasaki dealer
Craigslist
Facebook Marketplace
A friend
I did warn you. No, my go-to classified searching techniques aren't too revolutionary or new. I also happen to realize that there are many more places to buy a cheap Kawasaki KLX 300R that are not listed here.
But still, I like checking these first.
Wouldn't you agree that being able to start, ride, and inspect a dirt bike in person is important to do before riding? Of course!
When you're able to see, sit on, and ride the dirt bike in person, you can get a solid feel for it. For instance, you'll quickly be able to tell if the hand grips are ripped, or whether either the front or rear fender looks bent, etc.
Best Year
Since their release back in 1997 up to today, there's been plenty of time for some upgrades to the KLX.
While Kawasaki doesn't make many changes to the KLX 300R every year, the dirt bike did get a well-known update in 2020. In fact, Kawasaki discontinued making these 300cc Kawasaki dirt bikes in 2007 and didn't produce them again until the 2020 update.
Therefore, all of the 2020 Kawasaki KLX 300R dirt bikes and newer (now) come equipped with the following upgrades:
Electronic Fuel Injection (EFI)
Electric start
No headlight
Four-position handlebar mounting system
Updated bodywork (more narrow)
Assuming you'd like to have these upgrades, although the dirt bike is now heavier because of them, the best Kawasaki KLX 300R year to buy is 2020 or newer.
How much does a Kawasaki KLX 300R cost?
Pricing a brand new Kawasaki KLX300R at your local dealer is going to give you the most accurate price you'll actually pay to bring one home. However, here's a snippet from the manufacturer's website:
MSRP $5,899
Destination Charge $435
Freight and Materials Surcharge $300
Dealer sets the actual destination charge, your price may vary. Specifications and pricing are subject to change.
What's a used Kawasaki KLX 300R worth?
If you're planning to buy a used KLX 300R dirt bike, there are a few things to know going into it.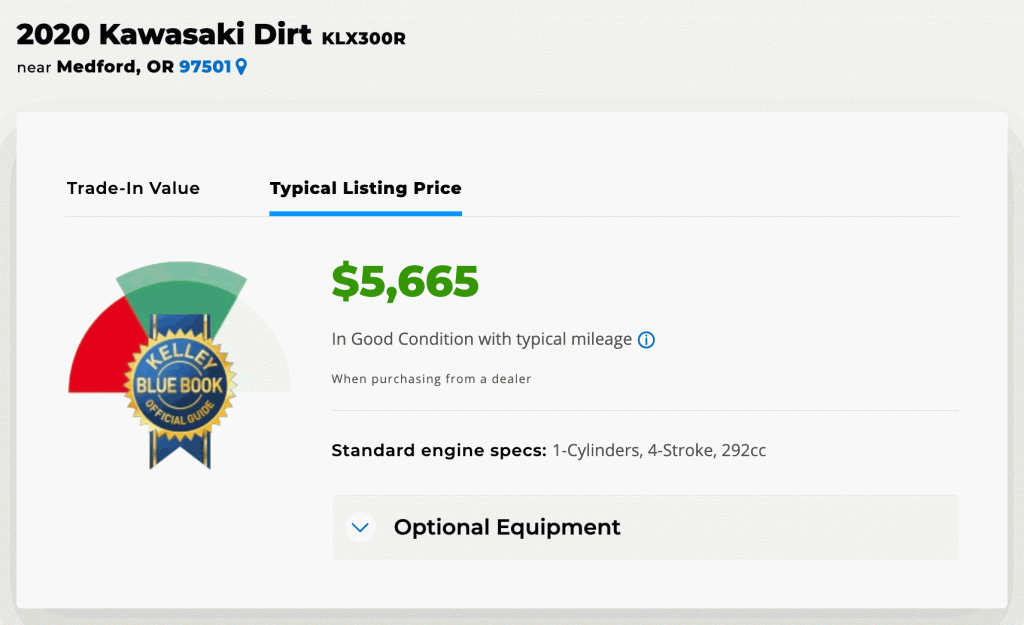 According to Kelley Blue Book, a 2020 Kawasaki KLX 300R is worth $5,665 for the "Typical Listing Price" and $3,900 for the "Trade-In Value" price. I don't think many of us are too concerned with the trade-in value, but I figured I could note it just for reference.
Is the Kelley Blue Book price accurate?
Although the Kelley Blue Book (KBB) price for a used KLX 300R may look high when compared to the price of a brand-new model, it turns out it's quite accurate. That's right, these Kawasaki dirt bikes do hold their value well.
To verify the pricing, I searched Facebook Marketplace to see what I could find out there. There weren't a ton listed for sale, but there were a handful.
Here's what I found, incorrect model names included, LOL:
2021 Kawasaki KLX 300r – $4,499
2022 Kawasaki 300R KLX – $5,300
2022 Kawasaki KLX300R – $4,800
2022 Kawasaki KLX 300R – $6,000
Of those four models for sale, the one that I would look at first would be the 2022 Kawasaki KLX 300R for $4.8k. Here's the ad for that Kawasaki 300R dirt bike:
Kawasaki 2022 KLX 300R – $4,800
"It has 24.3 hours on it. New battery, oil change, and shift lever. Some damage to plastics. Keyless, see spec sheet for other information."
And to be honest… I'm really not even that thrilled with it. For having 24 hours on it and some damaged plastics (not that that is too big of a deal), I'd really like to pick it up for less. But according to the KBB value, it's a pretty decent deal already.
With this in mind, I decided to do some more searching. This time, I tried Craigslist to see what I could find. Here's the ad for the only KLX300R even somewhat close to me:
2021 Kawasaki KLX 300R – $5,000
"Bike as been ridden for 16 hours. Break-in per manufactures specs. All oil and filters changed per specs Great condition."
Usually, I find that the KBB value is more accurate. In this case, it seems that a more accurate price for a used KLX 300R is $5,150. Still, not far off. In the end, I'd be looking to spend under $5k for one of these. Although they're great for what they are, they really aren't as advanced as some of the other dirt bikes on the market going for similar prices.