Honda CRF250F Review (Height, Weight, HP, Specs) – Is it Worth Buying?
BraapAcademy.com earns a small commission from qualifying purchases.
This does NOT cost you extra.
Are you considering a Honda CRF250F trail bike? If yes, it's important that you take a look at the pros and cons this dirt bike has to offer. Also, it's good to know what type of riding this dirt bike is designed for (not all types).
In addition, this Honda CRF250F review will cover specific details like the top speed, horsepower, height, etc., as well as the overall characteristics and nuances of this bike.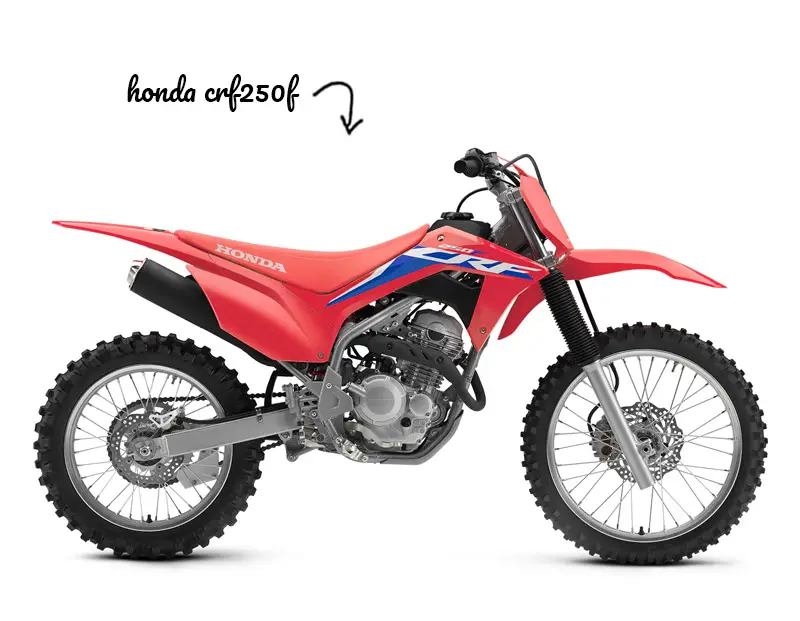 Of course, this review contains my personal opinions. I've been riding dirt bikes (and quads) for over 35 years, but I'm no expert, nor do I claim to be any good at it… but I do love it.
Moving on…
I've included all the details you should know before buying one of these. In the end, if you're looking for info on the horsepower, handling, weight, specs, maintenance needs, characteristics, and nuances of this Honda CRF 250 F trail bike, stick around because that's what we're covering here.
---
What is a Honda CRF250F?
The Honda CRF 250F is a four-stroke dirt bike designed for trail riding and taking up into the woods. It is not a motocross bike.
Since this isn't purely an MX bike (that's a good thing), it is more beginner-friendly and better suited for trail riding. The smooth, low-end torque and power delivery that comes from this dirt bike are what makes this such an easy bike to learn on.
History
Honda has been making CRF 250F dirt bikes since 2019. This 250cc dirt bike is what replaced the CRF230F in 2019.
Here's some nice background I snagged from Wikipedia that is talking about the Honda CRF 250F History.
"Simple, air-cooled 4-stroke motorcycles. Typically, these bikes come in low-power and confidence inspiring configurations for new market entrants."
Did you notice they mentioned that these were "low-powered" dirt bikes? That is a little misleading (although true). We'll get into that in a bit.
Is it Street Legal?
You might be surprised how often I see these questions. I agree, it would be nice, but no, the Honda CRF 250 F is not street-legal.
In my state, I would not be able to make it street-legal, despite putting in a lighting kit or other mods. I'm not familiar with all of the different state's laws on this, so I'm sorry, but you'll have to do some additional research if this is a "must-have" for you.
Alternatively, there are some other dual sports from Honda that you could look into.
Honda CRF250F Specs
Here are the Honda CRF 250F specs. I was able to grab these from Honda, so they should be accurate.
Engine Specifications
| | |
| --- | --- |
| Engine Type | 250cc air-cooled single-cylinder four-stroke |
| Bore and Stroke | 71.0mm x 63.0mm |
| Compression Ratio | 9.6:1 |
| Valve Train | SOHC; four-valves per cylinder |
| Induction | Fuel-injection, 34mm throttle bore |
| Transmission | 5-speed |
| Final Drive | #520 O-ring-sealed chain; 13T/50T |
Chassis Specifications
| | |
| --- | --- |
| Front Suspension | 41mm leading-axle Showa fork; 8.5-inch travel |
| Rear Suspension | Pro-Link® Showa single shock with spring-preload adjustability; 9.1-inch travel |
| Front Brake | Single 240mm disc |
| Rear Brake | Single 220mm disc |
| Front Tire Size | 80/100-21 |
| Rear Tire Size | 100/100-18 |
| Rake (Caster Angle) | 26.1° |
| Trail | 4 inches |
| Wheelbase | 55.9 inches |
| Seat Height | 34.8 inches |
| Curb Weight | 265 pounds (Includes all standard equipment, required fluids and a full tank of fuel) |
| Fuel Capacity | 1.6 gallons |

Miscellaneous
| | |
| --- | --- |
| Colors | Red |
| Model ID | CRF250F |
| Emissions | Meets California Air Resources Board (CARB) and EPA off-road emissions standards. |

Here are the main Honda CRF 250 F specifications, as well as a few items that weren't on their website:
Manufacturer: Honda
Model Name: CRF250F, CRF 250 F, CRF 250F, CRF250 F
Type: Off-road, Trail Bike
Years Made: 2019-2023 (present)
Seat Height: 34.8" (88cm)
Weight: 265 lbs (full tank of fuel, ready to ride)
Top Speed: 65 mph
Horsepower: 23 hp
---
Honda CRF 250cc Engine & Transmission
Honda CRF250F dirt bikes are known for being durable, dependable, easy to ride, and easy to maintain.
With an almost bulletproof engine, maintenance is usually quick and simple.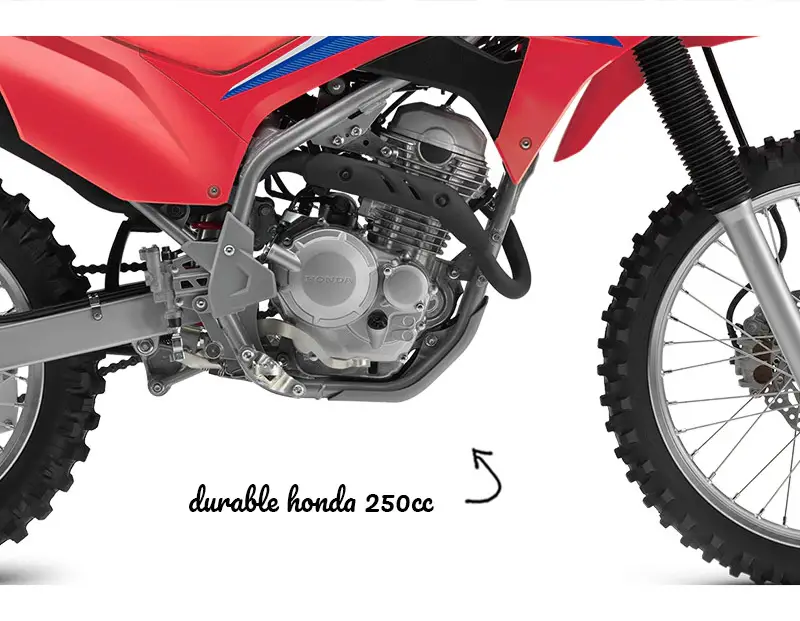 Not only are these motors dependable, but CRF's are also just downright fun to ride. These aren't the fastest or lightest trail bikes available, but they still deliver one of the best overall rides, in my opinion, for their class.
Similar to the old XR lineup, the CRF250-F has a very controllable power and a smooth delivery. Similarly, thanks to the engine and transmission mods that Honda made, this is a great 250cc beginner trail bike.
Horsepower
The Honda CRF250F horsepower rating is 23 HP. No, that doesn't look too impressive, does it? However, 23 horsepower is actually enough coming from this trail bike.
What's even more interesting, is that the horsepower to the wheel is actually even less, coming it at 20.1 HP.
Granted, you won't be flinging the same roost as a CRF250R, but that won't stop you from getting around the trails just fine. In fact, due to the powerband and low-end torque of this 250cc motor, the power is very user-friendly and useable.
Still, there are a few CRF mods that can bump up the horsepower. For example, you can put add an aftermarket exhaust or upgrade the intake to squeeze a few more horsepower out of the 250cc.
At the end of the day, the stock 250F engine is great.
Top Speed
The top speed for a Honda CRF 250F is about 65 mph.
Why do we say "about" 65 miles per hour? The top speed for individual riders will differ slightly. Some riders might weigh 200+ pounds, while some might not even break 100 pounds. On this bike, that WILL make a difference.
Plus, there are other factors that can impact a dirt bike's top speed. For instance, if you alter the gearing (even slightly) this will change the bike's top speed – see sprocket gear ratio chart for details on gearing.
All that said, if we assume it has stock gearing, the Honda CRF 250 F top speed is 60-70 MPH.
Engine Specs
Engine Size: 250cc
Horsepower: 23 HP
Engine Type: 250cc air-cooled single-cylinder four-stroke
Fuel Capacity: 1.6 gallons (6 Liters)
Fuel Type: Petrol / Gasoline
Induction: Fuel injection, 34mm throttle bore
Spark Plug: LMAR7H-9DS
Maintenance
What motor oil does a Honda CRF250F use? Honda GN4 10W-30 Oil.
Oil Capacity:
1.5 US qt (1.4 ) – After draining
1.5 US qt (1.4 ) – After draining and oil filter change
1.8 US qt (1.7 ) – After disassembly
Are you looking for the CRF250
---
Honda CRF250F Handling
The handling characteristics of the CRF250 F are reminiscent of both larger, and smaller dirt bikes. It is definitely a "full-size" dirt bike, but it's still smaller than most 250 enduro and motocross bikes.
With the low seat height and short wheelbase, the 250F trail bike handles great at low speeds and tight areas. It's easy to learn on, lean and turn, and handle, even though it isn't the lightest beginner dirt bike.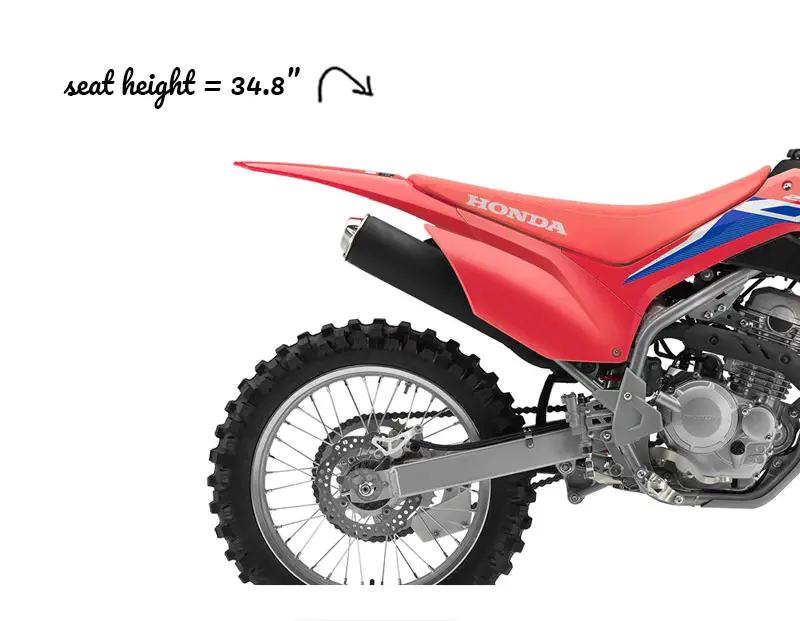 Weight
As noted above, the Honda CRF250F curb weight is 265 pounds. While that might seem like a lot compared to the 238lbs Honda CRF250RX, it is respectable for a trail bike. Remember, the XR250 weighs more than 270 pounds.
Obviously, this isn't a motocross bike, and that is a good thing.
The 15+ pound increase over the RX model isn't as bad as it sounds. The low seat height and low center of gravity are significant enough to make this a very easy dirt bike to ride.
What is the curb weight of a dirt bike?
Most modern dirt bikes are listed with their "curb" weight. This is the weight of the dirt bike with a full tank of fuel as well all other necessary fluids, etc. This is often referred to as "wet" weight, as well.
On the other hand, some are listed with their "dry" weight. This is the weight of the dirt bike as it was when shipped from the factory to the dealer. (no fuel)
Seat Height
The Honda CRF250F seat height is 34.8 inches from the ground.
Just as with the top speed, the seat height can be different if you buy a used Honda 250F. The previous owner may have modified the suspension or adjusted it to be shorter or taller. You'll have to check out the individual bikes if you buy used.
For a beginner's trail bike, 34.8 inches is a great height.
Why do I recommend shorter bikes for beginners? Not only does a short dirt bike make it easier to learn and ride on, but it's typically safer. With a shorter seat height, there is less of a chance of putting your leg down and tearing your ACL (like I did), so there's less need for wearing a dirt bike knee brace… although it's not a bad idea if you've got vulnerable knees.
Suspension
The suspension (front and rear) on this Honda CRF 250F trail bike is adequate for what it was designed for, kinda. To be honest, it's a fairly old suspension and it could definitely use an upgrade. Having said that, here's a high-level overview of what the suspension can do decently.
Good for: Lighter riders, trail riding, woods, putting around.
Bad for: Heavy riders, jumps, whoops.
The front forks have 8.5 inches of travel and the rear shock has 9.1 inches of travel. Although the front forks aren't adjustable, they are soft and responsive enough for beginner riders to feel confident. But again, once you start riding aggressively or trying to do any type of jumps, etc., you're going to notice the "imperfect" suspension.
Front Suspension: 41mm leading-axle Showa fork; 8.5-inch travel
Rear Suspension: Pro-Link® Showa single shock with spring-preload adjustability; 9.1-inch travel
Handling Specs
Chasis
Frame Type: Twin-spar aluminum chassis.
Brakes
Front Brake: Single 240mm disc
Rear Brake: Single 220mm disc
Wheels and Tires
Front Tire: 80/100-21
Rear Tire: 100/100-18
---
Is the CRF250F a Good Trail Bike?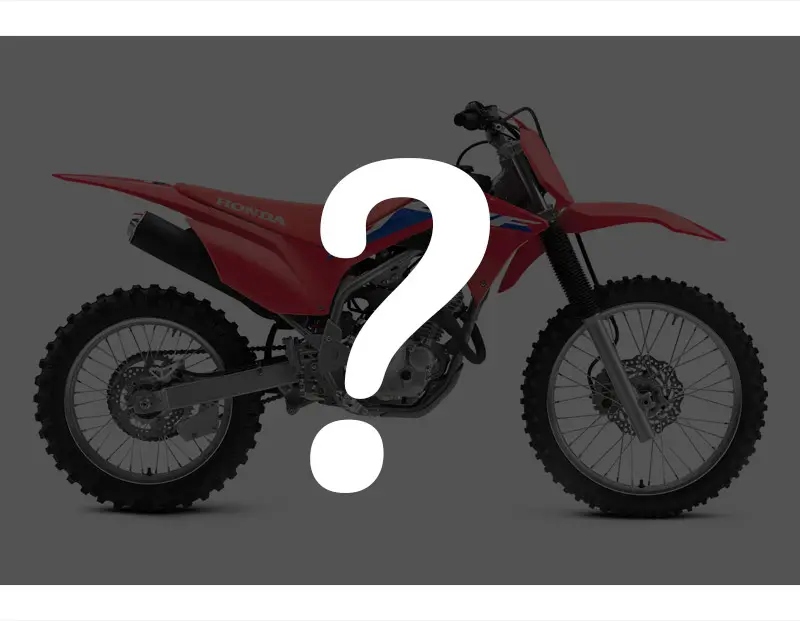 Yes, a Honda CRF250-F is a good trail bike for beginner to intermediate riders.
The CRF250F has low-end torque and a smooth, roll-on mid-range power, making it controllable and manageable on trails. Plus, it's light enough and small enough to be handled by teenagers and small adults but still offers a fun ride for "normal" sized adults.
Even though this is such a good trail bike, it still isn't perfect, and it isn't meant for everyone. Here's a review of who the bike is for, and who it isn't for.
People who should buy one:
If you're looking for an easy-to-ride, multi-purpose, trail bike – this is a great choice. Here are reasons to get one:
Like low maintenance
Do you want a dirt bike to ride, not work on? Keep gas in the tank and oil in the case, and you're good to go (for the most part).

Looking for affordable
Are you looking for a trail bike that isn't outrageously priced like some of the new "race" bikes? These are affordable new and even more budget-friendly used.

Want beginner-friendly
This is not an extreme competition bike, and because it has less power, it provides riders with a bit more forgiveness. Too much power can be a bad thing. This bike is controllable and easy to ride.
People who should NOT buy one:
If you're in the market for a high-performance race bike, motocross bike, or street-legal dual sport, this is a poor choice. Here are a few reasons not to get one:
Looking for high performance
Again, this is not a competition-level race bike. If you want the lightest, fastest, and/or best race bike, you'll need to look elsewhere. I recommend checking out the CRF250RX dirt bike.

Need a dual sport
Although it might be possible to plate these bikes in your state, it still wouldn't be the best choice. These are not made for the road. If you're looking for a dual sport, check out the 300LR.
Overall, the 250F is a great trail bike, but if you're looking for motocross performance or a street-legal motorcycle, there are much better options out there.
Positive Reviews
Affordable
Honda dependability
Good gearing and tuning for trail riding
Great low-mid power for trails
Electric start
Negative Reviews
Hard to find used (and in good condition)
No kick start
Lacks "R" performance
Buyers Guide (Pricing & Where to Buy)
Now that we're this far down the page (you just scanned and scrolled, didn't you?), let's look at some of the buying specifics and need-to-knows.
First, here are the top four places I'd look:
There are many more options to find a used Honda CRF 250F for sale, but I like those four.
Why those four? If you find a 250cc from one of these four sources, you will get to inspect the bike in person. I think you'd agree with me that this is a "must-do" before buying a dirt bike.
More often than not, I buy used. It doesn't matter if it's a car, truck, ATV, or a dirt bike, I always look for a good deal on a very nice, whatever I'm gonna buy.
Disclaimer: I have purchased new before. I bought a 2003 Honda CRF450R from the dealer, as well as a 2001 Yamaha YZ426F. Also, my dad bought me a 1999 Yamaha YZ250 when I was younger. Thanks, dad!
What is the best year for Honda CRF250F?
Choosing the "best" year for a CRF250F isn't too big of a deal at this point in time. As long as it is nice and well taken care of, you won't miss out on any HUGE changes.
Having said that, newer is usually better, but there are times when a model gets COMPLETELY revamped or redesigned. I'm not too crazy about being the guinea pig for untested changes.
How much does a Honda CRF250F cost?
Pricing for a new CRF250F is straightforward. All you have to do is go to your dealer, order it or pluck it from the showroom floor, pay sticker price, load it in the back of your truck, and drive it home. Currently, here is what these bikes cost:
MSRP: $4,899
Destination Charge: $200
Freight Surcharge: $100
What is a used Honda CRF250F worth?
What about used? The value of a used Honda CRF 250F depends on a couple of different things.
Where you buy it
Who you buy it from
The year and condition of the bike
To illustrate, I searched Facebook Marketplace and found only one CRF250F. There were, however, quite a few 150F and 110F dirt bikes. Here's the ad for the used 2022 Honda CRF250F for sale:
"For sale 2022 HONDA CRF250F Clean title in hand Bike is like new with maybe 4 hrs of use Fuel injected , electric start! I have all the manual books and extra key."
Obviously, the bike should be basically immaculate with no more than four hours on the dirt bike meter. But what's up with that price? That's the price of a new one.
Anyway, since there was only ONE on FB, I did some more searching on Craigslist. In after about 37 seconds, I found five different bikes on CL. Two 2019 Honda CRF 250F's, two 2020 CRF250F's, and a 2022. Both of the 2019's were $4,500, one 2020 was $4,000, the other was $6,000. The 2022 was also $5,000… because it was the same bike as the one on FB.
"She's an amazing bike and has treated me incredibly well over the years! I bought it from the dealership brand new, and I'm the only owner. I just put brand new tires on it as well as a chain. Key start, fuel injected, 4 stroke, gas indicator light and disc brakes. It's a killer on off road terrain and climbs hills and rocks like a beast! I would love to hold onto her but I've got some life changes happening right now and can't hold onto her… I don't have an hour meter on it, so I'm not sure how many hours as of now. Mileage is just a filler on this posting… I also have a brand new tow hitch rack I'm willing to sell as well as nice Pro Taper straps"
Again, both sound nice but maybe a little pricey. Then again, they are hard to find used, and apparently, they hold their value well. After looking into it a bit, the value (or price you can expect to pay) for a used CRF250F is in the range of $3,500-$5,500.
Although I wasn't able to find a used 2021 Honda CRF250F, or a used 2023 CRF 250F (not surprisingly), I'm sure you can if you're patient. But after looking at the typical price range for used, buying new might actually make more sense. It just depends on what you're able (or not able) to find used.
I hope this Honda CRF250F review has given you a better idea of whether this is the type of dirt bike you want, and I hope you found all of the info you were looking for.