Best Pit Bikes for Adults (a Look at Pricing, Sizes, and Makes)
BraapAcademy.com earns a small commission from qualifying purchases.
This does NOT cost you extra.
Pit bikes are small, lightweight motorcycles that are generally used for quick trips back-and-forth to the hot dog stand at motocross races. Sometimes, people will race them. But when that happens, it's the adults who have the most fun.
While most pit bikes designed for kids and/or teenagers, there are a few good options out there that are quite fun for us "overaged" children. Let's take a look at some of the best pit bikes for adults.
But First… What's the Point of a Pit Bike?
Fun. Duh. Okay, originally, pit bikes were made for riding around the pit areas of a motocross race. Since they are so small, easy to maintain, and pretty cheap, they have become increasingly popular over the last few years, and pit bike racing has become quite popular.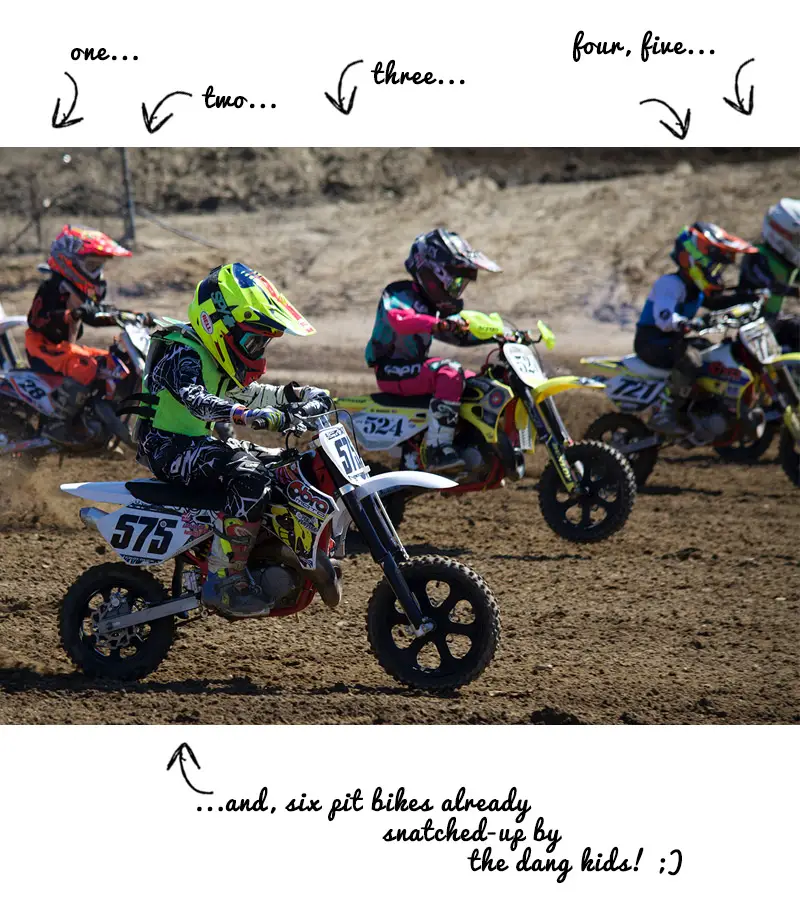 Pit bikes and pit racing are especially popular amongst teenagers and kids. With that being said, there are still plenty of adult riders who enjoy riding in pits, and some who even prefer pit bikes to full-size dirt bikes.
NOTE: Check out this article for the top bikes for kids & teens: What Are the Best Dirt Bikes for Kids & Teenagers?
Still, most people consider pit bikes to be the "training wheels" of the dirt biking world.
They'll catch up. Pit bikes are fun!
What Sized Pit Bikes Are Good?
As mentioned above, there are pit bikes of all shapes and sizes, and you're going to want to pick out one that fits you. If you're a teenager or older child, you'll be able to ride on a smaller pit bike.
However, if you're an adult, you should definitely aim for a larger, adult-size pit bike (like the ones mentioned below).
They used to be somewhat difficult to come across, but they're now widely popular and relatively cheap, making them easy to get your hands on.
I'd aim for between a 110 and a 125 (both four strokes).
Sure, But What's the Fastest Pit Bike?
The limited-edition ATK Intimidator has long been considered one of the world's fastest, and most powerful dirt bikes. It features a 685cc 2-stroke engine that is capable of 78 hp. For a bike with a dry weight of just 238 pounds, that is insane. Oh, we're talking the smaller ones, huh?
That's a tough call because at what point to we stop calling a bigger bike a "pit bike" and just call it a bike. I mean, we're already talking 125's here. ha.
Final answer: I don't know which one is the fastest or most powerful. Sorry.
Who Makes the Best Pit Bikes for Adults?
It's very easy to find manufacturers and dealerships with high-definition images of their dirt bikes on their websites, but it's important that you do not judge a bike's fit based on its images and listed dimensions. If you want to make absolutely certain that a bike is a right size for you, you actually have to sit on it in person.
You'll first need to straddle the bike and ensure that your feet are touching the ground – which shouldn't be a problem, since these are "made for kids!"
"If you're able to do all of those things on the bike, then that bike is the right size for you. If your feet are flat on the ground, then the bike is too short, and if your feet don't touch the ground at all, then the bike is too tall." – LOL
Okay, back to the question.
In my opinion, Honda makes the best. Having said that, there are a couple Yamaha trail bikes, and Kawasaki has a 100, as well as a 112 that both look cool.
Best Overall Pit Bike for Adults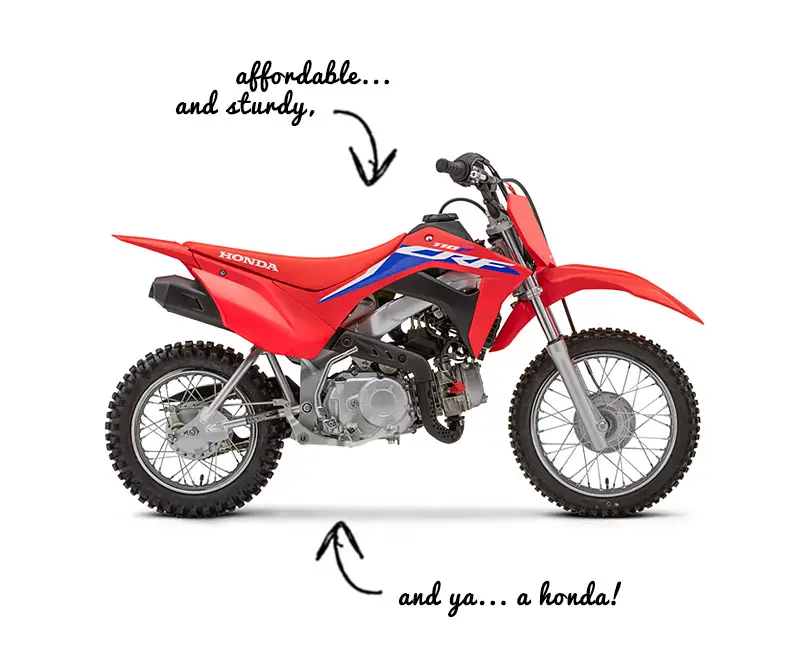 Honda CRF 110F
My top pick out of all the best pit bikes for adults is the Honda CRF 110F, which is designed to keep the fun going with its big performance, huge set of features, and new competition-worth graphics. And yes, it's smaller than the 125. Slower and less powerful too.
Okay, maybe we should go with "most fun" instead?
Review
This bike features a durable 1-cylinder engine and tough steel frame that work in tandem to provide you with sturdy reliability. It is a bike that will be able to withstand the test of time. It is combined with a unique 4-speed transmission and automatic clutch that allows you to shift gears whenever you want without worrying about stalling.
You'll find long suspension and a comfortably padded seat to help extend the duration for which you can ride. Many adult pit bikes have the unfortunate drawback of being rather uncomfortable to sit on, so it's nice to see that Honda took the extra step towards comfort.
So, if you're on the market for a high-quality, affordable pit bike with plenty of features from a manufacturer that we all know and love, you can't go wrong with the Honda CRF 110F… you just can't.
"Most Fun" Pit Bike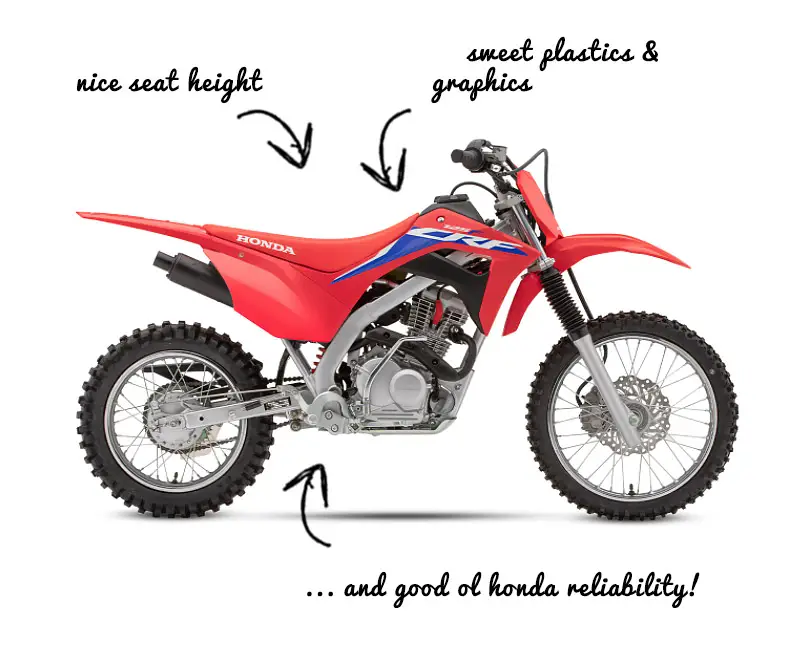 Honda CRF 125F
Next on the list is the Honda CRF 125F, which some consider to be the most fun pit bike to ride right now. It boasts a host of amazing features that make riding it a dream, and while it might not be the most affordable option on the market, it's definitely worth every penny.
Review
Whether you want to maximize your own enjoyment on the trail, or are looking for a new bike that offers more fun to more riders, the CRF 125F from Honda is the bike for you. It comes packed with features that help you focus on the best part of the riding experience.
One of those features is fuel injection, which offers power that is easy to use and wonderfully reliable. The 4-speed transmission offers all of the control you'd expect from a regular dirt bike, while the long-travel suspension delivers a ride that is supremely comfortable.
To top it all off, the CRF 125F features bold new graphics that are inspired by Honda's championship-winning CRF motocross racers.
Best Cheap Pit Bike (on Amazon)
APO 125cc Pit Bike
And last, but certainly not least, we have the APO 125cc dirt bike, which is an affordable and powerful option that works great for teenagers and adults alike. It comes in a range of colors, so you'll be able to choose the one that works best for you.
Review
This bike features a manual 4-speed transmission quick start that is far more convenient than regular dirt bike transmissions. It boasts larger front and rear wheels that are specifically designed to accommodate adult bodies, with a chassis that is much longer and higher to make your rides a little more comfortable.
It also provides more ground clearance. The great thing about the APO Dirt Bike is that it features a kickstart starting mechanism, which allows you to get the bike started easily and conveniently without having to worry about your battery.
While there is some assembly required, the process won't take you more than 30 minutes, and once you're done, you'll be able to ride until the cows come home.
Click here to view pricing and read reviews on Amazon.
---
If you want to get into riding but don't want to spend the bucks on a full-size bike (here are the good ones for adult-sized beginners, if you do)…
I recommend getting your hands on a pit bike.
They're affordable, fun, and are a great gateway into the sport. Also, they're great for learning on.