Yamaha TTR 230 (Top Speed, Height, Specs) – Is it Worth Buying?
BraapAcademy.com earns a small commission from qualifying purchases.
This does NOT cost you extra.
Are you looking to buy a Yamaha TTR230 or do you already have one and you'd like some more info on it? Yes? Good. Here's a full Yamaha TTR 230 review that will cover all of the important specs, pros and cons, and performance and handling characteristics of this legendary dirt bike.
By the end, you should have a good idea of whether this is the right dirt bike for you.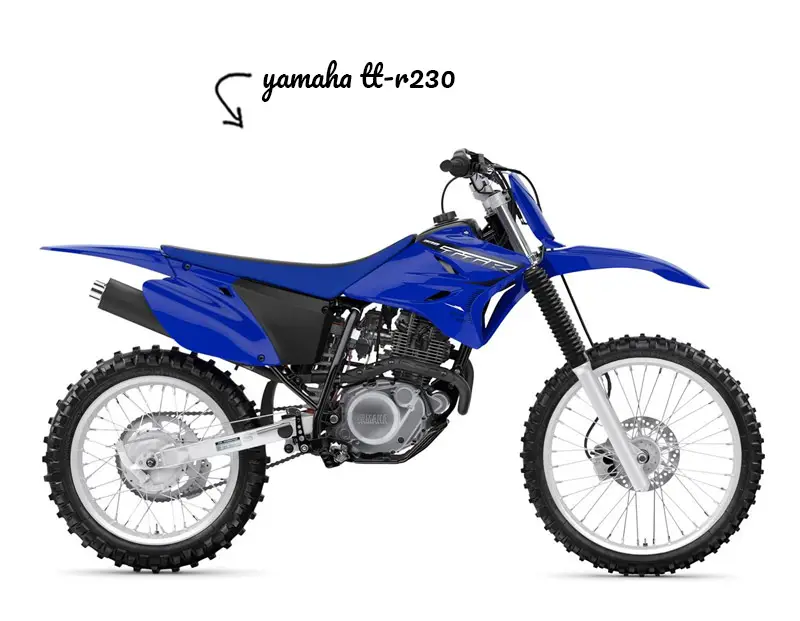 The Yamaha TT-R230 really is a great overall dirt bike. Having said that, it's not the right kind of dirt bike for everyone. We'll look a quick look at why it may (or may not) be a good fit for you and your style of riding.
Believe me, the last thing you want to do is go out and buy some dirt bike tie downs, strap it down in your truck and drive it home only to find out it's not quite the right bike for you.
---
What is a Yamaha TTR230?
The Yamaha TTR 230 is a 223cc 4 stroke dirt bike made for mild trail riding and putting around the property. These are the "big brother" to the Yamaha TTR125 dirt bike and were first produced in 2005 when they replaced the TTR225.
The TTR230 is great for cruising around your property, going on adventures in the woods, and squeezing through tight trails.
If you've read through many of the other dirt bike articles on this website, you'll know that I'm a big fan of Honda dirt bikes. Having said that, I really do like Yamaha's as well. I've owned a couple different Yamaha motocross bikes (1999 YZ250, and 2001 YZ426F) and they've been great. I've also owned two Yamaha ATVs.
The Yamaha TTR230 is a great beginner trail bike.
What does TTR stand for (Yamaha acronym)?
The TT-R acronym stands for "trails and racing" when it comes to these dirt bikes. The TT-R is an upgraded (and updated) version of Yamaha's older TT dirt bike from the 70's-90's. As for the "R" in the acronym, it stands for "racing" because these bikes share similar parts as the Yamaha motocross models.
Who Should Buy?
Overall, the TT-R230 is a great trail riding dirt bike and is one of the best for teenagers and small adults on the market. If you want a good bike to learn on and you're not looking for a super-high performance race bike designed for tracks, this is a good bike to consider.
Depending on your personality, age, size, and style of riding, this could be a great dirt bike for learning on. My first dirt bike was a 1970's Honda XL175… not a good bike to learn on. Eventually, we sold that bike and I started riding my dad's 1980's XR200, which was MUCH easier to ride on than the older XL.
What's my point? The Yamaha TT-R230 is a sized, geared, and powered for easy riding and learning.
History
As mentioned, Yamaha TTR 230 history dates back to 2005 when they were first produced.
Here's a nice little overview I found from Wikipedia that gives a little bit more history.
"The Yamaha TT-R230 is a trail bike that Yamaha produced from 2005–present. The TT-R230 is Yamaha's successor to the TT-R225. The names TT, TT-R, and XT have been used for semi off-road and street versions in different markets and in different eras. The TT-R230 is a mid-range dirt bike for beginner to intermediate riders, kids or teen. It is mainly used for family recreation and off-road trails. It has a soft suspension, wide seat and high ground clearance."
Yamaha TTR 230 Specs
Here are the Yamaha TTR230 specifications straight from Yamaha's website:
Model
TT-R230
Engine Type
223cc, four-stroke
Bore and Stroke
70.0mm x 58.0mm
Compression Ratio
9.5:1
Valve Train
SOHC; 2 valves
Fuel Delivery
Carburetor
Ignition
CDI
Transmission
Constant-mesh 6-speed; multiplate wet clutch
Final Drive
Chain
Suspension
Front: Telescopic fork; 9.4-in travel
Rear: Single shock; 8.7-in travel
Brakes
Front: Hydraulic single disc, 220mm
Rear: Drum, 130mm
Tires
Front: 80/100-21
Rear: 100/100-18
Wheelbase
54.5 inches (13840mm)
Rake (Caster Angle)
27°
Trail
4.4 inches (112mm)
Seat Height
34.3 inches (920mm)
Ground Clearance
11.6 inches (295mm)
Wet Weight
251 pounds (78 kg)
Fuel Capacity
2.1 gallons
Color
Blue
I've picked out the important TT-R230 specs that most of us are looking for, and I went ahead and added a couple more that weren't listed on the website:
Manufacturer: Yamaha
Model Name: TT-R230, TTR230, TTR 230
Dirt Bike Name: Yamaha TT-R230
Dirt Bike Type: Offroad, Trail dirt bike
Years Made: 2005-2023 (present)
Seat Height: 34.3"
Wet Weight: 251 lbs (all fuel, fluids, etc.)
Top Speed: ~60 mph
Horsepower: 15 hp
---
TTR 230cc Engine & Transmission
These Yamaha off-road dirt bikes are very well known for being durable and dependable. In addition to them being long-lasting and dependable, the Yamaha TTR 230cc dirt bike engines are easy to maintain.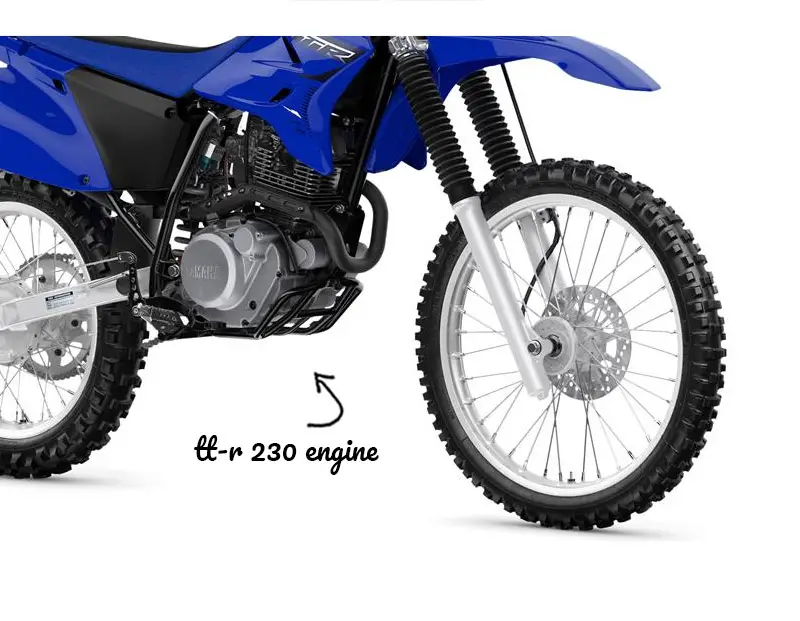 Even though the TTR dirt bikes aren't the fastest or best jumping Yamaha trail bikes, they've got plenty of functional power and can go basically anywhere you need them to.
You won't be winning any drag races, hill climbs, or hole-shots, but that shouldn't stop you from cruising around and having a good time on this bike.
Horsepower
The Yamaha TTR230 has 15 horsepower. Yes, 15 HP. If you're like me, you might be wondering if that is enough? Surprisingly, it is.
While doing some research, I found a guy that took his TTR230 to get dyno tested. It put out 15.94 horsepower with 12.33 ft lbs of torque.
Remember, this isn't a motocross cross bike nor a high performance enduro bike. This is a nice little thumper for beginners and smaller riders. With the design and rider in mind, the power that this 230ccc motor puts out does go straight to your rear tire and it hooks up nicely.
The TTR won't send a roost like a Yamaha YZ250 or a YZ450F motocross dirt bike, but you'll be able roll-on the throttle and control every bit of power the bike does put out.
Due to it being so easy to handle and ride, you'll find that you can ride these Yamaha enduro dirt bikes through trails and woods faster and more efficiently than many other models.
Top Speed
How fast does a TTR 230 go? The Yamaha TT-R230 top speed is about 60 mph.
However, there's more to deciding the top speed for you…
If you change the gearing on the Yamaha dirt bike, you can make it go faster. The gearing on a these bikes (or any other) determines a large percentage of the speed you'll be able to reach. For example, I geared down my Honda 450R and it's much better on the trails, but it has a slower top speed.
Let's assume the dirt bike has stock gearing. In that situation, a stock Yamaha TTR230 trail bike should go around 60 mhp… which is plenty fast for riding trails in the woods.
Does a Yamaha TTR 230 have a clutch? Yes, the bike has 6-speeds and has a clutch.
Engine Specs
Engine Size: 223cc (considered a 230cc)
Horsepower: 15 HP
Engine Type: 223cc, 4-stroke
Valve Train: SOHC; 2 valves
Transmission: 6-speed, manual-clutch
Starting: Electric start
Cooling System: Air-cooled
Fuel Capacity: 2.1 Gallons
Fuel Type: Petrol / Gasoline
Fuel Supply: Carburetor
Oil Capacity: 1.1 L (0.24 imp gal; 0.29 US gal)
Maintenance
A Yamaha TTR230 dirt bike maintenance schedule (or lack of one) is one of the stronger selling points. These beginner-friendly trail bikes don't need anywhere near as much maintenance as a typical MX dirt bike, or even the high performance enduros.
Since they come automatic cam chain tensioner, these engines requite minimum maintenance while offering a longer engine life than normal. Just remember that the most important thing is to keep the oil changed and to keep good gas in the tank and carb.
What motor oil does a Yamaha TT-R230 use? Yamalube 4 Stroke 10w30
How much oil does a Yamaha TTR 230 take? These take 1L to fill, 1.1L to fill after changing the oil filter.
---
Yamaha TTR 230 Handling
The suspension and handling of a TTR230 is adequate, but not great.
What it does have going for it is the low center of gravity and low seat height. This makes it easier to maneuver through trails than many of the other dirt bikes out there.
The Yamaha may not be the "best" handling motorcycle, but there really isn't anything wrong with it either.
Weight
The Yamaha TT-R 230 weight is 251 pounds, wet. What does "wet" mean and how much does a TTR 230 actually weigh? Here is how we'll get the answer to that: wet weight VS dry weight.
What's the difference between wet and dry weight on a dirt bike?
The difference between wet weight and dry weight refers to the the dirt bike's weight as it was when it was shipped from the Yamaha. This means that the "dry" weight does not include the weight of fuel in the tank. The "wet" weight listed does include a full tank of fuel and any other required fluids.
In the end, it doesn't really matter one you are using to compare to other dirt bikes. Just make sure to compare dry-to-dry, or wet-to-wet.
Seat Height
The Yamaha TTR 230 seat height measures 34.3 inches off the ground, so it is not a big bike.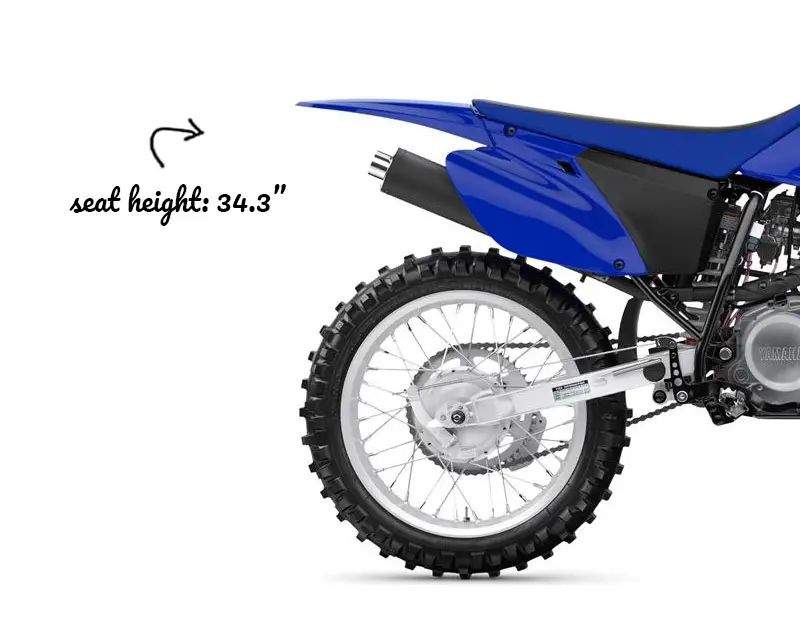 This will give you an idea on what size rider would fit a TTR230, however you can modify it if needed. The most effective way to lower one of these dirt bikes is to install a lowering link. There are two popular links: one from Kouba, and one from Yamalink.
NOTE: The low seat height combined with the mild and controllable personality of this dirt bike makes it a great option for some teens, adults, and women riders who don't want a beast-of-a-bike.
Suspension
Although it ultimately depends on your weight and the type of riding you do (or want to do), the TTR 230 suspension isn't the best out there.
The TTR230 Yamaha dirt bike is designed for smaller riders, looking for an easy-going trail bike. The suspension is not designed for MX tracks, dune jumps, or whoops. In short – it's a trail bike, not a track bike.
Front suspension: Telescopic fork; 9.4-in. travel
Rear suspension: Single shock; 8.7-in. travel
There are quite a few better suited options if you're in the market for a trail bike that you can also jump and rip around on the track.
Beginners don't usually ride aggressively, so the soft springs and valving works just fine for most. But if you are more aggressive, you'll want to consider upgrading the forks and shocks, or picking a different dirt bike all together.
Handling Specs
Chasis
Frame Type: Steel frame
Brakes
Front Brake: Hydraulic single disc, 220mm
Rear Brake: Drum, 130mm
Wheels and Tires
Front Tire Size: 80/100-21
Rear Tire Size: 100/100-18
---
Is the Yamaha TTR 230 a Good Bike?
Absolutely, the Yamaha TTR 230's are good dirt bikes. However, these aren't the right pick for everyone.
Here's a good comparison list to see if this bike would be well suited for you or not.
Reasons you to buy one:
You want a good dirt bike to learn on
To take trail riding and cruising around in the woods
If you're looking for a great beginner bike
Very little required maintenance
Reasons not to buy one:
You are looking for a motocross dirt bike
Jumping and track riding is important to you
You want a bike with TONS of power
Positive Reviews
Overall, the TTR230 is a really good bike for quite a few different riders. But that still doesn't change one thing about it. What's that? It is made by humans over at Yamaha. Humans make mistakes, no piece of machinery is perfect.
Here are the main strengths, followed by the areas that this dirt bike is a bit lacking.
Proven reliability
Beginner-friendly power and handling
Good power and torque for beginner to intermediate riders
Simple to work on and maintain
Smooth, controllable power from the Yamaha 230 cc engine
Electric start
Negative Reviews
Suspension isn't great for big or aggressive riders
Many used TTR's have been neglected (because they run forever)
Not good for tracks or jumping
Buyers Guide (Best Year, etc.)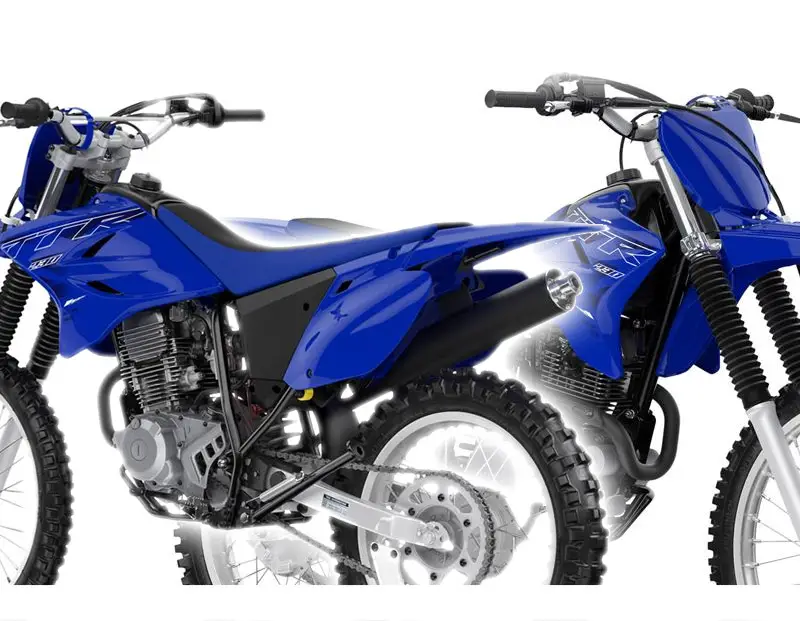 I hope this Yamaha TTR 230 review has provided you the info you were looking for.
Now that you're more familiar with this bike and what it's all about, where do you buy one for sale? You can purchase a brand new model from your local Yamaha dealer, or you can most-likely find a used TTR for sale online.
Whenever looking to buy used dirt bike (a Yamaha TT-R230, in this case) I stick to these three options:
Of course, there are other places to find used Yamaha dirt bikes for sale, but I like checking those first. Before you go out and buy a bike, it's important to see it in person first. When in-person, you can sit on it, start it up, ride it, and inspect it before buying it.
No-brainer, huh!
What is the best year of the Yamaha TTR 230? Honestly, any year is a good year because they're all so similar. Yamaha hasn't made a whole lot of changes. Since these are simple and well-built dirt bikes, Yamaha has little need to change things up. They are popular just the way they are and they're quite affordable.
Yamaha TTR 230 Price
How much does a Yamaha TTR230 cost? If you're looking at a new TT-230, they cost almost $4,499 from the factory. (Plus misc. charges.)
It doesn't really matter which dealer you buy one from, the price will be close to the same. If you don't already know where one is, just check out Yamaha's website to find a Yamaha dealer near you.
What is a used Yamaha TTR230 worth?
A used TTR 230 is worth anywhere from $1,200-$3,500 range.
That price range depends on who you buy one from, where they live, the condition of the bike, and how many miles (or hours on the meter) are on it. For example, I searched Facebook Marketplace and found a 2003 Yamaha TTR225 (the 230 replaced this bike) for $1,800. Of course, that's a different bike altogether, so that's not an exact price for the 230.
I was also able to find a 2007 Yamaha TTR 230 for $1,250. That's cheap.
My "red flag" went up when I saw the price, but the seller said it was in decent shape and would sell fast. If he's not lying about the condition, he's not lying about it going fast.
Here's another ad I found for a '07 TTR230. This gal wanted $3,500 for it, which seems a little steep:
"I have a Yamaha TTR230, was barely ridden before me and I haven't ridden it much since being pregnant after I bought it. Asking $3500 OBO – New light bar -electric start -new battery -new chain -new paddle tire with 0 rides There is nothing wrong with this bike, I just need something with more power! Interested in trades for 250 dirt bikes!"
As for Craigslist, I only found two. One 2005 $1,200 and one 2008 for $2,200. Both sounded (and looked) nice, but the '08 seemed like a much better bike.
"I am 45 years old and I have rode my whole life and this is by far my favorite bike I've had. It has enough power to do black diamond trails, and yet strolls along with novice riders as well. I am selling my bike because I have a back problem and no longer can ride. The battery is a couple years old and kept on a maintainer/tender the whole time. It starts up very easily… I have owned it since 2015… has current green sticker… VIN number matches the pink slip. Tires are not new but good… The bike does not have an odometer so I don't know what how many miles or hours it has."
Is the '08 worth $1,000 more? I'm not sure… I didn't go look at them. Either way, this gives us a good idea for a value range.
Any way, I hope this Yamaha TTR230 review has given you a better idea of whether this the bike for you. If you're buying new, you should already know what you're going to be paying. However, if you're going to hold out for a used dirt bike, you're going to be looking at a price range between $1,200-$3,500.