Yamaha TTR 225 (Top Speed, Seat Height, Specs) – Worth It?
BraapAcademy.com earns a small commission from qualifying purchases.
This does NOT cost you extra.
Are you looking to buy a Yamaha TTR 225 dirt bike? Or, do you already have one and you'd like some more info on it? Either way, I think you'll find what you need here. Here's a full-bore (yes, pun intended) review of the Yamaha TTR225 dirt bike that will cover the important specs, pros and cons, performance, and handling characteristics.
By the end, you really should have a solid idea of whether or not this is the type of dirt bike you're looking for you.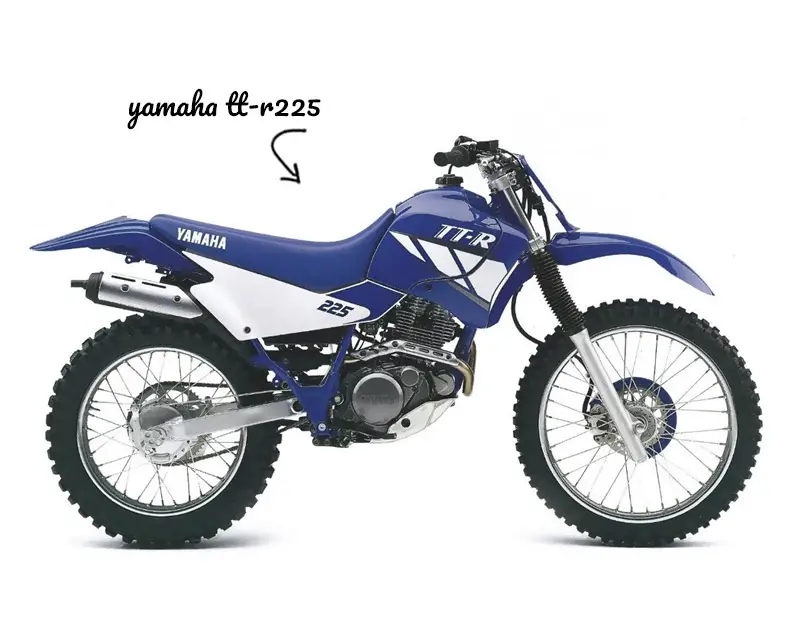 The Yamaha TTR230 is a really good trail bike. Although, it's not the right dirt bike for everyone. In this review, we'll take a look at why it would (or wouldn't) be a good fit for you and your style of riding.
Seriously, the last thing you want to do is go out and buy one, load it in your truck, drive it home, unload it and then find out that it isn't the bike you wanted.
---
What is a Yamaha TTR225?
The TTR 225 is a 223cc four stroke dirt bike made for mild trail riding and putting around. These are the larger versions of the TTR125 dirt bike, and they were produced from 1999 to 2004.
Yamaha is now producing the TTR 230 instead of this bike, but there are still quite a few floating around.
The TTR225 is great for cruising around your property, going on small adventures in the woods, and squeezing through trails. It is considered an entry-level dirt bike and is a good option for beginners wanting to learn how to ride.
Now, If you've read through a handful of other articles on this website, you may have noticed that I'm a big fan of just about all of Honda's beginner dirt bikes. Having said that, I do like Yamaha's as well… I have owned a few Yamaha dirt bikes – YZ250, and a YZ426F – and they were great. I've also owned two Yamaha ATVs.
What does the Yamaha acronym (TTR) stand for?
The TT-R acronym stands for "trails and racing." TT-R is the updated version of the older Yamaha TT dirt bike that was produced in the 1970's through the 1990's. The "R" in the acronym stands for "racing" and some of the parts are interchangeable with other Yamaha motocross models.
Who Should Buy?
Overall, the TTR 225 is a great trail bike for beginners.
If you want a good bike to learn on and you don't care about the bragging rights that come with a high-performance race bike, this is a solid choice.
My first dirt bike was a 1970's Honda XL175. That was not a good bike to learn on. We ended up selling the bike and I started riding my dad's 1980's XR200, which was MUCH easier to ride on than the older XL.
What's my point?
The Yamaha TTR225 is sized, geared, and powered for easy riding and learning. It has modern suspension and other modern tech like an electric start that make it even more beginner-friendly.
At the end-of-the-day, a Yamaha TTR225 is a good trail bike. If, for whatever reason you're not sold on one, check out the Honda CRF230F or CRF250F. Then again, you may want to look at the updated version of this bike – the Yamaha TTR230.
History
As mentioned, TTR 225 history started back in 1999 when they were first released, and lasted through 2004, when they were replaced the 230cc.
TTR225 Specs
Here are the Yamaha TTR225 specifications straight from the user manual:
Model
TT-R225
Engine Type
223cc, four-stroke, SOHC
Bore and Stroke
70.0mm x 58.0mm
Compression Ratio
9.5:1
Fuel Delivery
Carburetor
Ignition
CDI
Transmission
Constant-mesh 6-speed; multiplate wet clutch
Final Drive
Chain
Suspension
Front: Coil spring, oil damper (8.8-in travel)
Rear: Single spring; oil damper (7.5-in travel)
Brakes
Front: Single, disc
Rear: Drum
Tires
Front: 80/100-21
Rear: 100/100-18
Wheelbase
53.1 inches (1350mm)
Rake (Caster Angle)
26.5°
Trail
4 inches (102mm)
Seat Height
33.6 inches (855mm)
Ground Clearance
11.2 inches (285mm)
Dry Weight
260 pounds (118 kg)
Fuel Capacity
2.6 gallons
Color
Blue
I've picked out the important TTR225 specs that most of us are looking for and I put them here.
Manufacturer: Yamaha
Model Name: TT-R225
Dirt Bike Type: Offroad, Trail dirt bike
Years Made: 1999-2004
Seat Height: 33.6″
Dry Weight: 260 lbs (no fuel)
Top Speed: ~60 mph
Horsepower: 16 ph
---
TTR 225cc Engine & Transmission
These Yamaha off-road dirt bikes have a good reputation for being durable and long-lasting.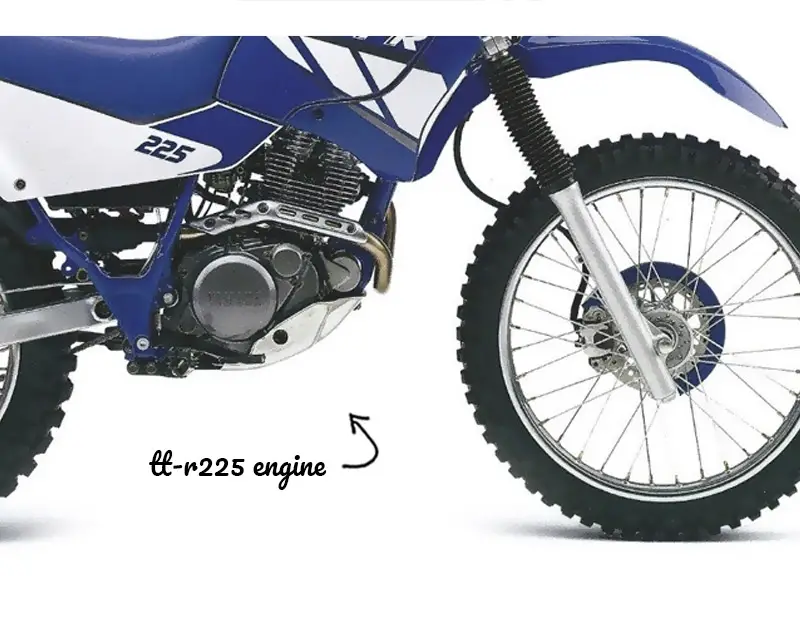 The TTR225 Yamaha dirt bikes aren't the fastest or best jumping trail bikes out there, but they have great functional power and smooth delivery. When it comes to learning how to ride, these are good motors to learn on.
No, they aren't good for drag races, hill climb competitions, or hole shots, but that won't prevent you from cruising around and having a good time on one. In fact… cruising around is exactly what they're designed for.
Horsepower
The Yamaha TTR 225 has about 16 horsepower.
Yes, 16 hp. I wouldn't blame you for wondering whether that is enough. Surprisingly, it is. In fact, the newer 230 TTR is the same. They haven't upped the horsepower because they don't need to. It's a solid, beginner-friendly engine that delivers smooth and controllable low-to-mid power. Yeah, that sounds good.
While doing some research, I found a guy that took his TTR230 to get dyno'd and it put out exactly 15.94 horsepower with 12.33 ft lbs of torque. Basically 16 hp.
It is important to remind ourselves that this isn't a motocross bike… and that's a good thing. This is a good four-stroke thumper made for beginners. It is not a high-performance machine.f
This TTR is not going to be pulling wheelies like a Yamaha YZ250 or a YZ450F MX bike, but again, that's a good thing for a bike made to learn on.
Because the motor is so controllable, you'll most likely find that you can ride these Yamaha enduro dirt bikes through trails and woods faster and more efficiently than some of the more "race" focused models. The downside is their weight and handling, but we'll get into that in a bit.
Top Speed
How fast does a TTR225 Yamaha go? The TTR-225 top speed is about 60 mph.
Here's a video of a 230TTR (basically the same bike) hitting its top speed. Just remember, top speed for YOU may be different.
So, how can the top speed differ for each rider? It comes down to the rider's weight and gearing on the Yamaha that will impact the final speed.
For example, if the TTR225 is geared lower for tight, technical trails, it might not even go 55 mph. On the other hand, if you wanted to gear it up for riding on the road, you could get it up to 65+ mph, depending on how much you weigh.
Therefore, assuming that the bike you're looking at (or, already have) has stock gearing, the TTR225 Yamaha top speed is ~60 mph. And at the of the day, that's fast enough for riding trails in the woods.
Engine Specs
Engine Size: 223cc (considered a 225cc)
Horsepower: 16 HP
Engine Type: 223cc, 4-stroke

Starting: Electric start
Cooling System: Air-cooled
Fuel Capacity: 2.6 Gallons

Oil Capacity: 1.1 quarts (technically 1.4 quarts, see below)
Does a Yamaha TTR 225 have a clutch? Yes, the bike has 6-speeds and a clutch.
What motor oil does a Yamaha TT-R225 use? Yamalube 4 Stroke 10w30
How much oil does a Yamaha TTR 225 take? This depends on whether you change the oil filter or not.
Oil change – 1.1 quarts (1 L)
Oil and filter change – 1.2 quarts (1.1 L)
After disassembly – 1.4 quarts (1 L)
Maintenance
The Yamaha TTR225 maintenance schedule is one of the stronger selling points. These beginner trail bikes don't need the same amount of maintenance as a motocross, or other high performance enduro dirt bike.
Even though these engines require such little maintenance, they seem to just keep on running. Basically, as long as you know how to change the oil, keep the air filter clean, and put decent gas in the bike, it's probably going to run a very long time.
---
Yamaha TTR 225 Handling
The suspension and handling of a TTR225 are good, but not great.
The low center of gravity and low seat height do lend to a beginner-friendly feel. Add to that, the short wheelbase (53.1″), and this dirt bike handles well riding through tighter trails, at lower speeds.
The Yamaha may not be the "best" handling motorcycle, but there isn't anything wrong with it either. And to be fair, it does great at what it was designed for.
Weight
The Yamaha TTR225 weight is 260 pounds, dry.
What does the term "dry weight" mean, and how much does a TTR 225 actually weigh?
You may know already, but the terms wet weight and dry weight refer to the dirt bike's weight with, or without, a full tank of gas.
Therefore, the dry weight does not include the weight of the dirt bike with fuel in the tank. Contrarily, wet weight does include a full tank of fuel and all other fluids.
Seat Height
A stock Yamaha TTR 225 seat height measures 33.6 inches from the ground.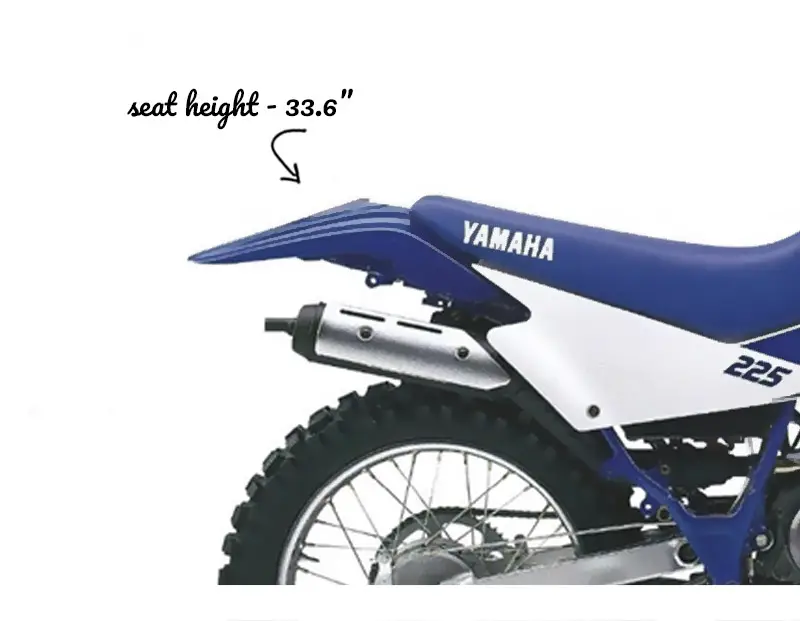 This helps give you an idea of whether this is a decent height for you, or if you need to make the TTR225 shorter or taller. If you do, the best way to lower these dirt bikes is to install a "lowering link." There are popular links out there like the one from Kouba, and the one from Yamalink.
NOTE: This is a fairly low seat height already. Make sure you need to lower it before ordering anything. I guess that's obvious though, isn't it?
Suspension
Your weight and the type of riding you do (or want to do) make a difference in whether you'll like the suspension.
Since the TTR 225 suspension is a bit soft, it can be a hindrance to fast, aggressive riding. On the other hand, it isn't meant to be ridden fast or aggressively, so that's okay. It is meant to be an easy-going(ish) dirt bike.
The TTR225 Yamaha dirt bike is designed for smaller adult riders. As alluded to, the suspension isn't going to serve you well on MX tracks, jumping on the dunes, or whoops. In short – it's a trail bike, not a race bike.
Front suspension: Coil spring, oil damper (8.8-in travel)
Rear suspension: Single spring; oil damper (7.5-in travel)
When it comes down to it, most beginners don't ride too aggressively so the soft springs and valving will be a good thing. However… if you are more aggressive on the bike, you will notice the soft, not-as-responsive feel that the suspension provides. It's not the greatest there.
Handling Specs
Chasis
Frame Type: Steel frame
Brakes
Front Brake: Single disc
Rear Brake: Drum
Wheels and Tires
Front tire size: 80/100-21
Rear tire size: 100/100-18
---
Is the Yamaha TTR 225 a Good Dirt Bike?
When it comes to being a low-tech, somewhat of a "baseline" model, yes, the TTR 225 is a good dirt bike. However, these are not necessarily the best beginner dirt bike for everyone.
Here are a few of the reasons I came up with to buy, and a few reasons not to buy.
Reasons you to buy one:
You want a good dirt bike to learn on that's fairly cheap
Trail riding and cruising around in the woods
If you're looking for a great beginner bike
Very little required maintenance
Fan of Yamaha
Reasons not to buy one:
If you plan to practice on a motocross track frequently
It is a bit heavy for its class
If you want a dirt bike with "snappy" power, this one is lacking
Positive Reviews
The TTR225 dirt bike is good for quite a few different riders, and it is known to run forever, however, no dirt bike is perfect.
Here are the main strengths…
Proven to be reliable
Beginner-friendly power and handling
Simple to work on and maintain
Electric start
Negative Reviews
Suspension is "not great" for big or aggressive riders
Many used TTR's have been neglected (because they run forever)
Not the lightest, nor good for tracks or jumping
Buyers Guide (Best Year, etc.)
I hope this TTR 225 review has provided you with the info you were looking for.
Now that you're more familiar with this bike and what it's all about, where do you buy one for sale? As of now, they're not hard to find.
I recommend looking TTR225 Yamaha dirt bike from either Facebook Marketplace or Craigslist.
There are many more places to search for a used Yamaha dirt bike, but I like checking those first. Since these websites allow you to filter locally, if you narrow down your search to areas that are close, you can go sit on it, start it up, ride it, and inspect it before you buy it.
What is the best year of the Yamaha TTR 225?
Since these bikes were only made from 1999-2005, all years are basically the same.
Yamaha didn't make a whole lot of changes in those years, and then they rolled out the TT-R230, which is practically the same bike.
Because of this, picking the best year is somewhat pointless. Instead, it's more important to look for a bike in good condition. Check to see how many miles are on the bike, make sure that the oil is clean and has been changed regularly, and that the air filter is clean and no dirt has been getting into the engine.
Check off those three items, and you should be good to go.
Yamaha TTR 225 Price
How much does a Yamaha TTR225 cost? Since they are no longer being made, you'll have to find a used one.
As discussed already, a good place to find a used TTR225 Yamaha dirt bike would be Facebook Marketplace or Craigslist. But how much?
I searched both websites and was able to find a few decent motorcycles. Funny enough, I found a 2003, 2004, and a 2005 Yamaha TTR225 for sale on Marketplace. Additionally, I found a 2001 TTR225 Yamaha and mystery year – not a good ad if it doesn't include the year – dirt bike for sale on Craigslist.
What is a used Yamaha TTR 225 worth?
Based on the used TTR 225 dirt bikes that I found searching online, they should be worth somewhere in the $1,200-$3,000 range.
Again, the pricing will depend much on the condition of the bike, who you buy it from, and where they live.
The enduro bikes I found on Marketplace were as follows:
2003 Yamaha TTR225 – $1,800
2004 Yamaha TT-R225 – $2,600
2005 Yamaha TT-R225 – $1,500
The '04 TTR225 was listed with a new top end, carb, and exhaust. Here's the ad from Craigslist for a 2001 TTR225:
"I have a TTR-225 for sale. I am looking for $2000.00. bike runs, but might need to be re-jetted. I have the title for bike. My family has out grown bike and it's taking up space. Not looking for trades. Call or text is fine."
He is asking $2,000 for it. Not much of an ad, but I have a feeling he'll be abler to sell it just fine.
Bottom line… I do hope this TTR225 Yamaha review has given you a better idea of whether this is the dirt bike for you.