Yamaha WR250F Review (Weight, Top Speed, Horsepower, etc.) – Worth Buying?
BraapAcademy.com earns a small commission from qualifying purchases.
This does NOT cost you extra.
Are you looking at buying a Yamaha WR250F dirt bike, or would you like to learn more about it? Either way, I've put together this full review that covers all of the popular stats and need-to-know specs like the dirt bike's top speed, weight, height, horsepower, and more.
Overall, this 250cc Yamaha is a great dirt bike, however, it isn't perfect and it definitely isn't the right choice for every rider, or every type of riding.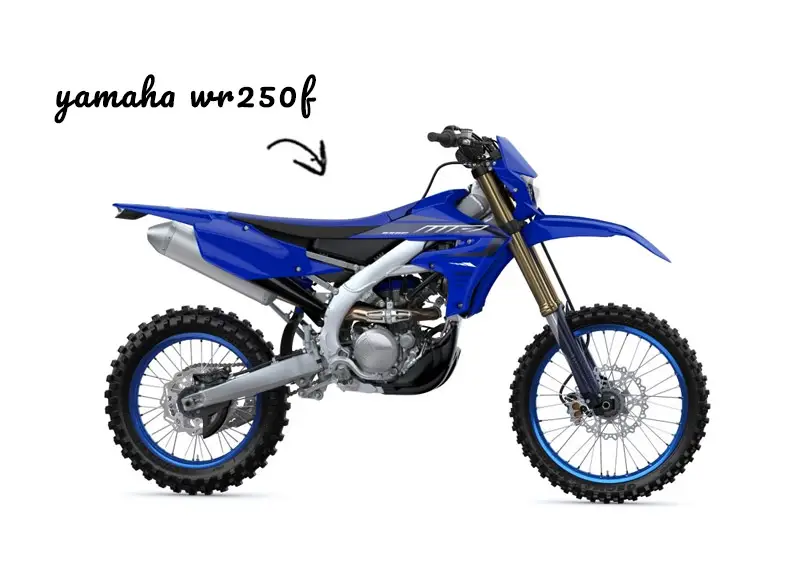 We all know there isn't one perfect dirt bike that can do everything well. Therefore, it is important to understand the little nuances and specifics that come with riding and owning one of these WR250F Yamaha dirt bikes.
We'll look at the type of riding that this dirt bike is meant to do, and the type of rider that was meant to do it. Also, we'll take a look at what kind of maintenance it needs, how much they cost, and more.
---
What is a Yamaha WR250F?
The Yamaha WR250F is a 250cc, single-cylinder four-stroke dirt bike.
A WR250F is basically a YZ250F that Yamaha has "de-tuned" and set up for enduro and trail riding. The "WR" acronym stands for the wide-ratio gearbox that helps to make it a more manageable, all-around dirt bike than its motocross sibling.
But don't let "de-tuned" give you the wrong impression. This is still a high-performance dirt bike, it just so happens that it's designed and built to perform better on a single track than on a motocross track.
What it is – a high-performance, water-cooled enduro/trail bike.
What it is NOT – a low-to-mid level, air-cooled beginner dirt bike (like the TTR230)
Overall, the Yamaha WR 250F isn't quite a motocross bike (anymore), but it certainly isn't a beginner trail bike either. Instead, it falls somewhere in the middle… but still a race bike and closer to the more extreme end. It is in direct competition with the CRF250RX, if that helps.
Who Should Buy?
Depending on your riding experience and the type of riding you plan to do, this is a solid option for somebody who does the majority of their riding in the woods and/or on enduro tracks.
For a 250cc dirt bike, it does have a good midrange and low-end torque, and it's a bit more tame than a 450. But don't let the word "tame" fool you. This is a full-size dirt bike built for performance. It's no put-put type of dirt bike. Here's a good breakdown of reasons to, and not to, buy one:
Consider buying if:
You'd like a full-sized dirt bike for enduro or trail riding
You prefer trail and enduro riding over motocross tracks
Not planning on racing MX or SX
You want a good all-around dirt bike to have fun on
You already know how to ride and have some experience
Avoid buying if:
You want a good dirt bike to learn on
You're expecting to win drag races
You want a 2 stroke
You're planning more sand/dune trips than adventures in the woods
You are looking for a strict motocross dirt bike
Need a street-legal commuter
History
When Yamaha released the WR250F in 2001, it immediately became a hit in the enduro community.
The popularity of this 250 Yamaha enduro did slowly fade into the background after making its debut. But because of that, Yamaha has been dedicated to continual refinements, improvements, and changes to the WR250F throughout the years.
Overall, this WR250F Yamaha has seen fairly consistent upgrades when compared to other dirt bikes in this class. This could be because of how long it's been around, but either way here is a list of updates throughout the years:
2001 – First released
2003 – Added electric start, updated exhaust cam, firmer suspension settings, larger 10 liter fuel tank
2005 – Lighter and more narrow frame, smaller 8 liter fuel tank
2007 – New allow frame
2009 – Minor refinements to suspension, CDI, and clutch
2015 – BIG update, entirely redesigned based on the YZ250F, New DOHC, fuel-injection, reverse engine, updated suspension settings
2018 – Upgraded engine mods throughout, updated suspension, improved braking, misc. body armor added
2020 – More engine mods, slimmer bodywork, lowered seat height, updated suspension, removed kickstart
2021 – Updated graphics
2022 – Engine, frame, suspension, brakes, triple clamps, handlebar mounts, foot pegs axles, tires
Yamaha WR250F Specs
Here are all of the WR 250F specs that come from the Yamaha website directly, as well as a couple that were not listed, but should have been:
Engine Specifications
Chassis Specifications

Miscellaneous
Here's a recap of the most important specs:
Manufacturer: Yamaha
Model Name: WR250F, WR 250F, WR 250 F
Dirt Bike Type: Offroad, Enduro, Trail
Years Made: 2001-2023 (present)
Seat Height: 37.6 inches
Curb Weight: 254 (all fuel, fluids, etc.)
Top Speed: ~85 mph
Horsepower: ~36 HP
---
WR250F Engine & Transmission
Yamaha is one of the top dirt bike brands on the planet and they've made these motors reliable and durable.
These 250cc engines are based on the YZ250F engines and they're one of the best 4-stroke dirt bike motors out there. Starting with the YZ250F motor, Yamaha took it and tuned it for enduro and trail riding performance.
With the trail-riding updates made, the motor produces better low-end torque along with solid mid-range power. Having said that, these aren't the most "torquey" dirt bikes out there, but they get the job done. Everywhere else, they're great.
Horsepower
The Yamaha WR250F produces 36 horsepower.

Depending on which year you're looking at, the WR250F has anywhere from 30-36 horsepower.
If the dirt bike is a 2014 or older, you can expect to get about 30 horsepower. However, the 2015 and newer dirt bikes produce about 36 horsepower thanks to the updated reversed engine that was taken from the YZ250F.
Compared to other dirt bikes in this class, the WR 250F is competitive. For example, the Honda CRF250F has about the same power, producing 37 horsepower. Conversely, if you were to compare the horsepower to the WR450F, you'll find that the 450cc produces more than 10 HP more than the 250cc.
But don't let that pursued you into thinking it's not enough power. Riding a dirt bike in the woods with 37 HP is plenty. And if for whatever reason you want more, you can always add some aftermarket mods.
Top Speed
The question we all ask… how fast can a WR250F go? The top speed for a Yamaha WR250F is about 85 mph.
Is that fast enough for you? It's plenty fast for me. In fact, for most riders who stick to tight trails and technical single tracks, you may even want to gear it down a little.
The amount of time you hit 85 on your dirt bike is going to be MUCH less than the number of times you wouldn't mind having a little more low end. It's just the way it is in the woods.
Again, when comparing the competition's top speed, it's noteworthy that the CRF250RX also has a top speed of about 85 MPH. Compared to its bigger brother, the WR450F's top speed of about 90-95, you can see it isn't that much slower. In addition, the CRF450RX top speed is also around 90-95 mph.
At the end of the day, 80+ miles per hour on a dirt bike is fast. It's very rare that you'll ever want to go that fast… unless of course, you're going to throw your dirt bike paddle tire on and head to the dunes.
Engine Specs
Engine Size: 250cc
Horsepower: 36 HP
Engine Type: DOHC, four-stroke
Transmission: 6-speed, manual clutch
Starting: Electric start (2003+) / Kickstart (2001 & 2002)
Cooling System: Liquid-cooled
Fuel Capacity: 2.15 Gallons
Ignition: Fuel-injection
Fuel Type: Petrol / Gasoline
Maintenance
The amount of maintenance and the maintenance schedule for a WR 250F Yamaha is kind of a lot. After all, it is a high-performance, competition race bike.
Having said that, as long as you keep up on the maintenance these dirt bikes are known for running strong for quite a while.
WR250F Maintenance Schedule
Here are all of the items that are listed on the periodic maintenance schedule for the WR250F dirt bike. Be aware, these do require more maintenance than some of the entry-level bikes like the TTR.
With that, the following items require inspection and/or maintenance after every 3 months (or at 1,800 miles) and again at 6 months (or at 3,000 miles). The manual doesn't specify after 6 months, so I'd recommend every 3 months or 1,500 miles.
Fuel Line
Spark plug
Valve clearance (every 6 months)
Air filter element
Breather system (replace every 2 years)
Fuel injection
Exhaust system (replace every year)
Engine oil
Engine oil filter element
Engine oil strainer
Clutch
Cooling system
Spark arrester (every 6 months)
Front brake (replace fluid every year)
Rear brake
Brake hoses (replace every 4 years)
Wheels
Tires
Wheel bearings
Swingarm pivot bearings
Drive chain (inspect and lube every ride)
Steering bearings
Brake and clutch lever pivot shafts
Brake pedal pivot shafts
Sidestand pivot
Front fork
Shock absorber assembly
Rear suspension link pivots
Control cables
Throttle grip housing and cable
Chassis fasteners
Battery
Engine oil (replace every 5 races)
These high-performance dirt bikes need more upkeep than entry-level beginner bikes. It's just the way it is.
After the initial break-in period of one month (or 600 miles), most of the items on the list require attention (often just an inspection) after every 1,500 miles, or after every fifth race… if you are actually racing.
What motor oil does a Yamaha WR250F use? Yamalube 10W-40, 10W-50, 15W-40, 20W-40, or 20W-50
Engine oil change capacity:
0.77 US qt (0.73 L) – standard oil change
0.79 US qt (0.75 L) – with oil filter removal
1 US qt (.95 L) – after disassembly
---
Yamaha WR250F Handling
If you're upgrading from an older dirt bike, or even a modern-day trail bike like the Yamaha TTR230 or similar, you will notice that the WR Yamaha's feel and handle differently than the TTR's. The Yamaha WR series are basically motocross bikes.
What does it being a motocross-style dirt bike mean for its handling? Since the dirt bike is longer it will handle better at higher speeds, but that also means it will take more work to do what you want on tight trails.
Overall, these bikes do handle well, but you just have to understand what kind of dirt bike it is and how it has been designed to handle.
Weight
The Yamaha WR250F weighs 254 pounds more than its CRF250RX competition's weight of 238 pounds, and the Kawasaki KX250X's weight of 240.2 pounds. However, this doesn't feel like a heavy dirt bike… and it isn't.
These dirt bikes aren't the lightest or heaviest, but they do come with an electric start, a headlight, and more.
Does a Yamaha WR250F have a weight limit?
Technically, Yamaha does not list a weight limit for riders in the owner's manual or on their website. However, the manual does say that the capacity is "1 person" on the dirt bike.
So does that mean it doesn't matter how much you weigh? Not necessarily. These types of race bikes are basically made for jockeys. If you're pushing up over the 240lb mark, you may want to consider a bigger bike or stiffening up the suspension.
Something else to consider… every accessory, extra part, etc. contributes to the weight this machine has to contend with. Therefore, it's important to take into consideration any extras like a small gas can, a tool kit, a hydration pack, or anything else.
Seat Height
The Yamaha WR250F seat height measures 37.6 inches off the ground, making this a fairly tall dirt bike.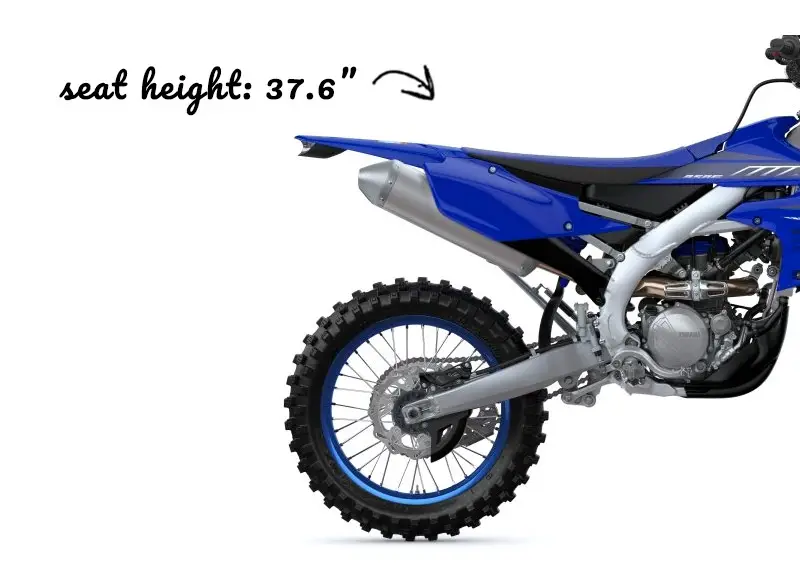 Generally, a seat height of 37 inches is good for someone around 5'10" tall, but that is simply an estimate. You've still got to sit on the bike and see how you fit on it.
For comparison, the entry-level TTR230 seat height is 34.3 inches, while the WR450F has a seat height of 37.6 inches – basically the same height as the 250cc.
Can you lower a WR250F?
Yes, lowering the 250 Yamaha is doable, and there are a few different options.
Properly set your sag and spring rates
Shave the seat
Install lower kit
For starters, you should verify that the sag and spring rates are properly set. Assuming that they are, you now have two main options for lowering the dirt bike.
In order to lower your Yamaha dirt bike for free, you can "simply" shave the seat. However, that's not as easy as it may sound for everyone to do. If you'd prefer not to deal with it, you can purchase an aftermarket seat (here's a good one from SoloMotosParts.com) that is purposely made to be thinner and lower the seat height.
The last option that we'll mention is to install a Yamaha WR250F lowering kit. You can pick these up online or order through your local Yamaha dealer. The one I'd recommend looking into is the YamaLink lowering kit – click here to view pricing and read reviews on Amazon.
Suspension
These Yamaha 250 enduros come with high-end, adjustable suspension front and rear.
The WR250F's adjustable front forks have speed-sensitive damping which makes for a balanced ride between handling and bump absorption. Overall, these spring-type forks are extremely functional and allow for tuning for many different riding conditions and styles.
Front suspension: KYB® Speed-Sensitive System inverted fork; fully adjustable (12.2 inches of travel)
Rear suspension: KYB® single shock; fully adjustable (12.5 inches of travel)
Handling Specs
Chasis
Frame Type: Twin-spar-type steel frame and swingarm
Brakes
Front Brake: Hydraulic single disc brake, 270mm
Rear Brake: Hydraulic single disc brake, 245mm
Wheels and Tires
Front: 80/100-21 Dunlop® MX3S
Rear: 110/100-18 Dunlop® MX3S
Tire PSI:
Front: 15 psi
Rear: 15 psi
---
Is the Yamaha WR250F a Good Dirt Bike?
Yes, it is! The Yamaha WR250F enduro dirt bike is very well made and performs at the top of its class, but that doesn't necessarily mean that it's a good dirt bike for you…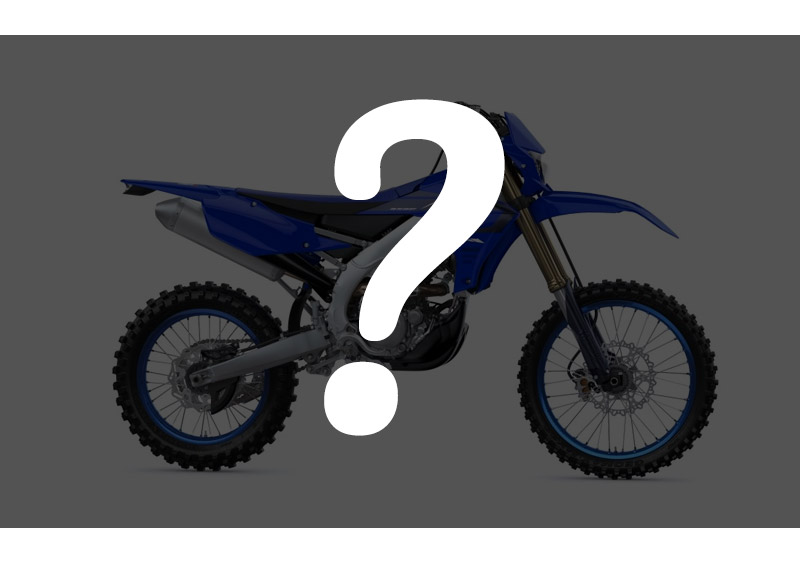 Since Yamaha has taken the full-on motocross YZ250F and tuned it for enduro, that comes with certain pros and cons.
It's important to understand that one dirt bike can't be great a everything. Some dirt bikes are designed for dual sport, some for beginner trail riding, some for motocross, and some for enduro racing.
Once you know what type of rider you are, and what type of riding you'll be doing, then you can narrow down what type of bike you'd like.
Here are a few of the pros and cons of this bike:
Positive Reviews
Plush/adjustable suspension
Reliable company and dirt bike
Electric start (2003+)
Fuel-injected (2015+ )
Great mid to top-end power
Compact headlight
Negative Reviews
Not cheap
Expensive to rebuild (4 stroke race bike)
Lacks low-end torque
Buyers Guide (Best Year, Pricing, etc.)
Now that we know the ins and outs of the dirt bike, and what type of rider might want one, let's look at a few more things.
Where to Buy?
Buying a brand-new dirt bike is pretty straightforward. You can just head over to your local Yamaha dealer and pay them what they want.
Finding and buying a used WR 250 F is a little more involved, but still not too difficult… usually. Of course, I'd recommend checking Craigslist and/or Facebook Marketplace.
And no, this is not some unique angle to finding a used dirt bike for cheap. I just always check these two classifieds first because I can shop locally easily.
I assume you agree that you should see a dirt bike in person before buying it. It's always a good idea to sit on the dirt bike, inspect it, start it up, and give it a short test ride.
Seeing it in person makes it simple to see if it has been maintained or neglected.
Best Year
As outlined previously, the Yamaha WR250F was first made in 2001 and has seen quite a few updates since.
Yamaha doesn't come out with significant year-after-year, but they do release minor updates like graphics, etc., more often than not.
When planning to buy used one, we might ask what the best Yamaha WR250F year to buy is. Of course, "newer" is usually better, but there are some specific years you could look for depending on what you want.
For example, if you know you want an electric start, you'll need to find a 2003 Yamaha WR250F or newer. But, if you want the major update with fuel injection and YZ styling, you'll want to buy a 2015 Yamaha WR250F or newer.
After 2015 year, the next major update was in 2020 when they removed the kick starter… I'm not too fond of not having a backup way to start my bike, but oh well.
In the end, a 2015 or newer is what I would be looking out for.
How much does a Yamaha WR250F cost?
Again, taken straight from Yamaha's website, here's what they cost brand new:
BASE MSRP: $8,899
Destination Charge: $450
Freight Surcharge: $300
Basically, you should expect to pay about $9,700 for a 2023 Yamaha WR250F.
How much is a Yamaha WR250F worth?
If you're planning to buy a used WR 250F dirt bike, here's an assignment for you…
Track down as many listings and prices as you can. This gives you a full view of what these 250 Yamaha dirt bikes are worth.
To do so, I would first check Kelley Blue Book to see what a used 2019 Yamaha WR250F is worth.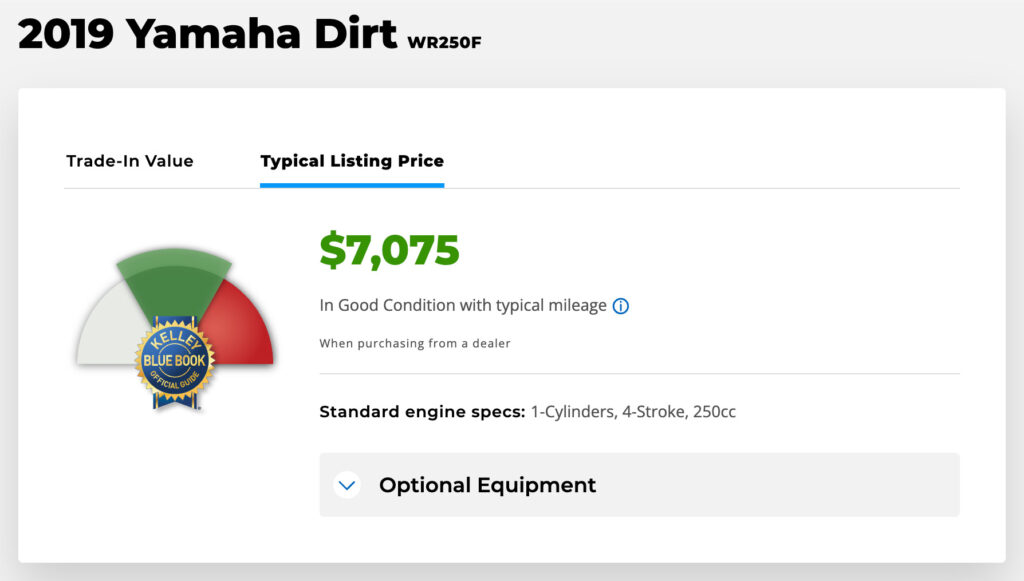 According to KBB, the "Typical Listing Price" for a 2019 WR 250F is $7,075.
NOTE: The "Trade-In Value" is $4,880. (Most people aren't concerned with the trade-in value, but it doesn't hurt to look.)
Second, I would head over to JD Power to see what they value this used 250 dirt bike at: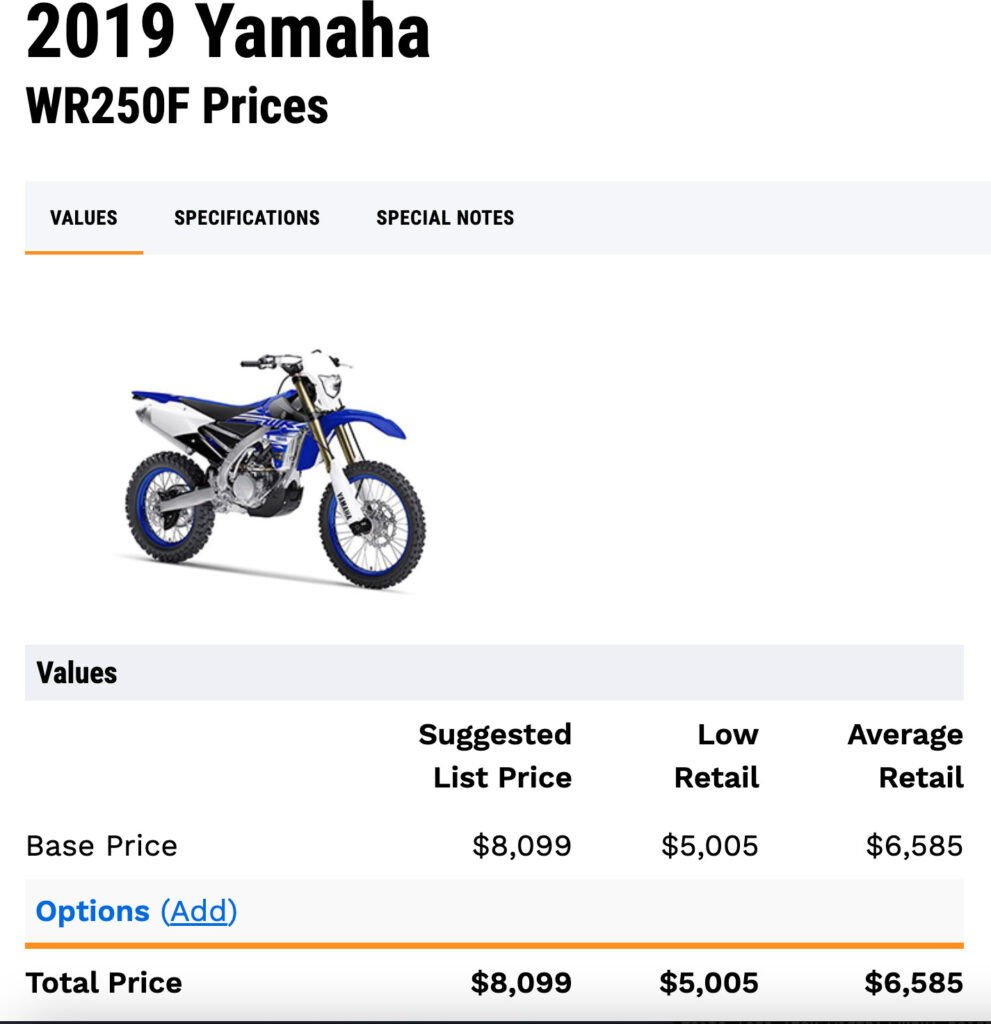 According to JD Power, a 2019 Yamaha WR 250 F is worth $8,099. That's actually quite a bit different than the KBB price.
For reference: According to JD Power a 2015 model is worth $200 less at $7,900
Is the Kelley Blue Book price accurate?
After looking at the KBB and JD Power prices next to each other, it looks like you should expect to pay around $7,500. Let's see if that's really what these dirt bikes cost. (spoiler alert: it isn't!)
I searched Facebook Marketplace to see what I could find.
After a few minutes of searching, I found five of these for sale in my area (for the most part). Here are the models for sale:
2012 Yamaha WR250F – $4,500 (looks decent, aftermarket misc., 800 miles on it)
2015 Yamaha WR 250 F – $7,000 (looks "meh," does have the 2015-updates)
2015 Yamaha WR250 – $5,400 (very nice, aftermarket parts)
2019 Yamaha WR250F – $5,000 (looks decent, cheaper than KBB)
2013 Yamaha WR250F $5,200 (nicest looking one I found)
Of these, the 2015 for $5.4k is the one that seems like the "deal" out of the bunch. Here's the ad:
2015 Yamaha WR 250F – $5,400
"Excellent condition, some scratches in plastic. Bike is uncorked, JD tuner, FMF muffler, IMS 3 gallon tank, Seat concepts comfort seat, Pro taper bar risers, YZ handle bars, Fender eliminater, Flatlands skid plate, after market foot pegs, Doubletake mirrors, Yamahalink, UNABIKER Radiator guard. Plates just renewed."
First impressions – KBB seems high. So, I decided to also check Craigslist. Unfortunately, I only found one. On the plus side, it was absolutely the nicest dirt bike out of all that I looked at, and the one I'd be very interested in. Here's the ad for:
2018 Yamaha WR250F – $5,500
"Low hours – great condition… It's received regular maintenance per the manual… includes an FMF exhaust, Barkbusters, armor, battery tender with leads installed, and additional add-ons..."
Surprisingly, the KBB (and JD Power) values seem quite a bit off. Although I wasn't able to find a used 2019, the estimated values don't change all that much from year-to-year. After compiling a list of used WR250F's, it appears as though they may be cheaper than what you think.
In the end, I would expect to pay around $5,500-$6,000 for a used Yamaha WR250F.