Can-Am Outlander 450 (Top Speed, Horsepower, Specs, etc.) – Worth Buying?
BraapAcademy.com earns a small commission from qualifying purchases.
This does NOT cost you extra.
Are you considering a Can-Am Outlander 450 ATV? While these are some of the most popular quads out there, that doesn't always mean it's the right one for you.
Below, I've compiled all of the Can-Am Outlander 450 specs like its weight, horsepower, top speed, towing capacity, and more.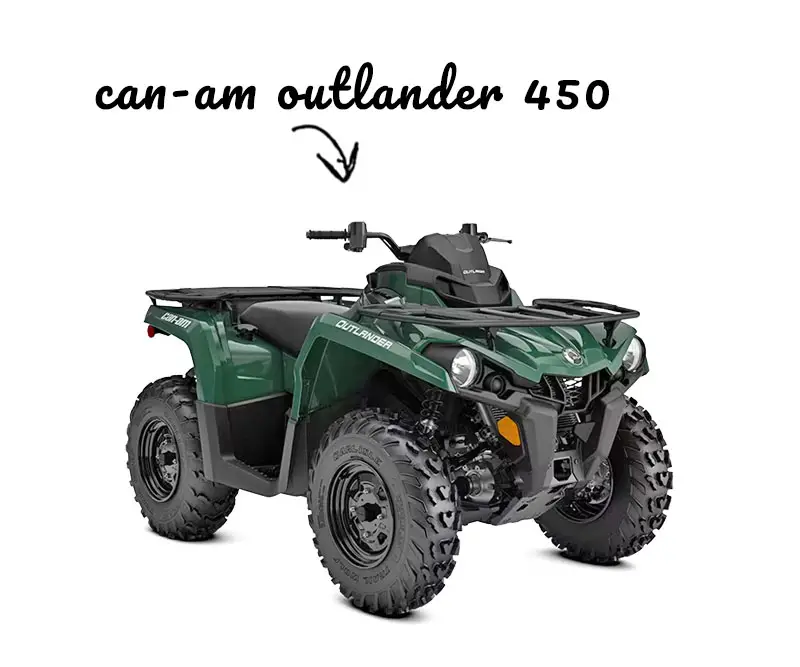 In addition to the Can-Am Outlander 450 specifications, I'll also cover some positive and negative reviews, its maintenance schedule, price, problems, and more. Basically, we'll cover all of the most important info about this Can-Am ATV, and whether or not it would be a good fit for you and your needs.
---
What is a Can-Am Outlander 450?
The Can-Am Outlander 450 is a utility ATV that is powered by a 450cc, liquid-cooled, single-cylinder Rotax 450.
The 450 is a beginner-friendly sized farm quad. They have an electric start and an automatic transmission that makes it easier for new riders or small adults to learn how to ride. They do tend to feel heavier than "sport" quads, but they are still, in general, easier to ride.
Overall, a Can-Am 450 is a somewhat inexpensive, yet capable, entry-level quad.
Overview:
Type: Utility, Farm
Stree-legal: No
Rider's age: Adult
Rider's height: 5'3″ or taller
Who Should Buy?
Here are a few questions to ask if you're considering one of these:
How experienced are you?
What do you plan to use the quad for? (most of the time)
What are you looking for in a quad? (reliability vs. performance, etc.)
How Much Experience Do You Have?
As mentioned, the 450cc Can-Am ATV is a solid choice for small adults, women, and beginners. However, they are actually one of the most peppy quads in the class, so don't let the "beginner-friendly" statement mislead you. Most beginners do better learning on a four-wheeler with the controllable power and torque that these quads make.
In addition to the controllable power delivery, the automatic transmission also lends itself to an easy learning curve. However, if you are even an experienced rider, these things are capable of taking you anywhere (within reason) you want to go.
Riding level: Beginner to intermediate adults
What Type of Riding Will You Do?
Again, this is a utility quad. These are not designed to be fast or to take to the motocross track.
Instead, the Can-Am Outlander 450 DPS, as well as the other models, are all designed to be good for chores, farming, trail riding, etc. If you're in the market for a 450 farm quad, or a good hunting and woods quad, this is a solid choice.
In fact, a few of the models come with a 3,500-pound winch installed from the factory, while most others come prewired for a winch.
What Do You Want From A Quad?
While this may be a good choice for some people, it won't be for others. Below are a few of the reasons that you may consider buying one of these, and a few reasons you may not want to buy one. Ultimately, it comes down to what you're looking for and hoping to get.
Reasons to buy this ATV:
If you want a good little hunting or woods quad
You plan to use the ATV to clean up your property
If you're a beginner or a mellow rider
Great value
Reasons not to buy this ATV:
If you don't like doing maintenance (see positives and negatives below)
You are looking to get one of the fastest quads you can
If you value dependability over performance
Can-Am Outlander 450 Specs
Here are the specifications for the Can-Am Outlander 450 that I was able to get from the Can-Am website and owner's manual.
Engine Specifications
| | |
| --- | --- |
| Engine Type | Rotax, single-cylinder, liquid-cooled |
| Displacement | 427cc |
| Horsepower | 38 HP |
| Fuel System | Selectable 2WD or 4WD with Visco-Lok auto-locking front differential |
| Transmission | Ultramatic V-belt (with all-wheel engine braking) |
| Gears | CVT, Park, Reverse, Neutral, High, Low |
| Drive | Selectable 2WD or 4WD with Visco-Lok auto- locking front differential |
| Starter | Electric start |
Miscellaneous Specifications
Front Suspension
Double A-arm (9 inches of travel)
Rear Suspension
Torsional Trailing arm Independent (8.8 inches of travel)
Front Brake
Dual 214 mm disc brakes with hydraulic twin-piston calipers
Rear Brake
Single 214 mm disc brake with hydraulic twin-piston caliper
Front Tire Size
25 x 8 x 12 inches
Rear Tire Size
25 x 10 x 12 inches
Ground Clearance
10.5 inches (26.7 cm)
Wheelbase
51 inches (129.5 cm)
Seat Height
33.8 inches (85.8 cm)
Dry Weight
700 pounds (318 kg)
Fuel Capacity
5.4 gallons (20.5 L)
Rack Capacity
Front: 120 pounds (54.4 kg)
Rear: 240 pounds (109 kg)
Towing Capacity
1,300 lb (590 kg)
Here's a recap of the most important specs:
Manufacturer: Can-Am
Model Name: Outlander 450, T, XU, DPS 450 T
ATV Type: Utility
Years Made: 2012-2024 (present)
Seat Height: 33.8 inches
Dry Weight: 700 pounds (without fuel, fluids, etc.)
Top Speed: 60-65 mph
Horsepower: 38 HP
---
450 Engine & Transmission
Being one of the most powerful ATVs in the 450 class, the Outlander's 427cc engine puts out impressive horsepower and torque.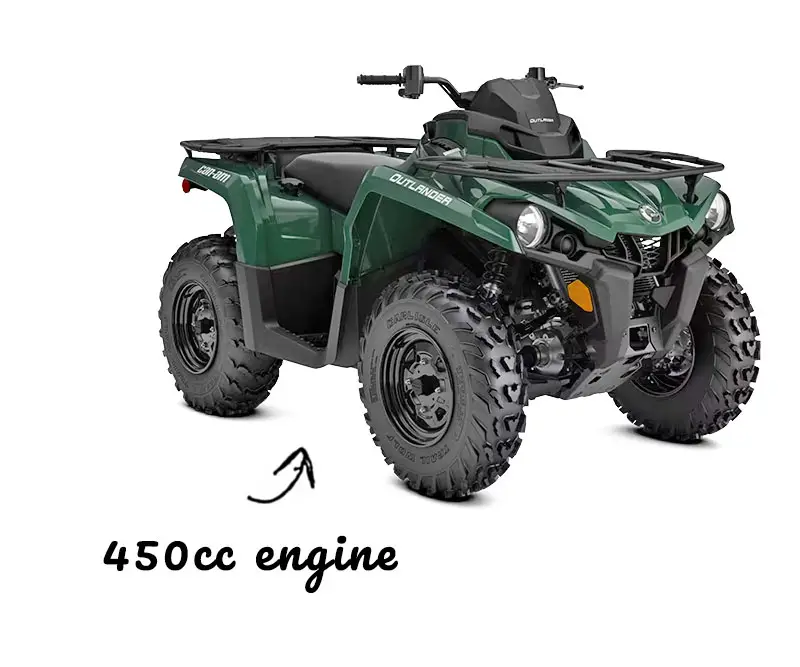 When it comes to performance, these Rotax engines definitely put out good numbers. My little brother's friend had a similar quad with a Rotax engine in it and it definitely had some pep.
They aren't quite as smooth as some of the other ATVs like the Yamaha Kodiak 450, but again, they've got a bit more punch. Having said that, they aren't as high-performance as the Can-Am Renegade ATV. Overall, they are quite smooth and easy to ride, while still having plenty of power.
Horsepower
The Can-Am Outlander 450 makes 38 horsepower in stock form. While there are a handful of upgrades that you can do to increase the horsepower, having a certain number isn't very important. There are many other factors that determine how a quad rides and performs.
Of course, a great horsepower engine will produce more power, but that doesn't always translate to "better" performance. Can-Am designed the Outlander 450 DPS, XU, T, and base models to all be useable and ridable machines. Not only did they do that, but they also came in with the most horsepower.
Here is how the competition compares:
Can-Am Outlander – 38 HP
Polaris Sportsman 450 – 33 HP
Honda FourTrax Rancher 450 – 28 HP
Yamaha Kodiak 450 – 26 HP
As you can see, this Can-Am farm quad has the most horsepower among these top competitors, with the Yamaha Kodiak 450 horsepower coming in last place. In addition, these motors are capable of getting around the woods and getting work done around your property. The 450 Outlander is also capable of hooking up a utility trailer and hauling firewood and debris. The Outlander 450 can tow 1,300 pounds (590 kg).
Top Speed
Even though a high top speed really isn't important at all on a farm quad, it is fun to know. After all, fun doesn't need to be important.
The Can-Am Outland 450 top speed is about 60 mph. Overall, it is the fastest utility quad in the 450 class listed here. Below is a video showing a Can-Am Outlander 450 reaching a maximum speed of 63 mph.
Ever wonder how fast is an Outlander 450? This fast:

While 63 MPH isn't extremely fast overall, it is more than fast enough for a farm quad. If you want to make an Outlander 450 go faster, there are a few different upgrades that you can do. Whether to the engine, exhaust, gearing, tires, or something else, there are options. However, most people won't find an actual "need" to do so.
Here's how this ATV stacks up to the other main competitors:
Can-Am Outlander – 63 MPH
Polaris Sportsman 450 – 61 MPH
Honda FourTrax Rancher 450 – 50 MPH
Yamaha Kodiak 450 – 51 MPH
Again, a fast top speed is not usually an important data point, but still fun to measure.
Maintenance
The maintenance schedule for a Can-Am Outlander 450 is quite reasonable and doable. The factory suggests that the majority of the maintenance be done after every 1,000 miles (1,500 km).
Really, all you have to do is keep up with all of the normal maintenance items like changing the oil and air filter. Other than that, the majority of the items just require "inspection" to make sure that they are operating correctly. Of course, if you can store the quad in your garage, or under a four wheeler cover that would be best.
Having said all of that, don't think that these are as reliable as a Honda, Yamaha, or Kawasaki ATV. The Can-Am quads tend to be more "high-performance" focused as far as their engines go. This is great for performance, but not as great for keeping them maintained and running.
Below is the full list of maintenance requirements from the Can-Am factory.
Can-Am Outlander 450 Maintenance
Below is a screenshot of how the Outlander 450 owners manual lists out the maintenance intervals. Because it's hard to read (and many of the items are blocked), I've listed out all of the maintenance items and how often they need to be done below.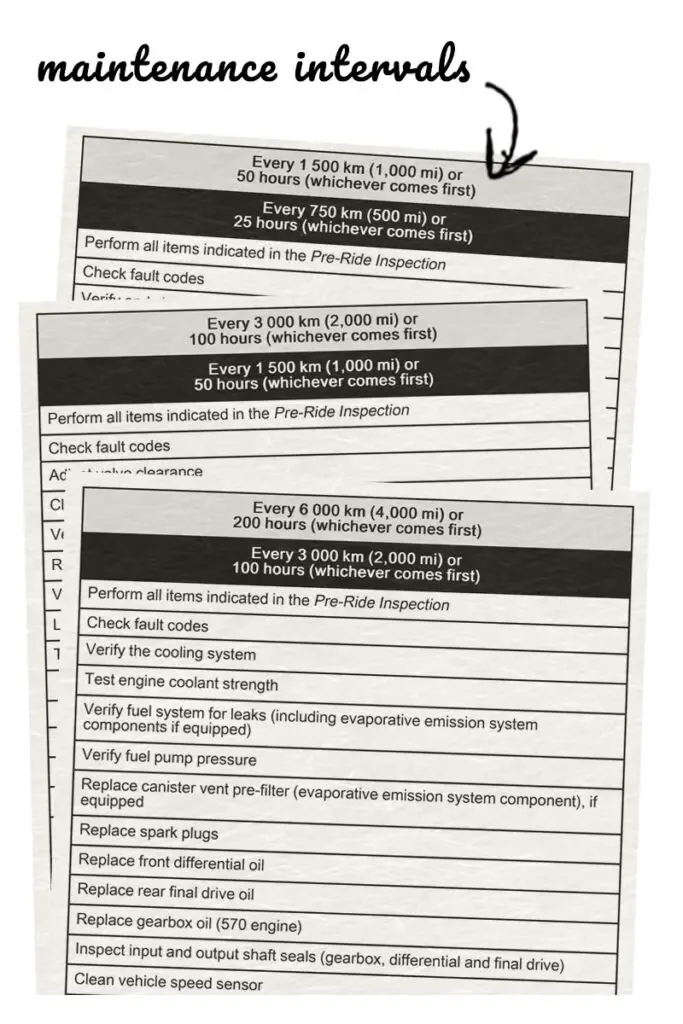 Compared to a "sport" ATV like the Renegade, these Can-Am farm quads don't require a lot of maintenance. However, it's important to know what you're getting into with a Can-AM…
Typically, these are not as dependable or indestructible as a Honda or Yamaha quad. Can-Am is more known for putting out power and performance than being reliable long-term. Having said that, as long as you keep up on the maintenance items as they come up, you should be just fine for a long time.
Can-Am recommends the following maintenance schedule:
Every 1,000 miles (1,500 km) – or 50 hours
Every 2,000 miles (3,000 km) – or 100 hours
Every 4,000 miles (6,000 km) – or 200 hours
Every 8,000 miles (12,000 km) – or 5 years
Every 1,000 miles (1,500 km) – or 50 hours
Perform all items indicated in the Pre-Ride Inspection
Check fault codes
Check and clean the engine air filter. Replace as needed.
Inspect battery connections
Inspect tie rod ends and ball joints
Lubricate the front suspension arm bushings
Lubricate the rear stabilizer bar bushings
Inspect the drive shaft bellows and protectors
Inspect the brake pads and replace them as needed
Look over the wheel bearings for abnormal play
Inspect and clean CVT air filter and replace it as needed
Every 2,000 miles (3,000 km) – or 100 hours
Perform all items indicated in the Pre-Ride Inspection
Check fault codes
Adjust valve clearance
Clean muffler spark arrester
Verify and clean the throttle body
Replace the fuel vent breather filter
Inspect CVT drive belt and clean CVT pulleys
Lubricate the one-way bearing of the drive pulley
Change the engine oil filter
Lubricate throttle cable
Inspect and clean the brake system
Inspect the condition of the battery
Verify the steering system for abnormal play
Inspect the front differential and rear final drive oil
Every 4,000 miles (6,000 km) – or 200 hours
Perform all items indicated in the Pre-Ride Inspection
Check for any fault codes
Inspect the cooling system
Test engine coolant strength
Inspect the fuel system for leaks
Test the fuel pump pressure
Change out the canister vent pre-filter
Replace spark plugs
Replace the front differential oil and rear drive oil
Inspect the input and output shaft seals
Clean the vehicle speed sensor
Clean and lubricate the lower and upper steering column half-bushings
Replace the brake fluid
Every 8,000 miles (12,000 km) – or 5 years
Replace the engine coolant
What motor oil does a Can-Am Outlander 450 use?
The Outlander 450 DPS, T, and base model, all take 5W/40 engine oil. As long as it meets the oil requirements, you can use just about any brand. Here's a great oil change kit – view pricing and read reviews on Amazon.
Here's how much oil the Outlander 450 takes:
Oil change with oil filter removal – 3 L (3.2 qt)
---
Outlander 450 Handling
For an entry-level quad, the Outlander 450cc is a good handling ATV. Most adults will find that these quads are a manageable size, and actually, quite easy to get used to.
These quads are great for trails and woods riding, as well as being used as a farm quad.
If at all possible, I do recommend getting the 450 DPS so that you get the power steering. With power steering, hydraulic brakes, and a nice and cushy seat, the Can-Am 450 offers a comfortable ride.
Weight
A stock Can-Am Outlander 450 weighs 700 pounds (318 kg).
The other ATVs in this class are all similar. For instance, the Polaris Sportsman weighs 736 pounds, the Honda FourTrax Rancher 450 weighs 580 pounds, and the Yamaha Kodiak 450 weighs 680 pounds, for the power steering model.
Outlander 450 Weight Limit
Yes, the Can-Am 450 Outlander does have a weight limit.
The Mossy Oak model has a weight limit of 598 pounds (272 kg), including the weight of the operator, any cargo,
accessories, and trailer tongue weight. However, the base model has a weight limit of 517 pounds (234 kg).
Rack Capacity
In addition to having a maximum weight restriction, the Outlander 450 also has a weight limit for each of the racks. According to the owner's manual, the front racks can handle 120 pounds (54.4 kg), and the rear racks can hold up to 240 pounds (109 kg). These racks are plenty strong to support the addition of an aftermarket ATV cargo box, gun rack, etc.
Having said that, most people say that these quads can hold more if you need them to. But, if you do load more weight than Can-Am suggests, you are on your own as far as any consequences go.
Outlander 450 Tow Capacity
The towing capacity of the Outlander 450 is respectable. Depending on the model, these are rated to tow 738 pounds (335 kg) without trailer brakes up to 1,653 pounds (750 kg) when hauling a trailer with brakes.
Here's how the competition stacks up against the Can-Am:
Can-Am Outlander 450 – 1,653 pounds
Polaris Sportsman 450 – 1,350 pounds
Yamaha Kodiak 450 – 1,322 pounds
Honda FourTrax Rancher 450 – 848 pounds
Seat Height
The Can-Am Outlander 450 seat height is 33.8 inches high.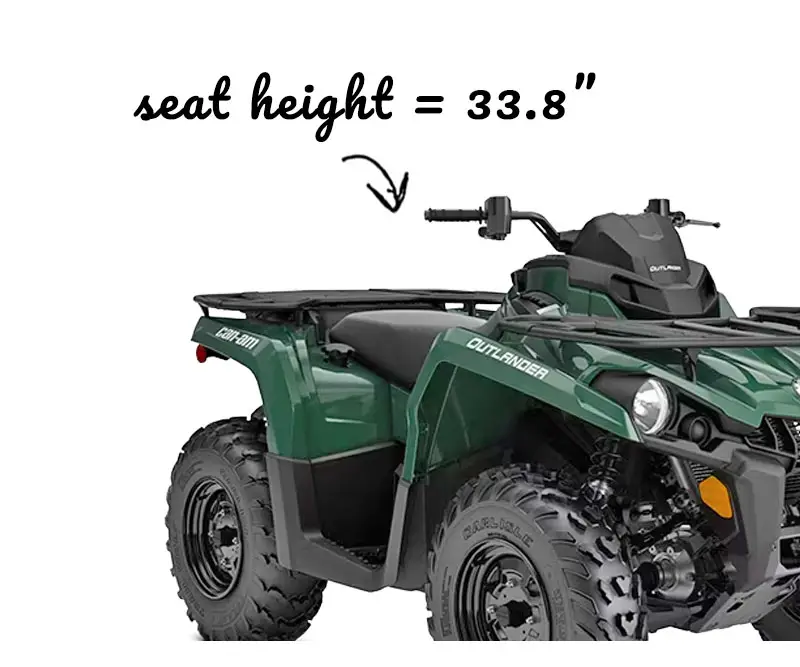 With the approachable seat height and cushy feel, the Outlander 450 is surprisingly roomy for the size. It also has plenty of room for your feet.
Suspension
The Outlander's double A-arm suspension up front, and torsional trailing arm in the back make for a very nice ride.
With 9 inches of travel in the front and 8.8 inches in the rear, the Outlander has some of the best suspension in its class. Paired with 10.5 inches of ground clearance, the suspension, power steering (if the model has it), and high-performing engine all make this quad a pleasure to ride.
Is the Outlander 450 a Good ATV?
In my opinion, this is a cool little quad. It has an impressive amount of power and towing capability for a 450. However, these quads aren't the right choice for everyone, or for every use.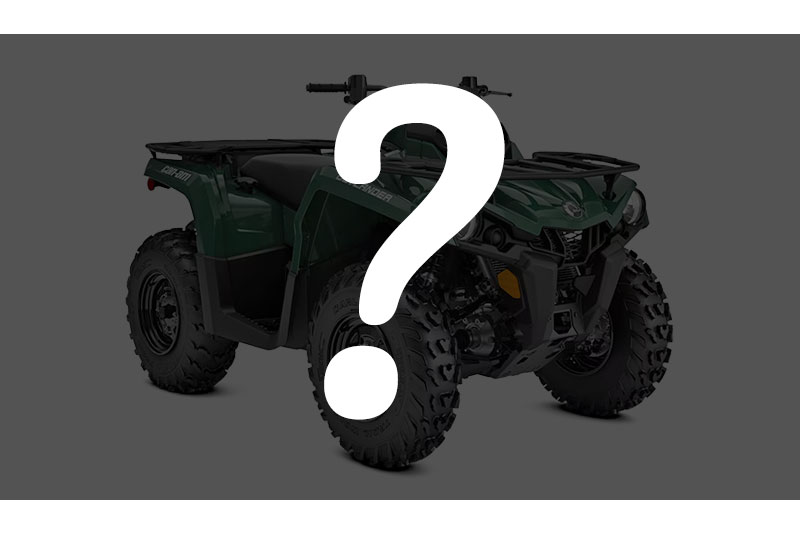 Here are a few of the main positives and negatives of one of these Can-Am four-wheelers:
Positive Reviews
Great power steering (certain models)
Towing capacity of 1,653 pounds
It has an electric start
Great handling and power
Feels lightweight
Good suspension
Great torque and power from the 450cc
Fuel-injected
Great battery
Negative Reviews
The clutches are a bit noisy
Not as dependable (although some say the opposite)
The base model doesn't come with power steering
Winch not included (although prewired for one)
Requires more maintenance than the Honda's, Yamaha's, etc.
In the end, these are solid ATVs that are built to perform well. On the other hand, they aren't known for being as reliable as some of the other popular ATV brands.
Common Problems
Here's a list of any of the Can-Am Outlander 450 common problems that I know of. Overall, these quads do have a good reputation and are well-built. Having said that, they aren't perfect machines and do require a bit more maintenance than some of the others.
There are three common problems with these ATVs:
Noisy clutch (does not hinder performance or reliability)
Engines are more prone to overheating than the competition's
These require more maintenance than some others
Other than those three, they're quite similar to other quads. They aren't perfect, but if you keep them maintained they should last a while. Basically, keep the oil fresh, the air filter clean, and the battery charged, and you should be good to go.
Buyers Guide (Best Year, Pricing, etc.)
If this is the quad you want, it's time to look at a few more things. Next, we'll take a quick look at all of the important buyer's guide info. Here's what we are going to consider:
Outlander 450 best years to buy
What they cost new and used
Where to buy a used one
Best Year to Buy
Okay, let's get this out of the way: the best year to buy is probably the newest one. Obvious, I know.
>>>> Just about all of the older models are still "good" ATVs. When it comes to value, I think you will do great >>>>
How much does a Kodiak 450 cost?
Can-Am prices the Outlander 450 at $11,437 (£9,103) for the base model and $12,819 (£10,203) for the XU model. In addition, you will have to pay a delivery charge as well as registration fees.
Base – $11,437 (£9,103)
DPS T – $12,190 (£9,703)
XU – $12,819 (£10,203)
How much is a used Outlander 450 worth?
Even though buying a new quad is fun, and usually easier than buying a used one, you can usually save quite a bit buying used.
For instance, I found a few on Facebook Marketplace and Craiglist to give us an idea of what people are asking in my area. Here are the top listings:
2023 Yamaha Kodiak 450 DPS – $12,190 (new, from a local dealer)
2021 Can Am Outlander 450 – $6,000 (800 miles on it)
2021 Canam Outlander 450 4×4 DPS – (looking to trade)
2019 Can Am Outlander 450 – $6,500 (looks new – only 70 miles)
2017 Can-am Outlander 450 – $2,400 (was crashed and needs new $500 plastics)
From the list above, the 2019 Outlander 450 is by far the best deal. It looks brand new and is priced great. From what I can see here, you should expect to pay around $6,000 – $6,500 for a new generation 450 in good shape.
Is Kelley Blue Book Price Accurate?
After seeing what these cost in my area, I decided to check Kelley Blue Book to see their value. Here's a screenshot of the KBB price on their website: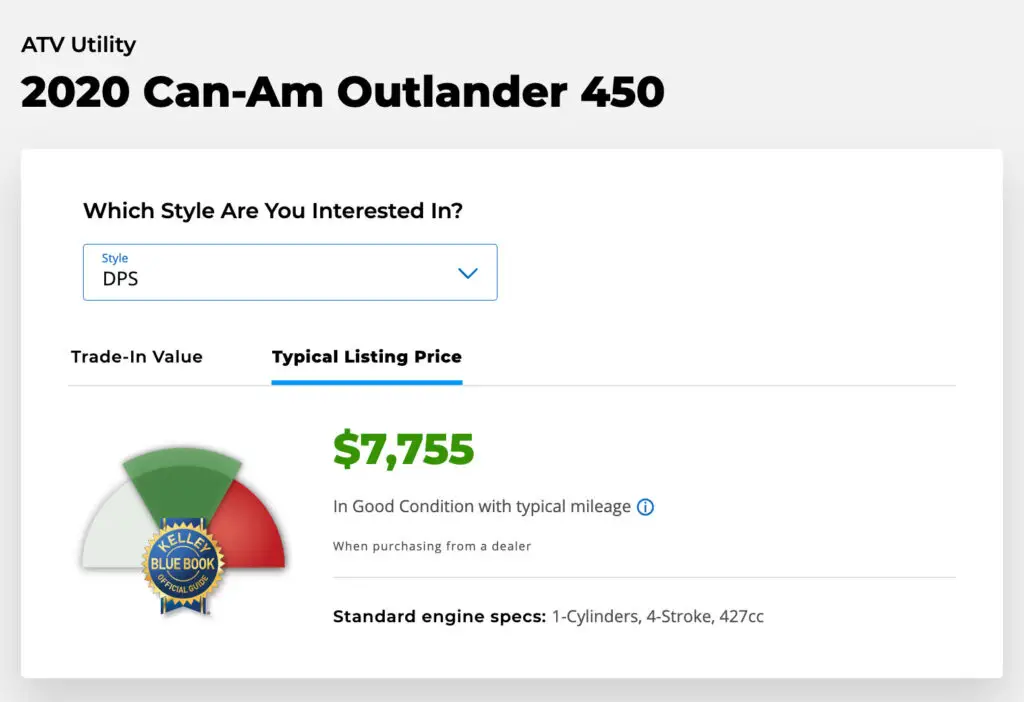 According to Kelley Blue Book, the most common listing price for the base model is $5,840, and $7,755 for the DPS model.
Although that is a bit higher than what I found in my area, there weren't very many to choose from. In the end, I'd say that you can expect to pay somewhere around $6,000-7,000, depending on the year and condition.
Kelley Blue Book pricing:
Trade-In Value – $4,025 (base) / $5,360 (DPS)
Typical Listing Price – $5,840 (base) / $7,755 (DPS)
Where to Buy?
If you want a new, 2023 Can-Am Outlander 450, grab your four wheeler ramp and head over to a local Can-Am dealer and load one up.
If you're going to look for a used model to save a few bucks, I recommend checking out Facebook Marketplace and Craiglist. There are others like Cycle Trader, etc., but the majority of listings there seem to be by dealers.