Honda CRF110 Mods (Best Parts, Upgrades, and Accessories)
BraapAcademy.com earns a small commission from qualifying purchases.
This does NOT cost you extra.
Trying to decide which Honda CRF110 mods to do to your dirt bike? Whether you want to make this mini dirt bike more adult-friendly, or you just want to make it go faster, I've put together a list of the best CRF110 upgrades to look into.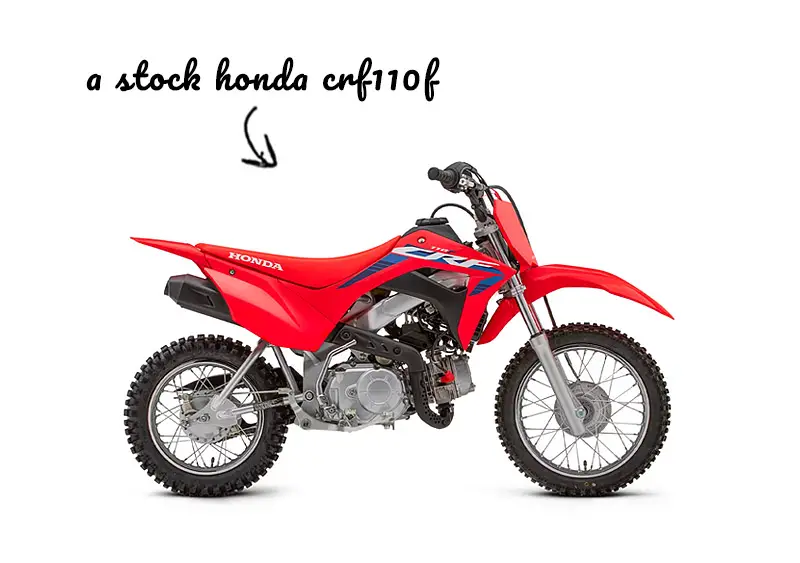 By the end of this list, you should have a good idea of which CRF 110 mods you'd like to do. All of these upgrades and aftermarket CRF110 parts are designed to improve the dirt bike in some way. Whether it's by making the dirt bike faster and better handling, or safer and more bullet-proof, these are the top accessories and most-recommended mods.
Again, whether you're looking for any specific Honda CRF110 mods for adults, or if you're looking for some upgrades to make the bike easier to ride for your kids, we'll cover them. In the end, no dirt bike is perfect for each individual and his riding style.
Here are the top CRF 110 suspension mods, engine upgrades, aftermarket exhausts, tires, and more. Overall, these are the most effective and popular performance mods for a Honda 110cc, but they are not all necessary.
---
CRF110 Big Bore Kits
Upgrading your 110cc engine is where you can get significant power and performance gains.
When modding your CRF 110, the best way to make a CRF110 go faster and have more power is to install a big bore kit (BB kit). If you're looking to get as much power out of your 110cc mini, a big bore kit should be on your list.
Obviously, adding a big bore kit to your CRF110 will increase the displacement and that also means more compression, more power, and a better mid and top-end. However, these CRF110 mods do have a few drawbacks that go along with the gains.
Advantages of a Big Bore Kit
Adding a CRF110 big bore kit not only makes your dirt bike faster but also improves the dirt bike's power delivery throughout its RPM range. Here are the top three reasons to add a big bore kit:
Increase power and torque – A big bore kit increases a dirt bike's engine displacement, helping it produce more power and torque. This makes the dirt bike accelerate faster and adds to its top speed.

Better throttle response – With a larger engine displacement, the bike can breathe better and respond quickly when you twist the throttle. This will make the dirt bike easier to handle because it will be more responsive.

Improved low-end torque – Adding some low-end torque is (basically) always a good thing. With a big bore kit, the CRF 110 gets an increase in low-end power, which is especially handy for hill climbs, navigating tricky terrain, and moving our adult-sized butts around efficiently.
Disadvantages of a Big Bore Kit
Hard on the engine – Boring out your cylinder and then pinning the throttle can put a strain on the Honda engine, but it doesn't have to. Just make sure to buy a quality BB kit because the increased power and heat can cause more wear and tear on the motor.

More maintenance – It's essential to keep up with the regular maintenance of the bike. Sometimes, you must perform more frequent oil changes, valve adjustments, and other miscellaneous maintenance items.

Got (more) gas? – Even though this isn't the end of the world, adding a big bore kit can decrease the dirt bike's fuel efficiency. Also, you'll want to make sure to at least run 91 octane gas, or higher.

Expensive – Big bore kits are not cheap. However, if you compare the power and performance increase to your CRF 110 based on what you get from a big bore kit to the gains you'll get from an aftermarket exhaust (a common -and cool- cool upgrade), there really is no comparison. The BB kits are about the same price (or less), and they make a more significant impact.
If you want to buy a big bore kit there are a few decent options out there. The following are the most popular and are considered the best CRF110 big bore kits on the market today.
---
BBR CRF110 Big Bore Kit (132cc)
Want an "easy-to-install" big bore kit for CRF 110 dirt bike? BBR makes one of the best options out there for bumping up your engine displacement to 132cc, adding low, mid, and top-end power.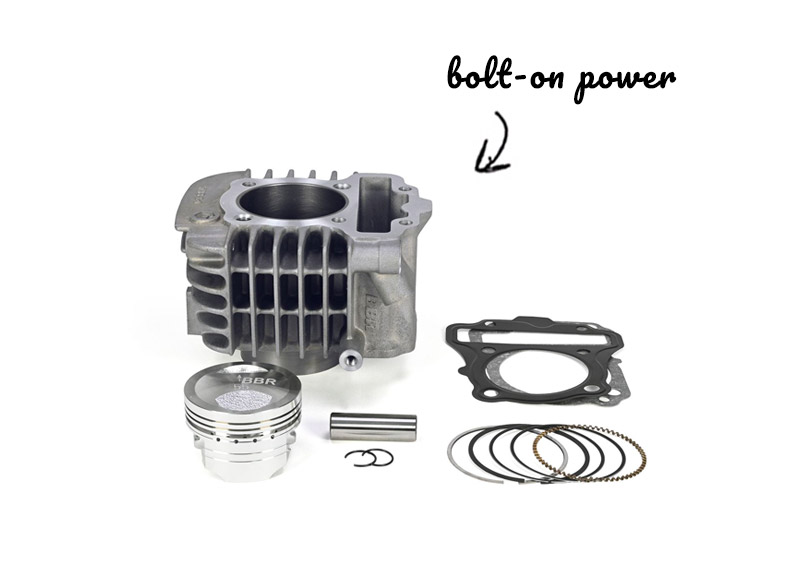 Even though there are other CRF 110 big bore kits on the market, this is the largest bore kit available that does NOT require machine work. That's right, it's bolt-on power. If you want to seriously out-pull your buddies on their TTR 110 or KLX 110, this will do the job.
Here are the main features of this Honda CRF110 BBR big bore kit:
Aluminum cylinder with a steel sleeve
Lightweight piston
Full gasket kit
Port for the EFI sensor (2019+ models)
10.25:1 compression ratio
Does not require machine work
Note: If you're shopping for a 2013-2018 Honda CRF110, you'll need to plan on changing out the jets after you install the BB kit. If you're mini is a 2019 or newer, you're dealing with fuel injection so you don't need to worry about the jets, but the ECU will require tuning to prevent the bike from running too lean.
Click here to view pricing and read reviews on BBRMotorsports.com.
---
TB Big Bore Kit for CRF110 (132cc)
Here's another big bore kit that is easy to install. Again, no machine work is required to turn your Honda 110cc into a 132cc with this TB big bore kit.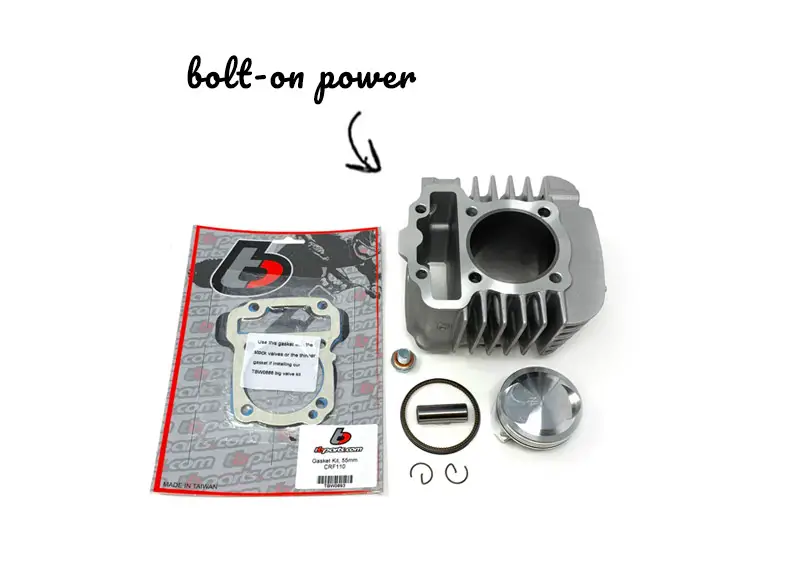 Adding this kit to your Honda will give you more power and higher compression. And again, just like the BBR kit above, this is the largest bore you can go with unless you want to do the machine work yourself or pay someone to do it.
If you're serious about adding power to your bike, these big bore kits are one of the best CRF110 mods that you can do.
Here are the main features of this Honda CRF 110 TB big bore kit:
Aluminum cylinder with a steel sleeve
Lightweight piston and rings
Top-end gasket set
Temperature sensor (for 2019+)
Does not require machine work
Note: If you're shopping for a 2013-2018 Honda CRF110, you need to remember that you'll have to change out the jets after you install the kit. If you're shopping for a 2019 or newer model, the ECU will require a flash/tune to prevent the bike from running too lean.
Click here to view pricing and read reviews on Faster-Minis.com.
---
Wiseco Piston Kit
Not only do big bore kits ad more noticeable power but so do upgraded pistons. If you're looking for more torque and power, you should consider buying an aftermarket CRF 110 piston as part of your build.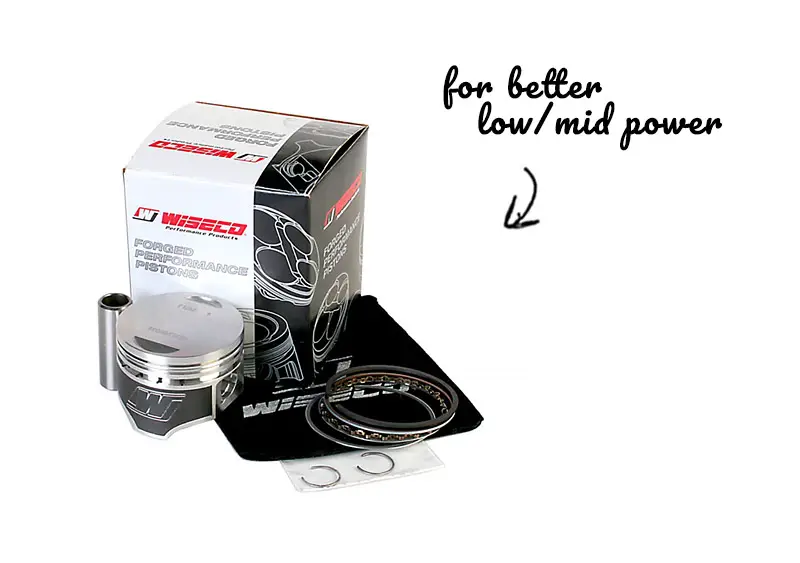 A high-compression piston from Wiseco provides a solid increase to your low and mid-range power. If you've got the room in your budget, adding an aftermarket piston to your CRF110 is a great way to bump up performance.
Here are the main features/advantages of running one of these pistons in your bike:
Strong, high silicon forged piston
Reduced weight from stock
Improved heat transfer
Longer life
NOTE: Just like with the big bore kits, running one of these high-compression pistons will require you to run 91 octane fuel (or better).
Click here to view pricing and read reviews of this kit on Faster-Minis.com.
---
CRF110 Exhaust Mods
Admittedly, upgrading a dirt bike with an aftermarket exhaust is one of the more fun CRF110 mods you can do.
Replacing your stock exhaust system should improve throttle response, increase horsepower, and make your dirt bike sound better.
There are many different companies making CRF110 exhaust systems, but I don't recommend buying from all of them. If you're going to spend the money, you should consider going with one of the name brands out there like Yoshimura, FMF, Pro-Circuit, Bill's, etc.
Aftermarket Exhaust
As far as an aftermarket exhaust, the RS-9 Yoshimura CRF110 exhaust is quite possibly the best one out there. This exhaust will make your Honda sound incredible, yet it isn't so loud as to annoy everyone around you.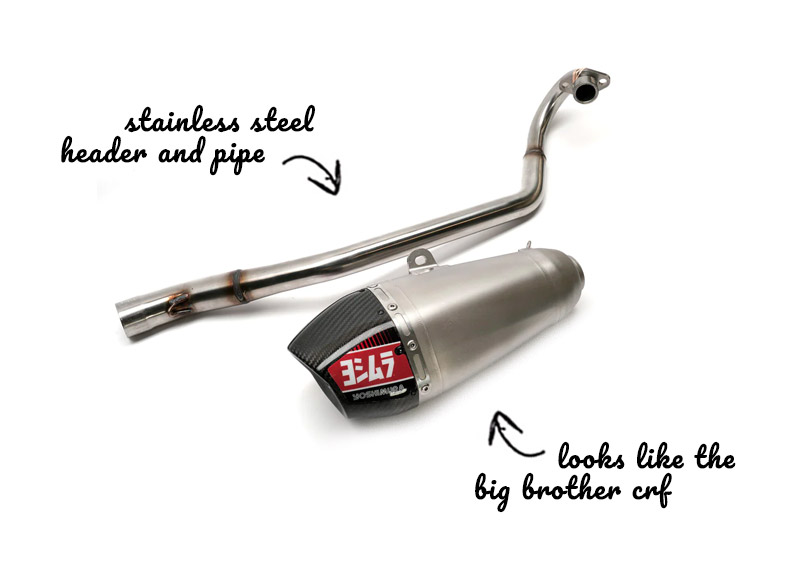 Granted, there are a handful of quality exhaust systems out there like the CRF110 Pro Circuit exhaust, FMF, Bill's, BBR, etc., but Yoshi has a knack for putting out some of the nicest pipes around. Here are a few of the main positives and features of these exhaust systems:
Improved throttle response
Good low-end snap
Works with a big-bore kit
Top-quality build
Looks finished and "professional"
Lightweight
Easy to install
Not too loud
Click here to view pricing and read reviews on Amazon.
---
Stock Exhaust Mod
For those who would prefer to keep the stock CRF110 exhaust pipe (and not purchase an aftermarket one), there are a couple of things you can do to mod the stock exhaust.
Here's a decent video that outlines exactly how this guy did his stock CRF110 exhaust mod… pretty cool.

Disclosure: I haven't personally run a CRF110F with a gutted exhaust before, but I do "hear" they sound and work great… sorry, unavoidable pun. However, I did run my Husqvarna SMR510 supermoto with the stock dual exhaust gutted and it worked (and sounded) great.
---
Air Filter Mod
Since improved airflow and increased power should be on your list, you should consider adding an aftermarket CRF110 air filter as an easy and cheap upgrade for CRF110 dirt bikes.
Upgrading the air filter is one of those things that just about every bike owner does. Whether they're modding a KLX110 or a WR250, it doesn't matter, you'll be glad you upgraded the air filter.
BBR U-Flow Kit
Understandably, adding an aftermarket air filter is good, but you may want to look into adding a full CRF110 BBR U-Flow kit instead.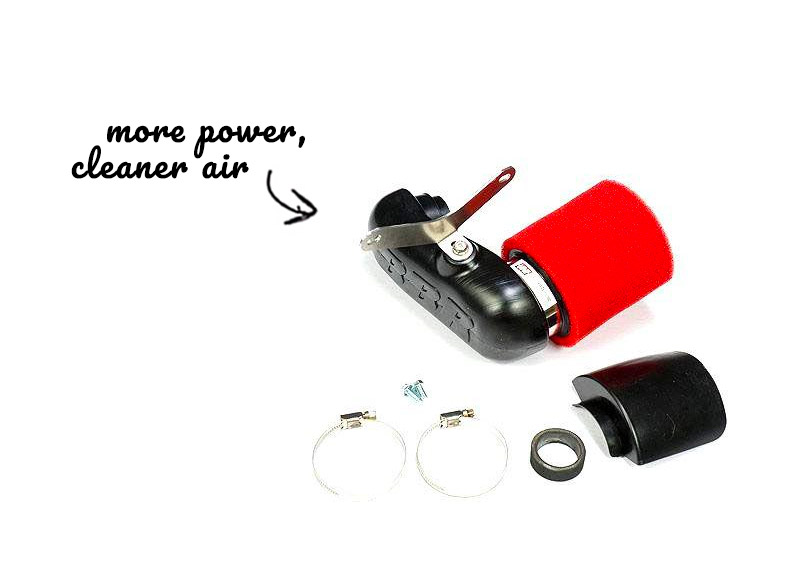 With this new design, this air intake and air filter mod for the CRF110F is one of the easier, more-effective bolt-on upgrades that you can make. Of course, it won't make as much of a difference as a big bore kit, an aftermarket cam, or a high-compression piston, but these do give you a good improvement and a great "bang for the buck" value.
This Honda 110 U-Flow air filter kit increases overall horsepower and throttle response by creating more space and air volume in the chamber between the air filter and the carburetor.
The backward-facing design also helps to shield the dirt bike from dirt and mud. As far as CRF110 mods go, this is an easy way to boost horsepower and deliver a sharper throttle response throughout the RPM range. In addition, this upgrade will also improve the volume of air going into the carburetor… which extends the life of the motor AND gives it a boost in performance.
NOTE: Installing this U-Flow kit will require you to re-jet your dirt bike. BBR includes a list of recommended sizes that are quite accurate.
Click here to view pricing and read reviews on BBRMotorsports.com.
---
CRF110 Suspension Kits
If you're an adult riding one of these as a pit bike, adding an aftermarket CRF110 suspension kit is one of the best mods that you can do. Even if you don't add a full kit, upgrading the front springs and/or the rear shock alone will make a noticeable difference.
No, aftermarket fork springs won't look super cool, but once you start hitting jumps, whoops, etc., you'll be glad you made the upgrade.
Not only will your dirt bike handle better with a set of new springs, but you should also be able to go faster because you can stay in control and maintain proper positioning on the bike easier.
Here are some of the most recommended modifications you can make to your CRF110 suspension:
Heavy-Duty Fork Springs
Considering that the stock Honda CRF110F forks are made for an 80-100 pound rider, they're quite soft for just about any adult rider. With that in mind, if you weigh 120+ pounds, upgrading the front forks will give you better control and will prevent your dirt bike from bottoming out as often.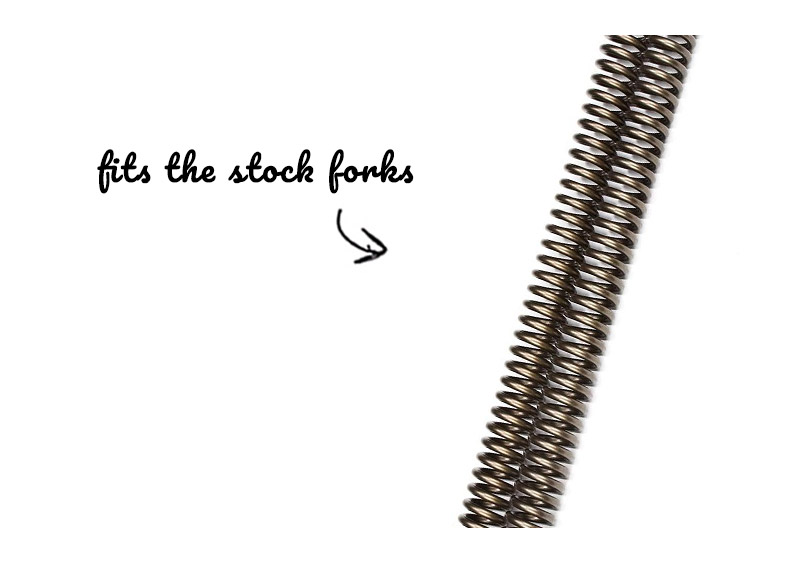 Here are some of the features of these aftermarket front fork springs:
Increased spring rate (for adults)
Preset and stress relieved for long life 
Made front aircraft quality steel
Fits CRF110F stock forks
If you do decide to do an upgraded CRF110 front forks mod, being able to work with the stock forks is nice. With many other dirt bikes, you've got to replace the entire front fork setup. But, with the Honda 110, you can keep the stock forks and just add better springs.
Click here to view pricing and read reviews on Amazon.
---
BBR Swingarm Conversion Kit
Looking for the best of the best? Look no further. This CRF110 BBR Suspension Kit is it.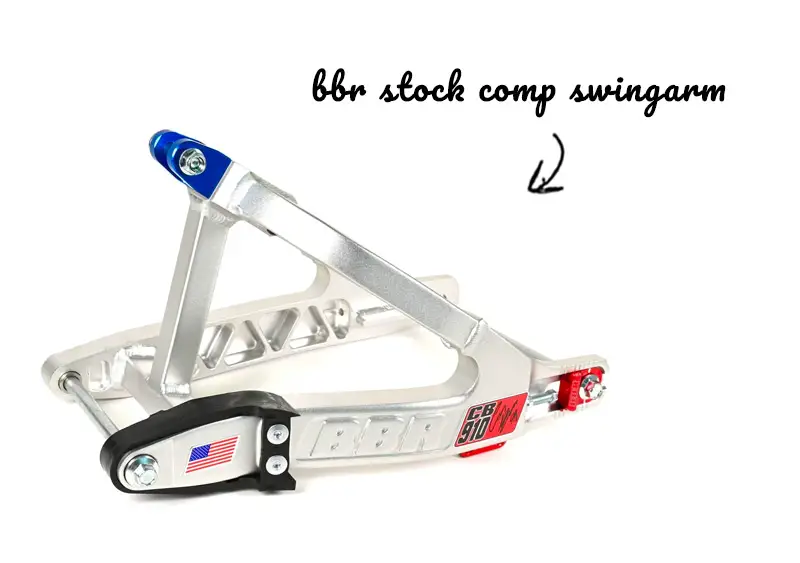 Not only do these perform better than the stock Honda swingarm, but they also install easily and look outstanding.
Is it a cheap CRF110 mod? Not even close. However, adding one of these swingarms will improve the ride, performance, looks, and height of these pit bikes. In addition, this really makes your bike feel like a full-size Honda and not a mini bike.
Here are some of the main features:
TIG welded and heat treated to T6
Forged 6061 aluminum side spars
Includes brake rod extender
Bead blasted and Bright Dip anodized finish
Chain guide on all models
Adds 1.75″ over stock length
Ride height adjustable between standard and +1″
Click here to view pricing and read reviews of the CRF110 BBR Swingarm on Faster-Minis.com.
---
DNM Rear Shock
Whether you decide to go with an aftermarket swingarm or not, adding a new rear shock is a great modification that you can do to upgrade your suspension.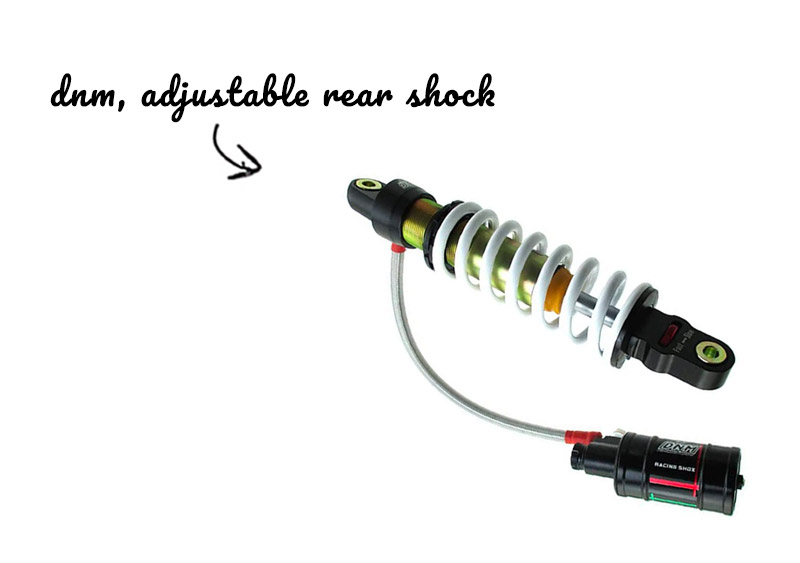 Adding an upgraded shock will improve the overall ride and handling of your dirt bike without breaking the bank. Granted, there are even fancier (better) shocks out there like the ELKA, but these DNM shocks are great for less than half the price.
Here are the main features of this DNM rear shock:
Nitrogen Charged Oil Damping
Preload and Rebound Adjustments
Bolt-on (2019+)
Fits 2013-present CRF110 models
Click here to view pricing and read reviews on Amazon.
---
CRF 110 Tires
Slapping some new tires on your CRF110 may not sound like an actual "mod" to some, but it can improve your bike's performance significantly. In fact, I'm always blown away at how much better my dirt bikes handle when I put a new front tire on them… it feels like you're riding on rails at first.
I tend to gravitate towards different tires from what they put on the bike at the factory, but even a set of new stock tires can surprise you if you're tires are fairly worn.
Here are the best dirt bike tires for a CRF110 (in my opinion).
Best Tires for Trail
These Michelin Starcross 5 dirt bike tires are what I'm currently running. I like 'em! They hook up great and last okay. Are they perfect? Of course not.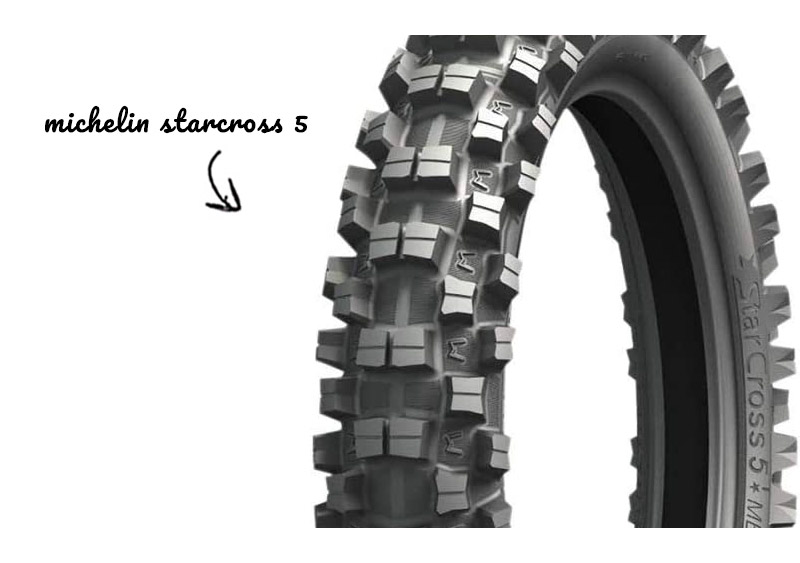 It's best to choose a tire based on the type of riding you do the most.
For me personally, a medium terrain tire does the trick on basically all types of terrain. It may not be ideal for "all" types of riding, but they're more than adequate the majority of the time.
Click here to view pricing and read reviews on Amazon.
---
CRF 110 Dirt Bike Armor
Installing a few pieces of armor like a frame cradle, a skid plate, and a pegbar is a good idea. With these somewhat cheap mods, you can make your CRF110 more durable and more comfortable.
Here are the best CRF110 pit bike mods to make your bike more sturdy and safe:
Skid Plate
If you are concerned about large rocks or roots doing damage to your bike, installing a CRF110 skid plate is the place to start.
BBR makes a good skid plate for 110 dirt bikes. They aren't cheap but they are built tough, look good, and protect your engine.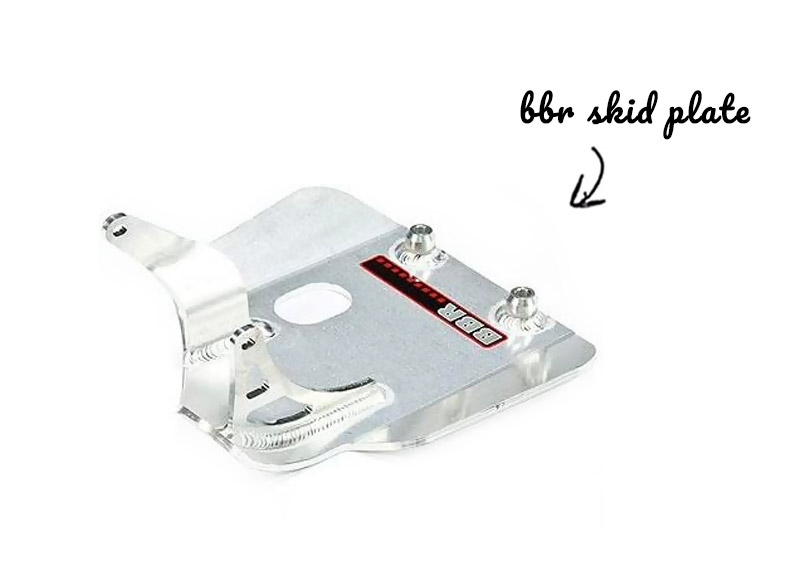 Since adding a skid plate is a "bolt-on" job, quite a few people install these. These are the best way to protect your dirt bike from damage caused by rocks, roots, or whatever else comes up.
Click here to view pricing and read reviews on Amazon.
---
Frame Cradle
A frame cradle is much different than a skid plate and should also be considered. (yes, you can have both)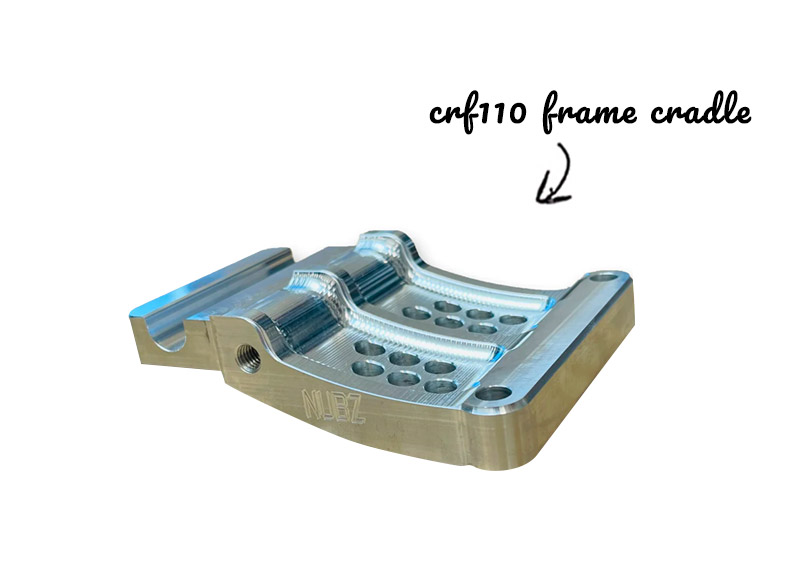 These 110 dirt bike frame cradles ad increased protection from footpeg bracket strain to the case. It does this by helping to distribute weight evenly, reducing stress on the frame.
Installing a CRF110 frame cradle will support your motor and footpegs, preventing the motor mounts from braking. Also… even if your motor mounts don't brake, the footpegs are still susceptible to sagging and the cradle adds the needed support to prevent that.
Click here to view pricing and read reviews on Faster-Minis.com.
---
Cheap CRF110 Mods
Not every good Honda CRF110 mod needs to be expensive. No, the suspension and engine mods aren't too cheap, but the following upgrades aren't too expensive.
Although the following modifications aren't meant to be high-performance upgrades, they can still improve your lap times and add some comfort while doing so.
Wider Footpegs
Installing a set of aftermarket CRF110 footpegs is almost a must.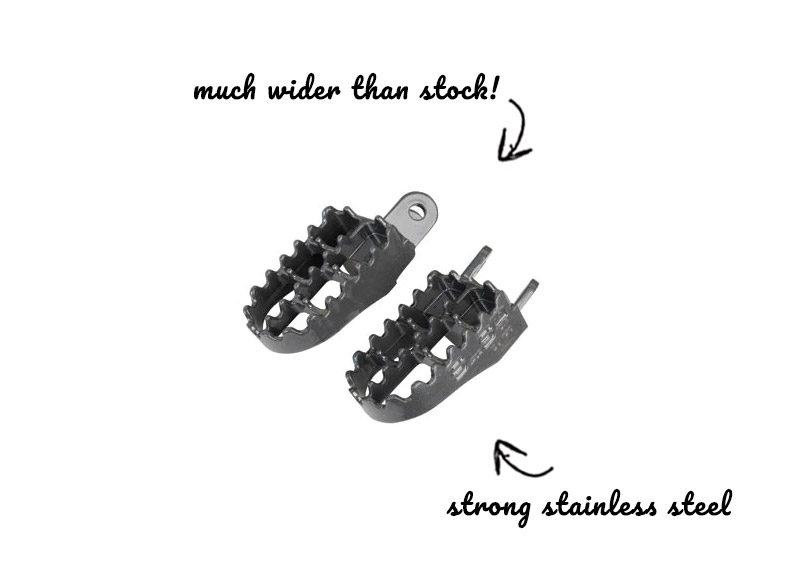 The stock Honda footpegs aren't the best or most comfortable for adults. They are narrow and don't have a very good grip.
If you haven't already been searching for these, you'll quickly find that there are quite a few companies that make aftermarket CRF110 footpegs. Here are the most popular footpegs for these dirt bikes:
Raptor Titanium – $300
Flo Titanium – $300
Flo Pro – $170
Pro Taper – $200
IMS Pro – $115
DRC – $55
I recommend deciding how much you want to spend and then going from there!
Here's a link to view pricing and read reviews of all of the different footpegs on Amazon.
---
Taller Handlebars
Adding taller handlebars is one of the best CRF110 mods for adults. The stock dirt bike handlebars are not only too short for adults, but they're also a little weak.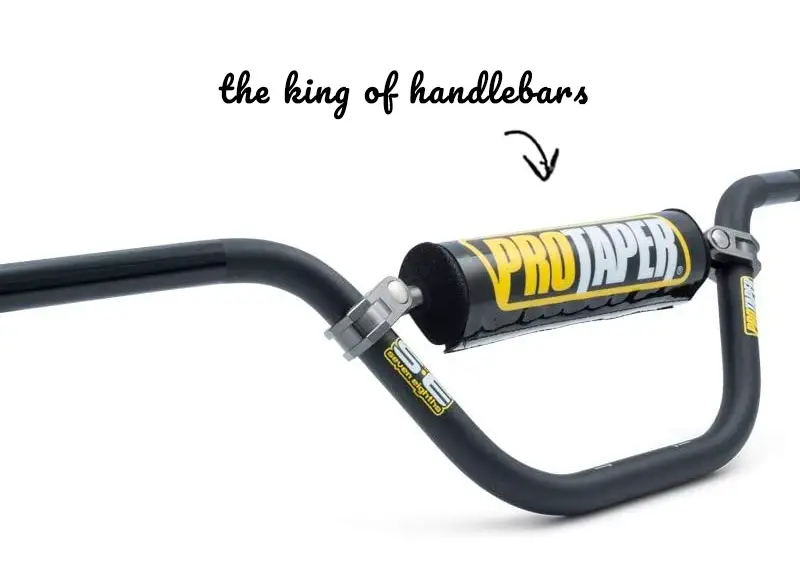 Unfortunately, if you install new triple clamps you will need a longer brake and throttle cable. Not a big deal, but something you should know before you get into it.
If you'd prefer to keep your stock clamps and cables, but you'd still like a set of CRF110 tall handlebars, there are some great options out there. The best aftermarket handlebars for a stock CRF110F have to be the Pro Taper 7/8 handlebars.
Click here to view pricing and read reviews on Amazon.
---
Aftermarket Plastics
Getting a set of new CRF110 plastics and graphics is an easy mod that most of us end up doing. Plus, having an extra set of plastics isn't a bad idea.
It's smart to buy an aftermarket set as soon as you get your bike. This way, you can store the original, stock plastics and graphics, and not beat them up.
If you're planning to buy a full CRF110 plastics kit, you're going to spend around $100 for the plastics. After that, you'll need to pick out which graphics you'd like, whether custom or premade.
While looking at the different options out there, I found that there is a multi-colored Ascerbis plastics kit in gray and black, as well as one in red and black. Here's a similar look that I put on my 2009 Husky SMR510.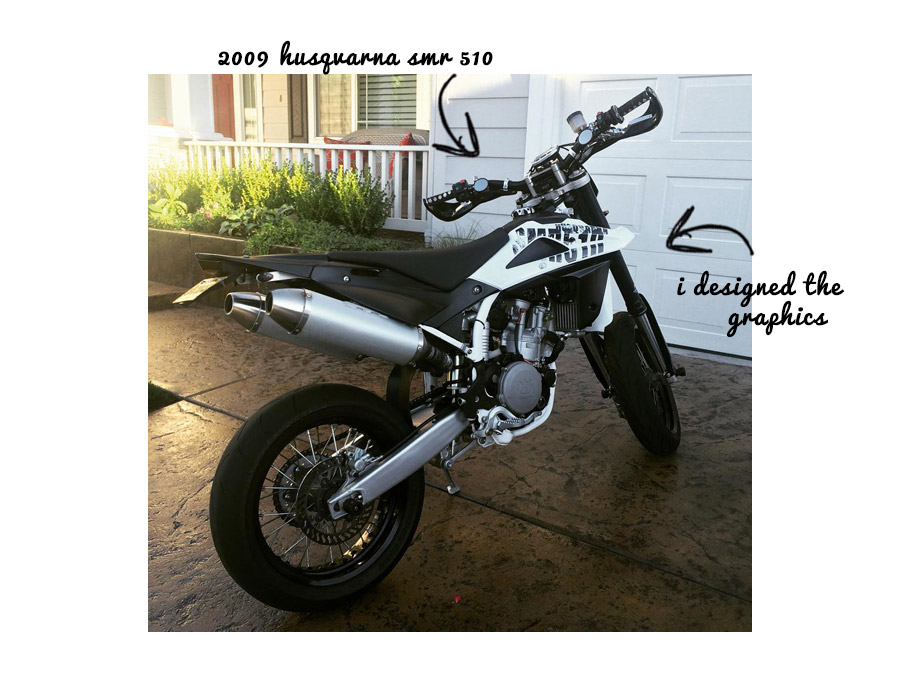 If you aren't into multi-colored plastics there are plenty of black plastic kits, red plastic kits, and white plastic kits.
Click here to view pricing and read reviews of the gray and black plastics on Amazon, or here to view pricing and read reviews of the red and black plastics kit.
After finalizing which plastics kit to put on your CRF110, then you can nail down your graphics. Shopping for your plastics and graphics at the same time is obviously the way to go.