Best Honda CRF250F Mods (Accessories, Parts, Upgrades)
BraapAcademy.com earns a small commission from qualifying purchases.
This does NOT cost you extra.
Are you looking to upgrade your Honda CRF250F dirt bike? Whether you're looking for cheap aftermarket parts or the highest-performance add-ons that you can find, I've put together a list of the best CRF250F mods and upgrades for this bike.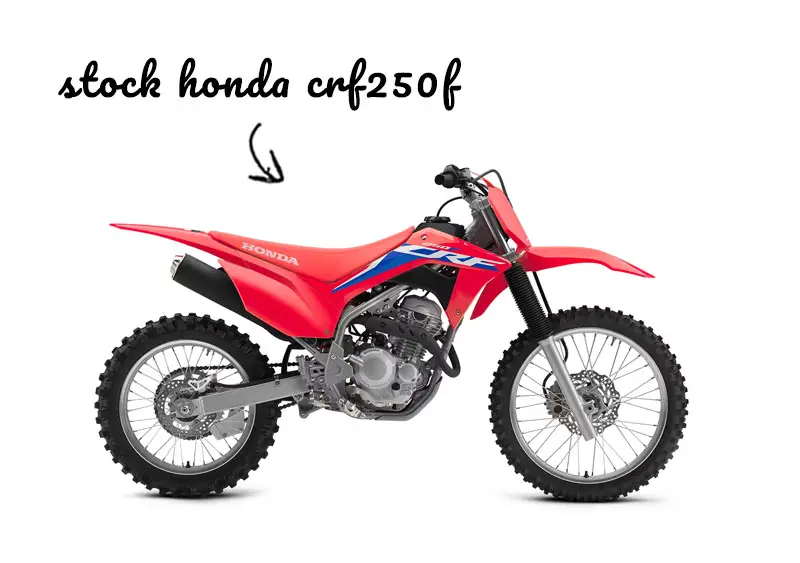 The Honda CRF250F is one of the best dirt bikes for beginners. Not only is it affordable, but it is also easy to ride, provides incredible dependability, and it's one of the better-performing trail bikes out there for the money. However, there are plenty of areas where a little more performance capabilities would be nice…
And that's where modding a CRF250F comes in.
By the end of this list, you'll have a good idea of the best CRF250F upgrades and mods that you can do to this bike. If you want your CRF250F to go faster or handle better, these are the top accessories and most-recommended mods to achieve that.
Overall, no dirt bike is perfect for each individual and his riding style, so adding your own touch is just part of the process.
With that in mind, here are the top CRF250F suspension mods, engine upgrades, aftermarket exhausts, tires, and more. If you're looking for the most effective and popular performance parts for your Honda 250F, these are them.
---
CRF250F Big Bore Kits
When looking for more power, the top Honda CRF250F engine mods are going to include a big bore kit and/or a high-compression piston, as well as an aftermarket airbox, filter, and exhaust to go with it.
One of the most effective mods to make a CRF250F go faster and have more power is to install a big bore kit (BB kit). However, these dirt bikes are fairly new and don't have quite the demand (or supply) of different BB kits.
If you can find one, adding a big bore kit will increase the displacement of the 250cc engine, and that means more compression, more power, and more mid-range and top-end power. However, these CRF250F power mods do have a few drawbacks as well.
Here are a couple of big bore kits for CRF250F Honda.
---
CRF250F Big Bore Kit (275cc or 360cc)
If you're up for it, you can order either a 275 or a 360 CRF 250F big bore kit from a company in Brazil.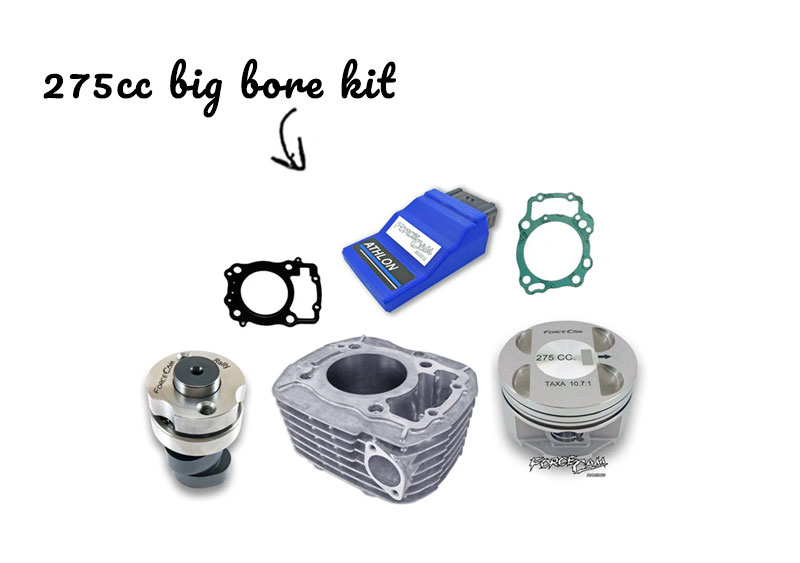 I haven't personally been around a Honda with one of these big bore kits, but I do know of them being used.
Even though there are other CRF250F big bore kits on the market, these are two of the more popular options. The 275 is actually more popular than the 360, even though it isn't the biggest big bore kit available. Either one will deliver a solid improvement throughout the RPM range, but the 360cc is going to take more finessing and maintenance.
These kits are somewhat easy to bolt on, but when it comes to installing this power mod, you do need the proper tools and adequate skill level. You don't need to be a licensed mechanic, but you should at least be comfortable working on your dirt bike engine.
Here are the main features and main "notes" for this Honda CRF250F BBR big bore kit:
Lightweight piston
Includes full gasket kit
10.7:1 compression ratio
Does not require machine work
Aftermarket exhaust recommended
Airbox mod recommended (instructions included)
With this kit, you get the following:
Rally command
Athlon control unit with setup map
275cc piston with rings
Piston pin and lock
275cc gasket kit
Piston-ready new cylinder
Click here to read reviews and to view pricing* (in Brazillian Real, LOL) for the 275cc BB Kit on lojaforcecam.com.
*At the time of putting this list together, the 360cc BB kit was listed for R$4,570.00 (Brazillian Real), and the 275cc BB kit was listed for 2,829.00. This basically comes out to $233 US dollars and $144 US dollars. (a 5:1 ratio)
---
CRF250F Exhaust Mods
Upgrading the exhaust is one of the more fun CRF250F mods. Not only will upgrading your stock exhaust system improves throttle response and increase horsepower, but it will also make your dirt bike sound much better.
I don't recommend buying from just any aftermarket exhaust for your CRF250F. If you're going to spend the money, you should check out the leading brands first. The best aftermarket exhausts generally come from Yoshimura, FMF, Pro-Circuit, Bill's, BBR, or a few others.
Below is, in my opinion, the best aftermarket exhaust for this dirt bike. If you're curious about some of the other pipes that are out there, here's a list that I put together of the most recommended Honda CRF250F exhaust systems, pipes, and mufflers.
Aftermarket Exhaust
When shopping for aftermarket exhausts, Yoshimura is generally at the front of the pack. Although not always in the number one spot (sometimes number two or three, ha!), the Yoshi pipe is one of the best-performing exhausts for this Honda.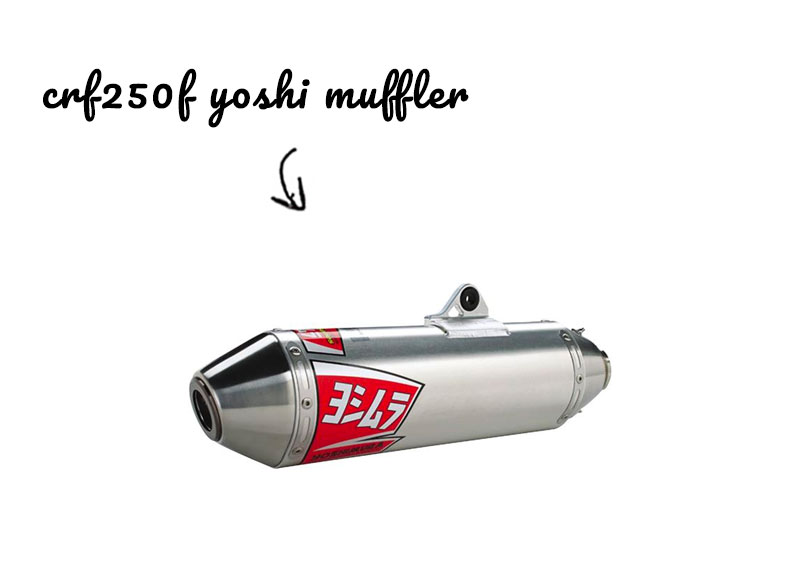 Not only will your bike have that famous "Yoshi sound," but it will also respond better and have improved power throughout the powerband. Also, these aren't overly loud, so they aren't too annoying.
This CRF250F exhaust upgrade is based on the original Yoshi TRC exhaust and is engineered to provide more power, better power delivery, and a super crisp throttle response.
Overall, this is my favorite CRF250F exhaust upgrade out there… in case you couldn't tell. It's the best-sounding pipe and it makes even more power than stock.
Features & Highlights
Uniquely shaped sleeve (looks and sounds cool)
Large core and increased muffler packing volume (makes it quieter)
Stainless steel cone end-cap
Stainless steel header and tail-pipe
Spark arrester included (USFS Approved)
Improved horsepower and torque throughout the entire powerband
Click here to view pricing and read reviews on yoshimura-rd.com.
---
Stock Exhaust Mod
For those who prefer to save money for other modifications, there is a free CRF250F exhaust mod for upgrading the system.
Basically, all you need to do is remove the baffle to improve the airflow and open it up a bit. If you are wondering how to make a CRF250F louder, removing the baffle will do it.
Here's a short video that shows you how the bike sounds, and tells you how to remove the baffle for this exhaust mod… simple.

Disclosure: I haven't personally run a gutted exhaust on a CRF250F before, but I do "hear" they sound better but quite a bit louder. I did run my Husky SMR510 with the gutted stock dual exhaust and that worked and sounded great.
---
EJK Fuel Injection Tuner
If you're going to be adding a big bore kit, custom exhaust, and/or modding your airbox on your Honda CRF250F, getting an EJK fuel injection tuner is a good idea.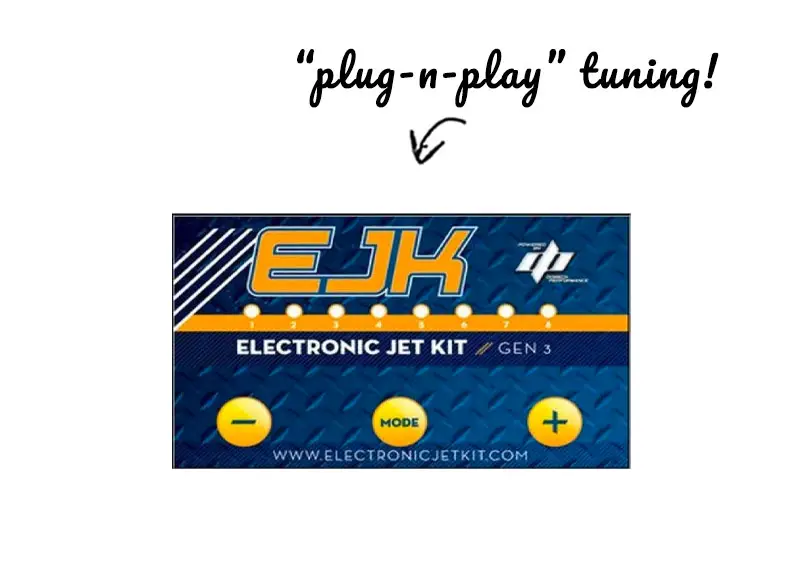 The EJK (electronic jet kit) has got to be the best (easy) way to tune the factory fuel injection. Not only does it make the job of tuning your bike easier, but you can also bring it with you if you suspect you may need it. For example, you may want to take it with you if you are going to the dunes or into higher-than-normal elevations.
Here are some of the main perks:
Pre-programmed for the best results
Simple and easy tuning
Plug-n-play installation
No computer (or software) required
Click here to view pricing and read reviews on EJK's website.
---
CRF250F Airbox Mod
Opening up the CRF250F air box is another popular upgrade for the bike.
In order to keep these 250 engines running as long as possible, Honda did a good job of protecting the motor from any water, dirt, or other debris from getting in. However, because they did such a good job protecting the bike, the airflow on these dirtbikes can be a bit too restricted.
The good news? There is a free mod for the stock exhaust on the CRF250F that you can do.
Modding a stock air box on a Honda CRF250F is fairly easy to do, however, you may not want to do it. If you're going to leave your dirt bike completely stock (exhaust, fuel mixture, piston, etc.) opening up the airbox may not be necessary.
On the other hand, if you are going to upgrade the exhaust, you'll most likely benefit from the increased airflow.
If you are wondering how to mod the stock air box on a CRF250F, Rick Ramsey has the best solution that I've found. Simple, easy, and a free DIY mod.
---
Air Filter Upgrade
Since improved airflow is usually a good thing, you may want to consider getting an aftermarket air filter for your CRF250F. Upgrading the air filter is an easy and cheap mod that is actually worth doing.
While buying an aftermarket air filter may not be the biggest upgrade you do, it is still worth it.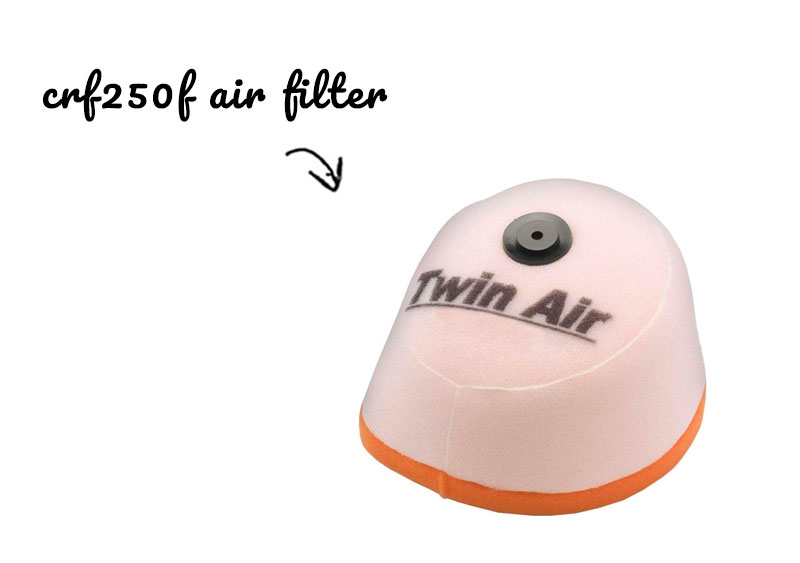 These Twin Air double-layered foam air filters are nice. Of course, they keep dirt and mud out just as well, if not better, but they also increase the airflow.
There are other options out there as well. Another popular air filter brand is Uni. I've run Uni and Twin Air filters in my dirt bikes and like both.
Click here to view pricing and read reviews on Amazon.
---
CRF250F Suspension Upgrades
The suspension is probably the biggest weakness of these dirt bikes. Unfortunately, modding the suspension on these will only get you so far, but it's still worth doing.
Aftermarket fork springs may not be one of the cooler-looking mods, but if you are a heavier rider you'll be glad you made the upgrade when you start hitting rocks, roots, or trail whoops. For most riders, these dirt bikes handle better with stiffer springs. And while it may not seem like it, a better-handling dirt bike is a faster dirt bike. So, although you aren't upping the horsepower with a suspension upgrade, you are still making it go faster, in a way.
Here are some of the most recommended upgrades that you can make to your CRF250F suspension:
Heavy-Duty Fork Springs
If you are a heavier rider (200+ pounds), and/or an aggressive rider, heavy-duty springs will be a welcomed improvement.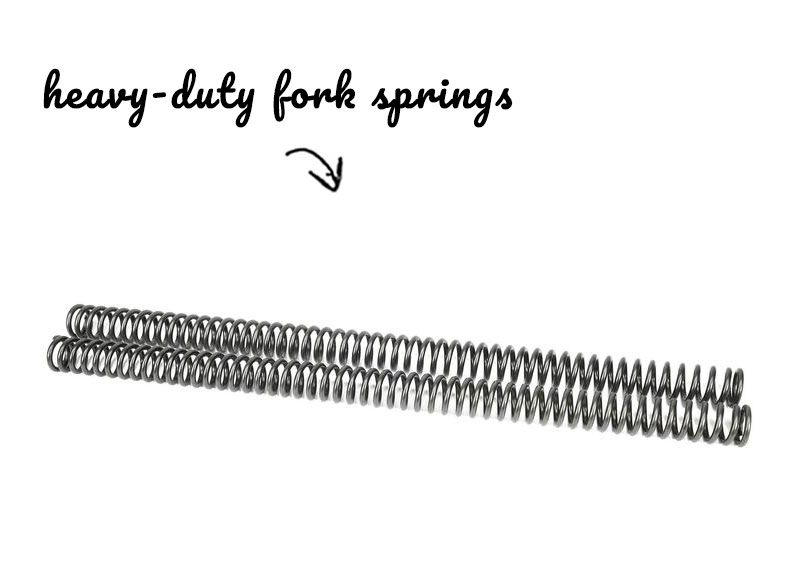 Here are some of the features of these aftermarket front fork springs:
Increased spring rate (for adults)
Preset and stress relieved for long life 
Made front aircraft quality steel
Fits CRF250F stock forks
If you decide to upgrade the CRF250F front fork springs with the BBR springs, you can keep your stock front forks.
Click here to view pricing and read reviews on RevZilla.com.
---
CRF250F Rear Shock Upgrade
Upgrading the rear shock on a CRF250F is something that most riders will want to do, but it's not cheap (there is a cheaper option next).
If you're willing to spend the big bucks, the Race Tech makes a good aftermarket rear shock for CRF250F dirt bikes. These cost a little over $800 (without the optional reservoir), but again, if you've got the money, these make a big difference for the bike.
These are actually custom-made for each individual rider. In fact, when you place your order, you have to provide your weight, ability, and type of riding that you do so that they can dial it in for YOU. Pretty cool!
Installing this rear shock yourself should be doable, but it does take a bit of work to disassemble (and reassemble) everything.
Click here to view pricing and read reviews on CRF's Only website
---
Rear Spring
Although it won't give you the same adjustability or as good of a ride, replacing your stock spring with a heavy-duty rear spring will still deliver noticeable results.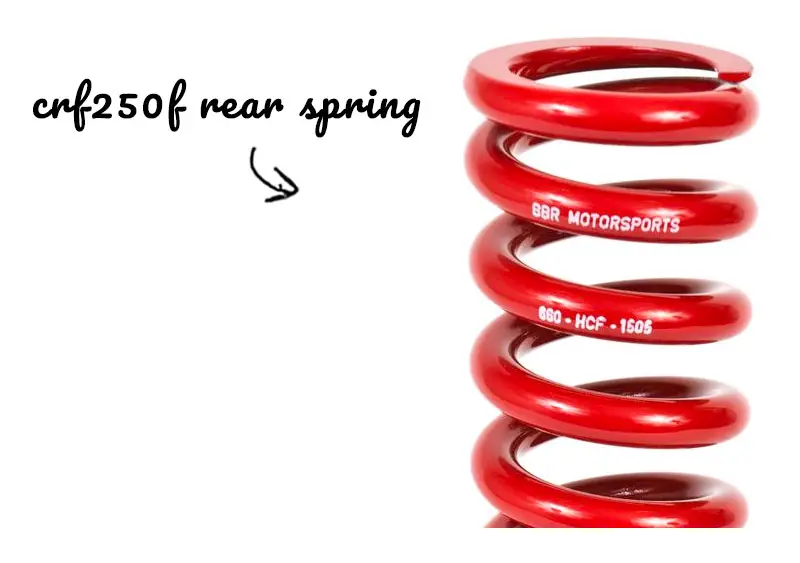 Again, for heavier riders and/or those who ride more aggressively than a true beginner rider, a heavy-duty CRF250F rear spring should improve the bike's overall handling. Here are some of the main features of this rear spring.
30% stiffer than stock (most models)
Preset and stress relieved for long life
Custom wound from aircraft quality spring steel
Powder coated finish
Click here to view pricing and read reviews on BBR Motorsports' website.
---
CRF250F Tires
Adding a set of new tires can drastically improve the way a dirt bike handles… especially if the current tires are worn. Even if you stick with the stock tires, you will probably be surprised by how much better your bike turns and hill climbs with fresh tires. I generally lean towards an aftermarket tire on all of my bikes, but not until I've worn down the stock tires first.
Here are my favorite all-around trail tires for the Honda CRF250F. Actually, I've got them listed as one of the best tires on the list of CRF110 mods as well.
Best Tires for Trail
Michelin Starcross 5 dirt bike tires are what I'm currently running on my Honda CRF and I'm a big fan. They hook up great on most terrain and they last okay. Not perfect, but no tire is.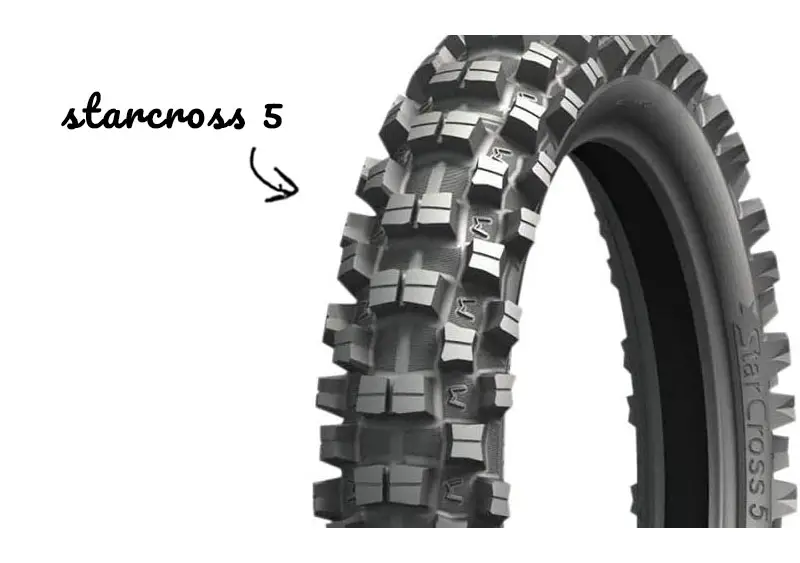 I usually buy medium-terrain tires because of where I live. I'm in the Pacific Northwest (Southern Oregon) and we have a lot of varying terrain. We all usually ride on everything from granite, rocks, roots, mud, sand, and creek beds to groomed motocross tracks.
A medium tire works on basically all types of terrain, but that doesn't mean that it is "ideal" for all types of terrain. But I have found that they work great the majority of the time.
Honda CRF250F tire size:
Front: 80/100-21
Rear: 100/100-18
Click here to view pricing and read reviews on Amazon.
---
CRF250F Dirt Bike Armor
There are a few aftermarket parts for the CRF250F that I suggest for protecting you and your bike. The two main mods I recommend for this dirt bike are a skid plate and some handguards. These are two affordable mods that you can make to your CRF250F that will make the bike safer to ride.
Of course, there are other add-ons like fork guards, chain guards, frame guards, and more. Here are the best CRF250F mods to make your bike safer:
Skid Plate
For those who do a lot of trail riding (which this dirt bike is made to do!), hitting large rocks or roots can damage your bike. With that in mind, installing a CRF250F skid plate is a great way to protect your bike.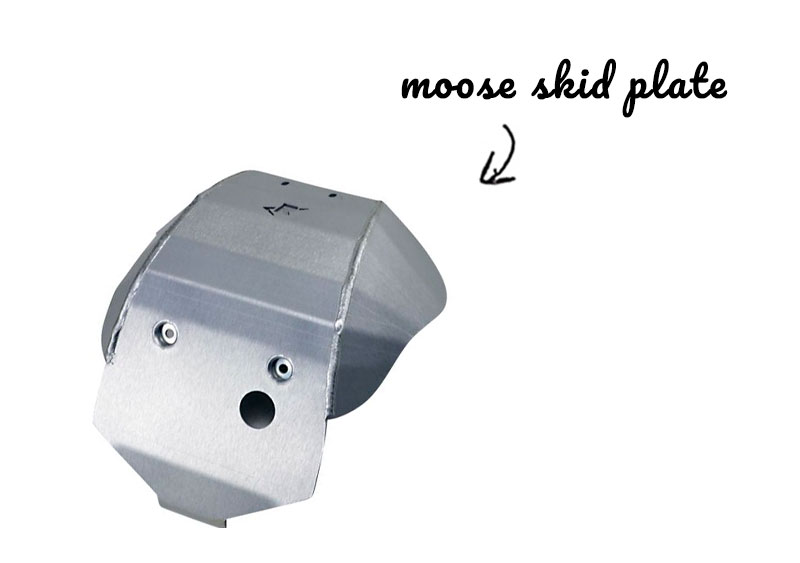 Although there aren't many options out there (because these bikes are so new), Moose Racing does make a good skid plate for CRF250F dirt bikes. They aren't cheap but they are actually built tough, look good, and protect your engine.
NOTE: I really don't recommend buying a cheap, plastic skid plate. They don't protect your bike nearly as well as a solid, aluminum skid plate. I haven't personally installed a Moose skid plate, but my dirt bike has a Works Connection skid plate on it, and I'm glad it does! They do add weight to your bike, so take that into consideration.
Click here to view pricing and read reviews on RevZilla.com.
---
Acerbis Handguards
Adding new handguards is another cheap CRF250F mod that most people end up doing.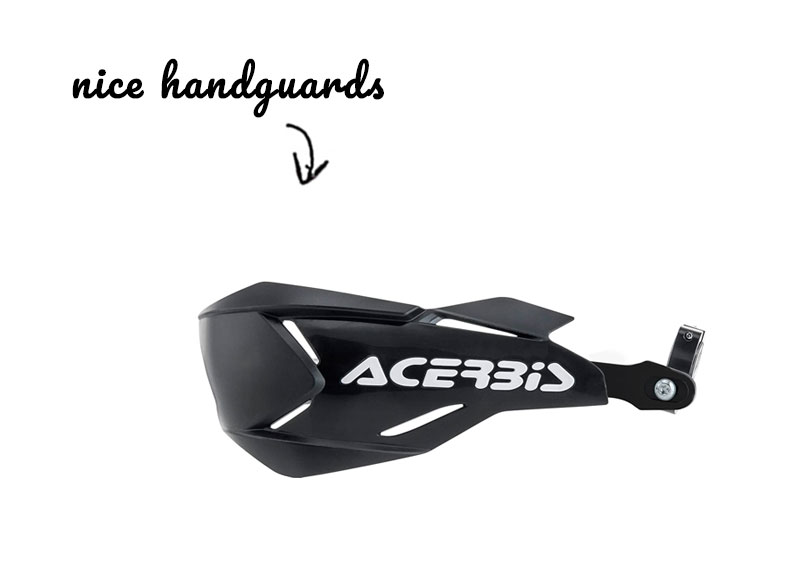 There are a handful of different brands that make dirt bike hand guards for the Honda CRF250F, but Acerbis is one of the most popular brands. The Acerbis X-Factor handguards are actually quite nice. Not only do they protect your hands and levers, but they also add strength to the handlebars.
If you're looking to protect your hands and add a nice custom look to your bike, these handguards are a good option. I've personally hit more than one tree while I had a set of handguards on my Honda and I think they've saved me from serious injury, or at least, serious pain.
Click here to view pricing and read reviews on Amazon.
---
Cheap CRF250F Mods
Not all good Honda CRF250F mods are expensive. The following upgrades are fairly cheap when compared to some of the other mods out there, but that doesn't mean they aren't good. Even though these mods aren't necessarily "high-performance" upgrades, they can still help you ride faster and safer.
Wider Footpegs
Installing a set of aftermarket CRF250F footpegs is not a bad idea. The good ones are well-built and they usually provide a better grip for your boots and are quite a bit bigger than a stock footpeg.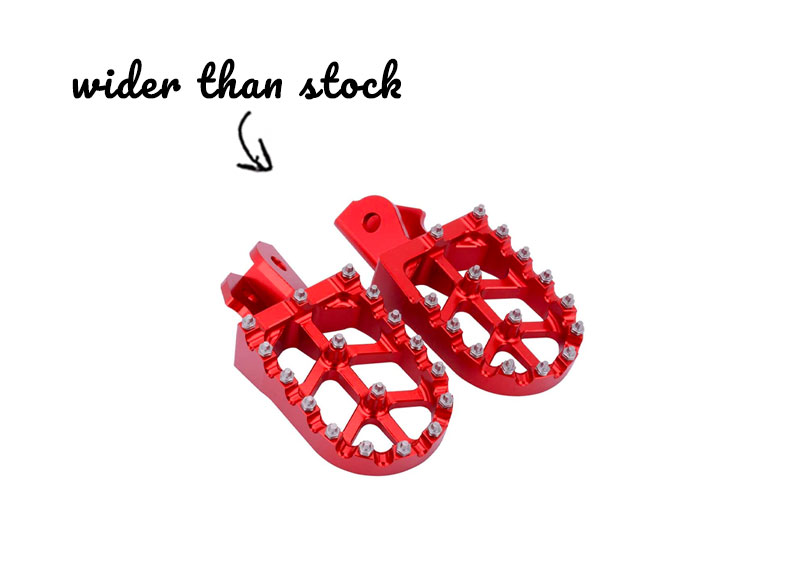 I'm one of those weirdos who likes "name brand" stuff when I have the choice, but these DRC footpegs are actually quite solid. If you're looking for a much better stance on your dirt bike, you should consider these. I wouldn't say that this is as necessary as the 250F as it is basically one of the best crf50 mods, but it is still something you should consider.
The ones pictured above are "technically" Honda CRF230F footpegs, but they do fit the 250F as well.
Click here to view pricing and read reviews on Amazon.
---
CRF250F Handlebars
Adding new handlebars is a surprisingly (for some) effective mod for making the CRF250F more comfortable. The stock dirt bike handlebars are not the most comfortable, and they're quite weak.
If you'd prefer to keep your stock clamps but you'd still like a set of CRF250F Pro Taper handlebars, they do make a set that will fit. In addition, they make a 7/8″ handlebar, as opposed to an oversized 1 1/8″ handlebar. I do like Pro Taper's 7/8 handlebars for the CRF250F. I've run Pro Taper bars on quite a few of my bikes and I love them.
Click here to view pricing and read reviews on Amazon.
Note: If you want your handlebars to be taller, you can purchase a set of CRF250F handlebar risers (view on Amazon here). This is a simple, cheap mod that is great for taller riders.
---
Aftermarket Levers (Foldable)
Eventually, you'll break your levers. It's just the way it is. So, a good plan is to replace them with some nice breakaway levers.
These are a nice step up from the stock dirt bike levers. While these are not technically "unbreakable levers," they do survive the unexpected better than stock. The foldable levers have a pivot design that allows them to fold outward. This foldable design is what keeps them from breaking if (when) you crash.
Another nice thing about these is that they allow for adjusting. Whether you have large or small hands, you should be able to get a nice, custom fit.
Overall, this is a cheap upgrade that is worth doing.
Click here to view pricing and read reviews on Amazon.
---
Aftermarket Plastics
Having a new set of CRF250F plastics and graphics is a good idea. Not only is it an easy mod that most of us end up doing anyway, but if you get them before destroying your stock set, you can store your stock plastics and decals.
It's nice having a full set of stock plastics in the garage if you go to sell the bike (or destroy your aftermarket ones).
If you're planning to buy a full CRF250F plastics kit, you're looking at around $100 for the plastics. From there, you'd need to pick out which decals/graphics you'd like to see how much they are.
CRF250F Headlight Kit
I can't tell you how many times I was glad to have a headlight on my old Honda XR250. When I was (a lot) younger, my buddies and I were always riding home in the dark.
If you're looking to get a headlight for your CRF250F, it's pretty hard to find a good one that's made specifically for the bike. However, there are a few good universal headlight kits that will fit the 250F Honda. Here's a cheap and pretty good one on Amazon.
CRF250F Battery
Whether you've got an aftermarket headlight on your dirtbike or not, having a good battery is wise.
I do (now) keep my batteries on a tender, but before that, I used to go through a lot of batteries on my lawn mower. The ATV batteries last much longer than the mowers, but both last even better now that I'm using the battery tender. Either way, having a good battery to start with is key.
If your current battery is good, I'd recommend getting a battery tender and keeping it that way. If your battery is ready to be replaced, here's a good one on Amazon.
---
CRF250F Lowering Kit
With a seat height of 34.8 inches, the Honda CRF250F is fairly short for a 250 enduro. However, lowering one of these dirt bikes is a great way to make them even more rider-friendly, especially for many women and teenagers.
Typically, someone who is around 5'4″-5'8″ would be the right size for the Honda CRF 250F. But, that "blanket" estimate doesn't take into account the person's inseam measurement or their preferences. Either way, if you want to lower a CRF250F, a lowering link is a solid option. Here's a good one on Amazon.