Kawasaki KX450X Review (Top Speed, Horsepower, Specs, etc.) – Worth Buying?
BraapAcademy.com earns a small commission from qualifying purchases.
This does NOT cost you extra.
Are you considering a Kawasaki KX450X and would like to know more about them? Or, maybe you already own one and just need some info on it? Either way, I've put together this review that covers all of the specs, horsepower, top speed, weight, height, handling, and more.
Overall, these 450 Kawasaki's are solid dirt bikes, but they aren't for everyone.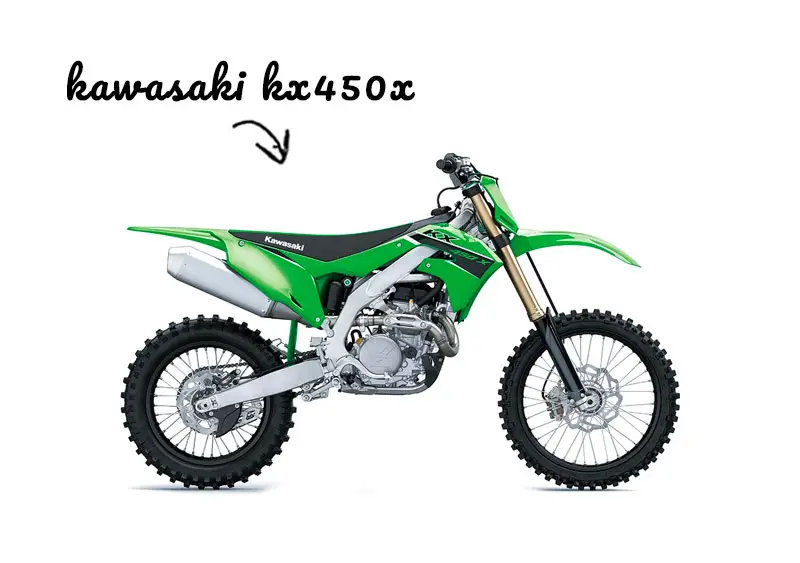 It's nice to know ahead of time about any common problems or certain characteristics of a dirt bike before you buy it. Of course, you'll still want to go and sit on one to get a real feel for it, but we'll still cover all the need-to-knows for the Kawasaki KX450X.
In addition to covering all of the important KX 450X specs, we'll look at what this dirt bike is good at (and isn't good at). We will also look at the maintenance requirements, and what you can buy one for, and we'll look at the positives and negatives.
---
What is a Kawasaki KX450X?
The Kawasaki KX450X is powered by a liquid-cooled 449cc, 4-stroke single, DOHC that is built to rip.
This is a motocross bike that has been tuned and adjusted for enduro racing. What does being "tuned" for enduro mean?
First, Kawasaki started with a KX450 (MX bike – high-performance suspension, chassis, engine, etc.) and added some cross-country features. Just like the KX250X model, the KX450X model has an electric start, an 18-inch rear wheel, a kickstand, a softer suspension, and a larger sprocket in the rear.
Even though this bike isn't "technically" a motocross bike (anymore), it isn't a beginner trail bike either.
Who Should Buy?
Deciding whether to buy one of these Kawasaki dirt bikes comes down to a few things:
Your level or skill
The type of dirt bike you want
The type of riding you do
Your level or skill
Again, if you are a beginner, I recommend that you look into a different dirt bike.
If you do have experience riding and you want a race bike to tear around on, this is a decent choice. However, if you don't have experience riding one of these 450cc race bikes, you may be surprised. They've got a lot of power.
Type of dirt bike you want
This is a high-performance race bike. Yes, that is a good thing because it means that it's on the cutting edge of technology and performance. It's got the latest and greatest of just about everything Kawasaki has to offer for their dirt bikes. However, that also means that it costs more and requires more maintenance than an air-cooled, more simple dirt bike.
The type of riding your do
Although these bikes are built for competition and competition-level riding, they do lug around decently, but not great. They aren't "put-put" bikes so if tight trails and slow terrain is what you're looking for, there are better-suited options out there.
There's no doubt that you can take these up in the woods and have a great time… heck, I take my CRF450R up in the woods and this KX450X is even better suited for trails than my bike.
Having said that, I am in the process of changing bikes to something along the lines of this KX 450X. Although, I'm looking for something that is even less of a motocross bike and even more of an enduro/trail combo, but still water-cooled.
Here are some different reasons to buy (and not to buy) one of these dirt bikes:
Reasons you might buy
You'd like a full-sized dirt bike for enduro racing or fast trail riding
You prefer trail and enduro riding over motocross tracks
Prefer the motocross bike characteristics and feel
You already know how to ride and have experience
Aggressive and fast riding is the plan
Reasons you might not buy
You want a good dirt bike to learn on
Tight, slow trails are your favorite (these are made to go fast)
You plan on converting it to a street-legal motorcycle (better options out there)
Don't like working on bikes (need lots of maintenance)
Kawasaki KX450X Specs
Here are all of the KX450X specs taken from Kawasaki's website:
Engine Specifications
Chassis Specifications

Miscellaneous
| | |
| --- | --- |
| Colors | Green |
| Model ID | KX450X |
Here are the most important/usable specs for quick reference:
Manufacturer: Kawasaki
Model Name: KX450X, KX 450X, KX 450 X
Dirt Bike Type: Offroad, Enduro, Trail
Years Made: 2021-2023 (present)
Seat Height: 37.4 inches
Curb Weight: 246 (all fuel, fluids, etc.)
Top Speed: ~90 mph
Horsepower: ~52 HP
---
KX450X Engine & Transmission
Kawasaki dirt bikes generally have a good reputation for their engines. As far as the KX450X motors go, they make good, usable power throughout the RPM range.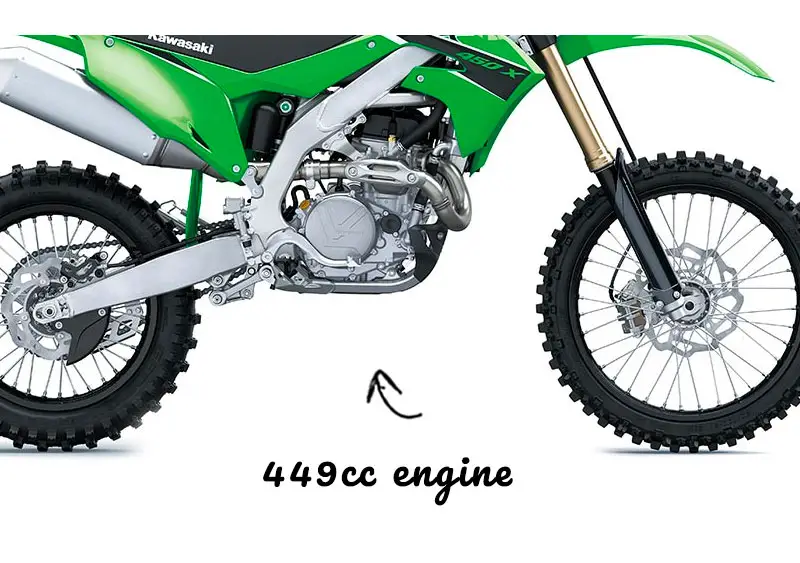 Since these are the same high-performance engines that are in the 450 motocross bikes, they are built to rip. These things have power.
Horsepower
The Kawasaki KX450X produces 52 horsepower.
Compared to its competition, the Honda CRF450RX has 53.2 horsepower and the Yamaha YZ450FX has 53 horsepower. With that, it's clear that the Kawasaki is a the low end of the range, but hanging in there.
But even though the horsepower doesn't rate quite as high as the competition, it's still plenty. The 450cc Kawasaki dirt bikes are serious machines, and the fact that they "only" have 50 horsepower just makes them that much more rideable.
Top Speed
The Kawasaki KX450X can go 88 mph.
A good assumption for a stock 450X is about 85-90 mph. However, the 450cc could go faster with taller gearing.
Re-gearing a dirt bike is very easy. Depending on the gearing ratio you're looking for, you'll want to change the back (or front) sprocket, and possibly replace the chain. Here are more details and a dirt bike gearing chart to figure out which gearing you'd like.
Therefore, if it still has stock gearing and no major mods, a Kawasaki KX450X dirtbike will go around 85-95 MPH. That's quite a bit faster than the KLX 230 top speed of 65 mph, so if you're graduating from one of the air-cooled trail bikes, get ready for a huge jump in power and speed.
Maintenance
While this dirt bike really is a solid choice for this category, it's not all rainbows and sunshine. Again, this is a high-performance race bike and that means more maintenance.
As long as you can keep up with the KX 450X maintenance schedule, these dirt bikes should last you a while before needing to be rebuilt. Just remember to keep an eye on the engine, transmission, suspension, exhaust, and… okay, you get the idea. Just keep an eye on it and keep up on the maintenance.
KX450X Maintenance Schedule
According to the owner's manual, the majority of the following items are to be inspected and/or serviced after every race, which equates to about every 2.5 hours.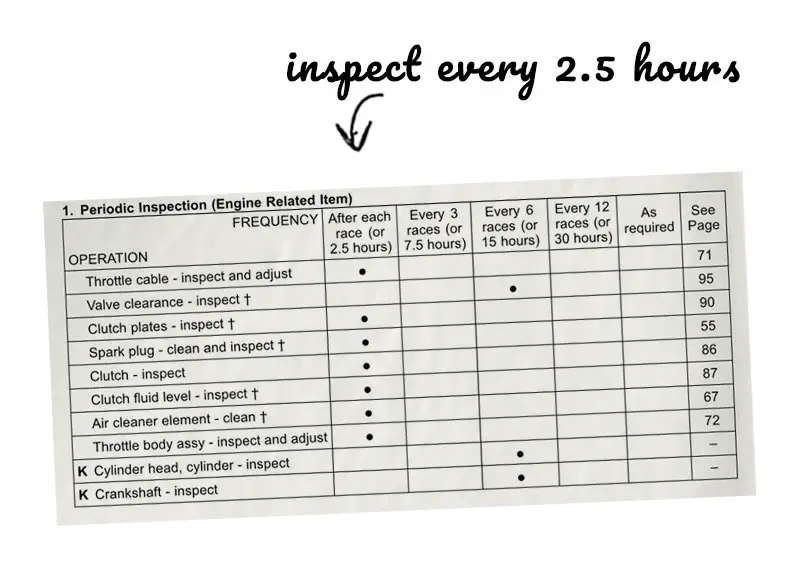 As you can see from the screenshot of the KX450X owner's manual above, there are columns for different intervals. The maintenance checklist outlines an inspection interval frequency of the following:
After each race (or 2.5 hours)
Every 3 races (or 7.5 hours)
Every 6 races (or 15 hours)
Every 12 races (or 30 hours)
As required
Most items require inspection after each race, but those are mostly labeled "inspect" on the checklist. Below is the full KX450X maintenance checklist that I've copied down. Also, I've broken up the items based on how often they need to be inspected and/or serviced.
Here's the Periodic Inspection Chart:
After each race (or 2.5 hours)
Throttle cable
Clutch plates
Spark plug
Clutch
Clutch fluid level
Air cleaner element
Throttle body assembly
Exhaust system
Shift pedal
Engine sprocket
Coolant level
Breather hose
Water hoses and connections
Clutch hose, connections
Brake
Brake pad wear
Brake fluid level
Spke tightness and rim runout
Rear axle nut
Drive chain
Front fork
Nuts, bolts, fasteners (LOL, have fun!)
Fuel hose, connections
Brake hose, connections
Steering play
Rear sprocket
General lubrication
Frame
Wheels/tires
rear shock absorber
Cable
Every 3 races (or 7.5 hours)
Fuel system
Steering stem bearing
Wheel bearing
Swingarm and uni-trak linkage pivots
Every 6 races (or 15 hours)
Valve clearance
Cylinder head, cylinder
Crankshaft
As required
I guess, "all of them" is implied?
What motor oil does a Kawasaki KX450X use?
Since it's basically the 450X and has the same engine as the MX model, it also takes the same oil.
Castrol Power 1 Racing 4T – 5W-40 (view on Amazon)

Kawasaki Performance 4-stroke Oil – 10W-40 (view on Amazon)
Full Synthetic,
Semi-Synthetic,
Standard
Engine oil change capacity:
0.8 US qt (0.8 L) – standard oil change (filter NOT removed)
0.9 US qt (1.0 L) – with oil filter removal
1.0 US qt (1.1 L) – after disassembly
---
Kawasaki KX450X Handling
The Kawasaki KX 450X is a lot of bike to handle unless you're an experienced rider who's used to the "big boy" bikes. Being able to ride a 450cc and actually being able to handle one are two different things.
These KX450Xs are basically motocross bikes. Kawasaki took their 450 MX bike and updated it with an 18-inch rear wheel, slightly lower gearing, and softer suspension.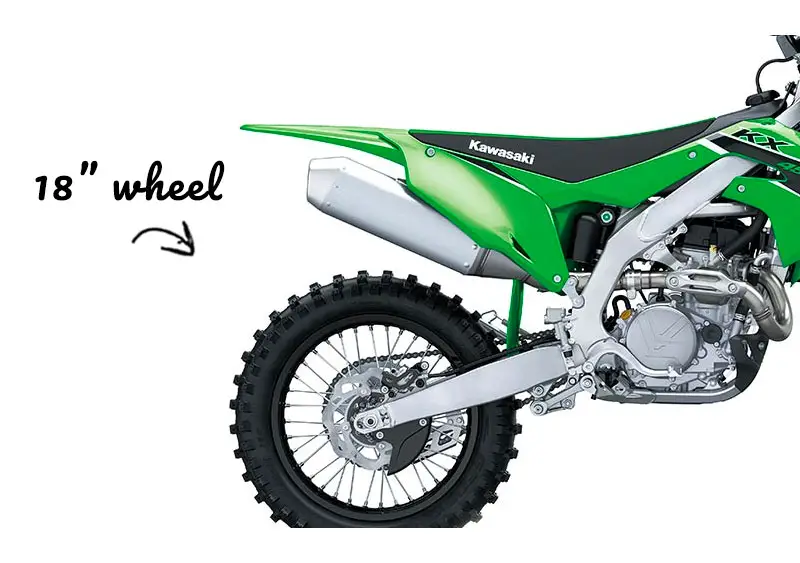 Because the 450X is basically a motocross bike, that typically translates into a slightly longer, more stable feel than a true trail bike. That is can be both a positive or a negative, depending on what you're after.
Also just like the motocross bike, the KX450X has four different handlebar positions and adjustable footpegs, which is nice.
Overall, these dirt bikes have a thin and ergonomic feel, a soft and plush ride, and a snappy and powerful engine.
They want to go fast and are made to do so, however, that means they don't want to go slow around tight trails and technical woods riding. Just something to keep in mind.
Weight
With a full tank of gas and all other fluids (wet, or curb weight) the Kawasaki KX450X weighs 246 pounds. Its dry weight is 235.8 pounds.
If you compare the weight of its competitors, you can see that the Kawasaki 450 is the lightest of the group. For instance, the Honda CRF450 RX weight is 251 pounds and the Yamaha YZ 450FX weight is 254 pounds.
However, you've got to remember that it has the smallest fuel tank of the group as well. I don't know about you, but I prefer the larger tank.
Seat Height
The Kawasaki KX450X seat height measures 37.4 inches.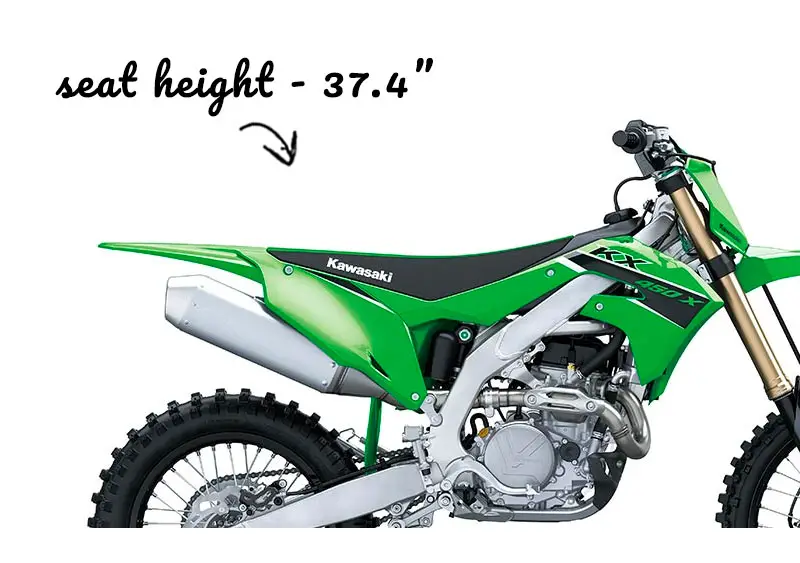 Typically, a 37-inch tall seat height is a good height for someone who is 5'10" tall. But, remember that this will vary from person to person and you've got to sit on a bike to get a good "feel" for it.
Again, Kawasaki's seat height is comparable to its competition, but on the shorter end. For instance, the YZ450FX has a seat height of 37.6 inches, the KTM 450SXF has a seat height of 37.4 inches, and the CRF450RX has a seat height of 38 inches.
Noteworthy, seat heights change quite a bit from the air-cooled four strokes to these liquid-cooled race bikes. If you're graduating from one of the smaller bikes like the KLX230 (36.2 inches seat height), these MX bikes have noticeably higher seats. Even the KLX300 seat height of 35.4 inches is shorter than the KX250X seat height of 37.2 inches.
Can you lower a Kawasaki KX450X?
Lowering the seat height of these dirt bikes is doable. Here are some free and cheap mods to lower a KX450FX dirt bike:
Set the sag and spring rates
Adjusting the sag and spring rates on your suspension can lower your bike and make for a more personalized ride. Whether you install a lowering kit or a short seat, it's still a good idea to double-check that the sag and spring rates are correctly set. Once you've adjusted the suspension to your liking, then you can determine how much lower (if any) you need to go.

Shave the seat
Shaving down the stock seat is a common way to lower a dirt bike's seat height without spending any extra money. If you're like me, however, you may be hesitant. I'd rather not start cutting away on a perfectly good seat if I don't have to.

Buy a shorter seat
Instead of shaving down your seat, you can look into buying a "short seat" for your bike. These are usually about 1-1.5″ shorter than stock. One downside to these seats is that they can be a little harder than you'd like. Just make sure to buy a good quality one, versus trying to save a few bucks.

Buy a lowering kit
Another way to lower this dirt bike is to buy a lowering kit or link for the KX450X.
Suspension
Although almost a twin to the MX bike, the suspension is slightly different. Kawasaki adjusted the settings on the suspension and dropped the spring rate front and rear to make for a softer ride than the motocrosser.
The KX 450X does have adjustable front forks with 16-way compression and rebound damping. It also has an adjustable rear shock with 19-way compression damping and 22-way rebound damping.
Front Suspension
49mm inverted telescopic coil-spring fork with 16-way compression damping and 16-way rebound damping (12.0″ travel)
Rear Suspension
Uni-Trak® gas charged shock with piggyback reservoir with dual-range (4 turns stepless high speed/19-way low-speed) compression damping, 22-way rebound damping and adjustable preload (12.1″ travel)
---
Is the Kawasaki KX450X a Good Dirt Bike?
Yes, the KX 450X is a good dirt bike, but that doesn't necessarily mean that it's the right one for you.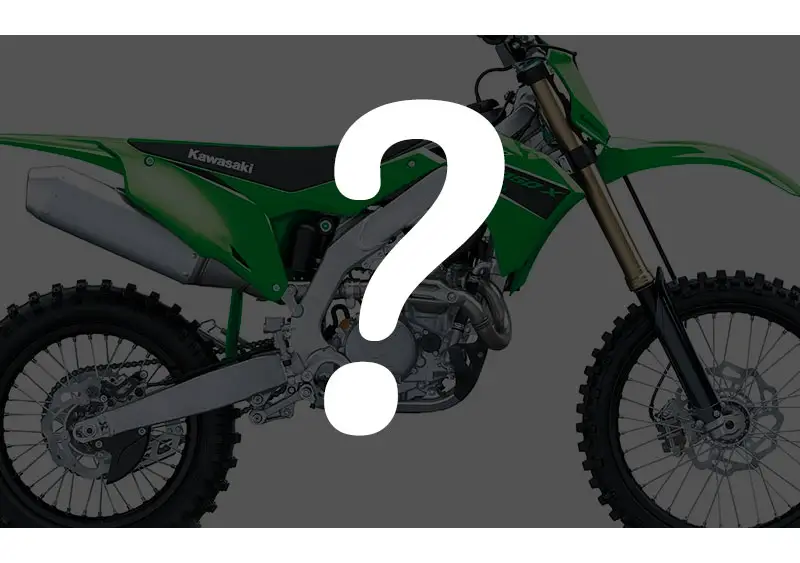 I've mentioned this before, but it's worth mentioning again: The KX450X is not a good dirt bike for beginners. It is, however, a good dirt bike for those who want an advanced, motocross bike with a few single-track mods.
Since these are just motocross bikes that have been tuned for enduro RACING, they are still "unforgiving" and aggressive machines. Now, of course, a competent beginner could ride one of these and have a great time… but that same "beginner" would probably have more fun and ride faster and better on a different bike altogether.
Choosing which bike to get really depends on your priorities and the kind of dirt bike that you're after…
For example, if your plan is to ride tight and technical trails, this is not the bike that I would recommend. Could you get by riding trails and have fun? For sure… but if that's the majority of the type of riding that you're planning on doing, I recommend you look at a different bike altogether.
On the other hand, if you are graduating from a dirtbike like the KLX230R, a CRF230F, or a TTR230, this is a great next-level option.
These dirtbikes are built to rip. Here are a few of the main pros and cons of this kind of bike:
Positive Reviews
Great handling for fast speeds
High-performance, adjustable suspension
Awesome motor
Electric start
Fuel-injected
Fun high-revving engine
Light and narrow chassis
Soft Suspension
Lots of "bark" and grunt from the engine
Negative Reviews
Expensive
Not cheap to rebuild (4-stroke race bike)
Not good for slow trail riding
Hard to ride/maneuver while going slow
All the Race-bike maintenance required
Doesn't last as long as beginner trail bikes
Buyers Guide (Best Year, Pricing, etc.)
After reviewing all of the specs, characteristics, positives, and negatives, you may be considering buying one. If that's the case, here are the remaining items we're going to look at:
Where to buy
Who to buy from
The best year to buy
What they are worth/cost
Where to Buy?
If you're planning to buy a new 450X, there's not a whole lot to go over. Just head over to your local Kawasaki dealer and pay them the asking price.
What if you are wanting to buy used? Buying a used KX450X isn't difficult, but they can be hard to find since they're so new.
Best Year
Since these dirtbikes were first released in 2021, there hasn't been much time for significant changes, modifications, etc. Naturally, the newest years are often the "best year" to buy.
However, Kawasaki is consistent with making updates to their MX bikes so you can expect these bikes to continue progressing.
How much does a Kawasaki KX450X cost?
Taken from Kawasaki's website, here's what they cost new:
BASE MSRP: $9,799
Destination Charge: $425
Freight Surcharge: $300
With that, it looks like you're going to be paying around $10,550 for a 2023 Kawasaki KX450X from the factory.
How much is a used Kawasaki KX450X worth?
If you really are considering a used KX450X, and why wouldn't you be, here's what I (and probably you) would do to figure out what they're actually worth: Track down as many different listings as I can.
Typically, this is a solid method that gives you great "real-world" prices for a dirt bike. However, In this situation, there aren't going to be many used KX450X dirt bikes for sale.
But… we've got to make sure! After doing a quick search on Facebook Marketplace to see how many used KX450X Kawasaki bikes I could find. There were ZERO! Sad. I also checked Craigslist. I did find two, but they were both for sale by a dealer. One was a used 2021 for $6,299, and the other was new for a discount at $7,799.
Is the Kelley Blue Book price accurate?
Because this is such a new model, it can be difficult to nail down a true value for this dirt bike. For these situations, it's a good idea to get as many prices and values as you can.
Here's a screenshot that I took of the price that JD Power values this used 450 at: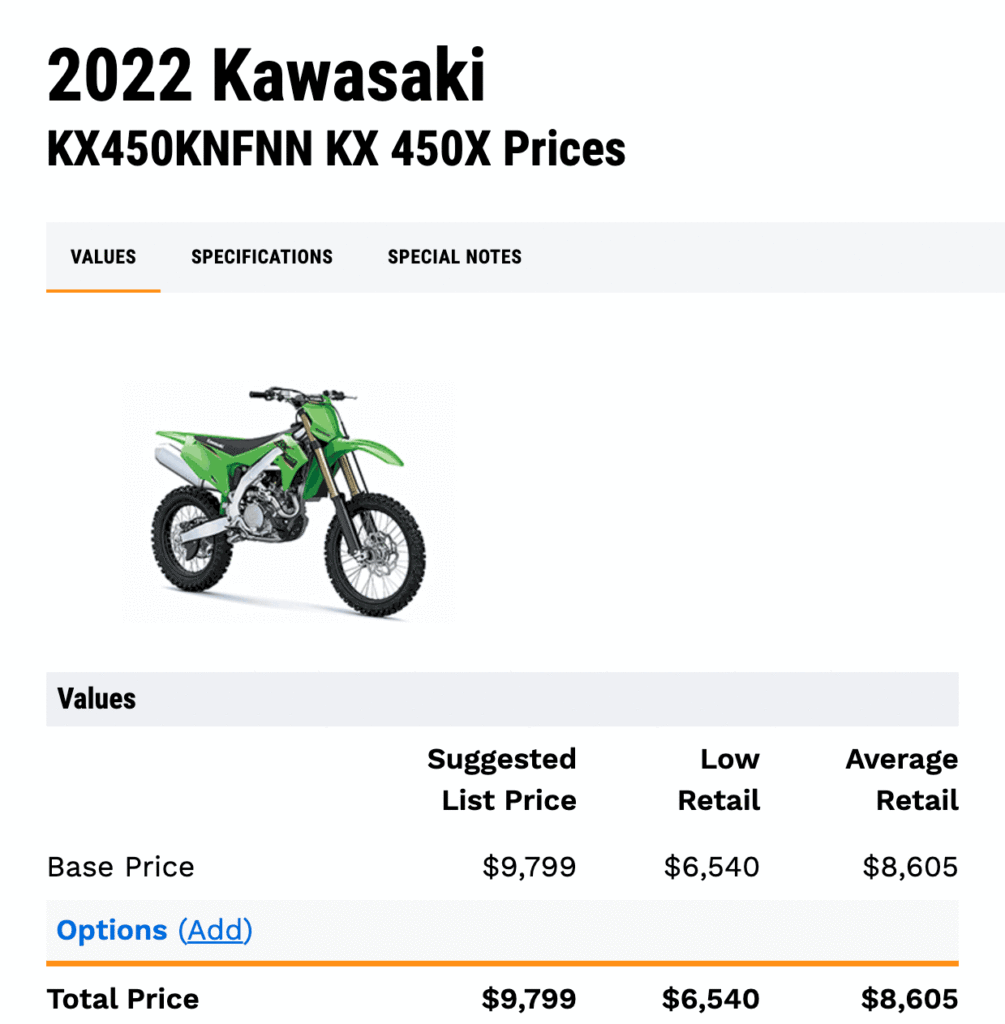 As we can see, the "suggested" price is the same as the new and the "average" price is basically $8,600.
But again, because this is such a new dirtbike, it's hard to say exactly what you will find a good one used for. For example, the two listed above are both great possibilities for quite a bit less than what's listed here.