Kawasaki KX250X Review (Horsepower, Weight, Top Speed, etc.) – Worth Buying?
BraapAcademy.com earns a small commission from qualifying purchases.
This does NOT cost you extra.
Are you thinking about buying a Kawasaki KX250X? Overall, this 250 Kawasaki is a solid dirt bike, but that doesn't necessarily mean it's going to be what you are after. (maybe it is)
In this full Kawasaki KX250X review, we'll look at all of the most important specs, horsepower, top speed, weight, height, handling, and more.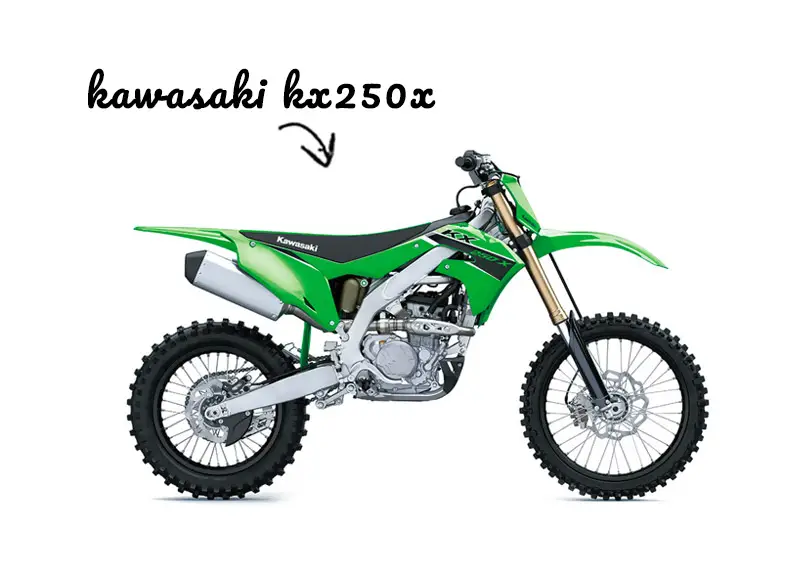 By the end, you should have a much better idea of whether you want to commit to buying one of these or not. After all, it's good to know all of the little quirks and specifics that come with owning (and riding) one of these KX250X dirt bikes before you go out and buy one.
---
What is a Kawasaki KX250X?
The Kawasaki KX250X is a liquid-cool 249cc, 4-stroke, DOHC built to rip.
This competition bike is actually a motocross bike that has been tuned for enduro and trail riding. What does being "tuned" for enduro and trail riding actually mean?
To make the KX250X model, Kawasaki started with the KX250 motocross bike (high-performance everything: suspension, chassis, engine, etc.), and added some nice cross-country comforts like an electric start, an 18-inch rear wheel, and a larger sprocket in the rear.
This is a serious off-road dirt bike. Even though it may not "technically" be a motocross bike (anymore), it isn't a beginner's trail bike either. This thing is a race bike.
By comparison, the Honda CRF 250 RX and the Yamaha YZ 250 FX are in the same class… if that helps.
Who Should Buy?
Deciding whether to buy one of these Kawasaki dirt bikes comes down to a few things:
Your budget
The level of rider you are
What you're looking for in a dirt bike
The type of riding you do
With those in mind, it's important to know that this would not be a good dirt bike for beginners. This is a high-performance race bike. And while that seems like a cool thing at first, that means it costs more and requires more maintenance than your typical air-cooled beginner's bike.
Now, that doesn't mean that a Kawasaki KLX 230R (or a Honda CRF 230F, or a Yamaha TTR 230) is a better overall dirt bike. The KX250X may require more maintenance, cost more, and be a bit less forgiving to ride, but it's still an awesome dirt bike.
Although these bikes are built for competition and competition-level riding, they do lug around decently, but not great. They aren't "put-put" bikes so if tight trails and slow terrain is your jam, there are other, better-suited options out there.
Here are some different reasons to buy (and not to buy) one of these dirt bikes:
Reasons to consider buying one
You'd like a full-sized dirt bike for enduro racing or fast trail riding
You prefer trail and enduro riding over motocross tracks
Prefer a motocross bike characteristics and feel
You already know how to ride and have experience
Aggressive and fast riding is the plan
Reasons not to buy one
You want a good dirt bike to learn on
Tight, slow trails are your favorite (these are made to go fast)
You plan on converting it to a street-legal motorcycle (better options out there)
Plan to take these riding throughout CA without worry
You like 2 strokes
Kawasaki KX250X Specs
Here are all of the KX 250X specs taken from Kawasaki's website:
Engine Specifications
Chassis Specifications

Miscellaneous
| | |
| --- | --- |
| Colors | Green |
| Model ID | KX250X |
Here are the most important/usable specs for quick reference:
Manufacturer: Kawasaki
Model Name: KX250X, KX 250X, KX 250 X
Dirt Bike Type: Offroad, Enduro, Trail
Years Made: 2021-2023 (present)
Seat Height: 37.2 inches
Curb Weight: 240.2 (all fuel, fluids, etc.)
Top Speed: ~80 mph
Horsepower: ~40 HP
---
KX250X Engine & Transmission
Kawasaki is one of the better-known, well-established dirt bike companies today, and much of that is thanks to their engines.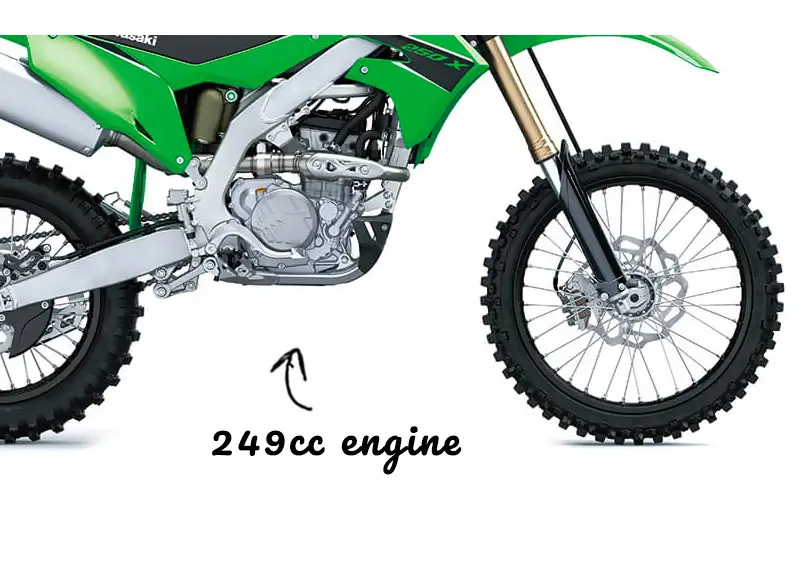 With the same high-performance motocross engine as the KX250, the 250X is no joke. This thing has power. But how that power translates to riding it is what really matters.
Regarding its power characteristics, this is a high-revving engine that likes the upper RPM range.
Horsepower
The Kawasaki KX 250X produces about 40 horsepower. Of course, the final horsepower will differ slightly from year to year, but they are all right around there.
Looking at the competition to compare, the Honda CRF250RX horsepower has 37 horsepower, the Yamaha YZ250FX horsepower comes in at 38 (37.9), and the KTM 250SXF has 40 horsepower (technically 39.8). With that, it's clear that the Kawasaki is right in there, and at the top of the list.
When comparing the horsepower of an entry-level dirt bike like the KLX230R's horsepower of 17 or the Honda CRF230F's 18 horsepower, it's clear that thee are much different dirt bikes.
Top Speed
The Kawasaki KX250FX can go about 85 mph.
Typically, that's plenty fast… and it is for the most part. The only times you're going to want the bike to go faster is when you're out on an open dirt or gravel road.
Also, for whatever reason, these aren't geared the best, and that affects top speed as well. Of course, the slope and terrain can play a small part in a dirt bike's top speed, but it won't make an extreme difference.
In the end, 85 MPH is fast on a dirt bike, but these could definitely have benefited from having a sixth gear.
Maintenance
Because this is still a competition race bike (basically a motocross bike), its high-performance engine, transmission, suspension, etc., are all going to need regular upkeep and checking.
As long as you can keep up with the KX250X maintenance schedule, these bikes should last you quite a while.
KX250X Maintenance Schedule
According to the owner's manual, the majority of the following items are to be inspected/serviced after every race, or after every 2.5 hours.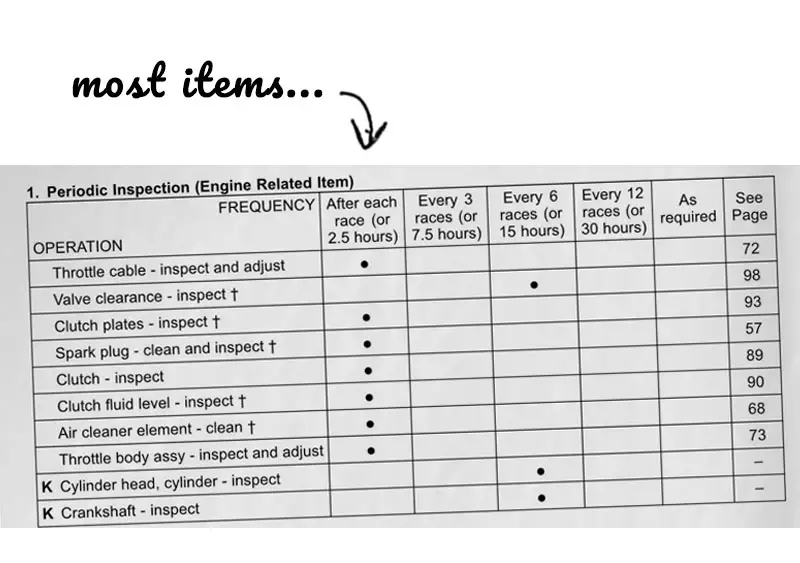 Aside from those items, there are a few that are to be looked at after every third race (7.5 hours), after every sixth race (15 hours), after every twelfth race (30 hours), and as required.
Again, most of these items require attention after every race and some less often. I've marked the "less-often" items on the list so that you can get a good idea of what will be required of you to keep the bike in "tip-top" shape.
Throttle cable
Valve clearance (every 15 hours)
Clutch plates
Spark plug
Clutch
Clutch fluid level
Air cleaner element
Throttle body assembly
Cylinder head, cylinder (every 15 hours)
Crankshaft (every 15 hours)
Exhaust system
Shift pedal
Engine sprocket
Coolant level
Breather hose
Water hoses and connections
Clutch hose, connections
Brake
Brake pad wear
Brake fluid level
Spke tightness and rim runout
Rear axle nut
Drive chain
Front fork
Nuts, bolts, fasteners (LOL, have fun!)
Fuel system (every 7.5 hours)
Fuel hose, connections
Brake hose, connections
Steering play
Steering stem bearing (every 15 hours)
Rear sprocket
General lubrication
Wheel bearing (every 7.5 hours)
Swingarm and uni-trak linkage pivots (every 7.5 hours)
Frame
Wheels/tires
rear shock absorber
Cable
Once the dirt bike's initial break-in is complete, much of your attention (as far as maintenance goes) will be spent "inspecting" the items on the list after every race or 2.5 hours of ride time. With all of this "timed" maintenance in mind, I do recommend that you install a ProTaper hour meter (or any other brand you like) to keep track of the time spent on the bike.
What motor oil does a Kawasaki KX250X use?
Being that it's essentially the same dirt bike as the MX model, the 250X models also take the same oil as well.
Engine oil change capacity:
0.79 US qt (0.75 L) – standard oil change (filter NOT removed)
0.85 US qt (0.80 L) – with oil filter removal
1 US qt (1.1 L) – after disassembly
---
Kawasaki KX250X Handling
This bike is not only known for its powerful engine, but it's also considered to be one of the better-handling dirt bikes from the factory.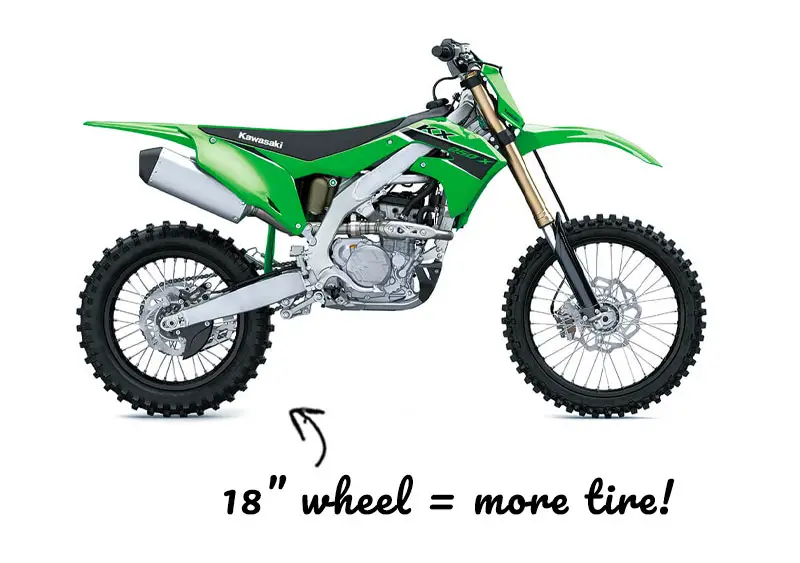 Not only do these have adjustable footpegs, but these 250cc Kawasaki's are light and nimble, making them fun to ride. Even though they have the same lightweight chassis as the MX bike, it does handle differently. These enduro versions get a smaller 18-inch rear wheel, giving them more rubber to soak up the terrain.
In addition to the lightweight feel of this dirt bike, the high-performance suspension is also dialed in. Again, Kawasaki took the MX bike's suspension and tuned it for cross-country racing and aggressive trail riding. Overall, it's a softer, nicer ride than the MX bike.
In the end, these Kawasaki dirt bikes handle great and are fun to ride.
Weight
With a full tank of gas and all other fluids topped off, the Kawasaki KX250X weighs 240.2 pounds. Its dry weight is 230.1 pounds.
NOTE: Dry weight means the fuel and some fluids are not filled. Conversely, the wet weight refers to the weight of the dirt bike fully filled with fuel and all fluids.
By comparison of their wet (or curb) weight, the CRF250RX weighs 238 pounds and the Yamaha YZ250FX weighs 245 pounds. Basically, they're all similar.
Does a Yamaha KX250X have a weight limit?
Negative. The Kawasaki doesn't provide a weight limit or list one on their website. However, this is obviously a "one-person" dirt bike, and if you're much bigger than the average Joe, there are some mods to make the bike ride better.
Having said that, this is a full-size dirt bike and is made for adults. Overall, most people don't need to worry about overloading this bike.
Seat Height
The Kawasaki KX250X seat height measures 37.2 inches.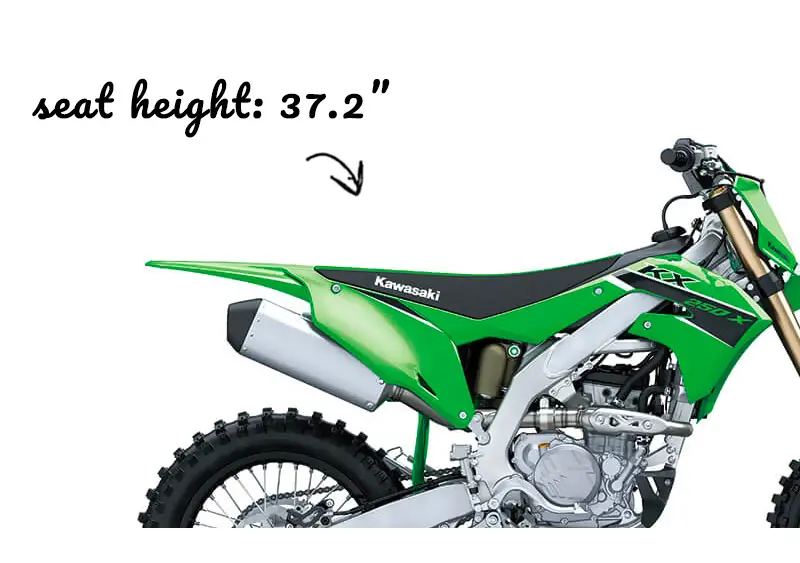 Generally, a 37-inch tall seat height is good for someone who is 5'10" tall. Of course, this will vary from person to person and you've got to sit on a bike to "feel" it.
The KX 250X seat height is comparable to its competition, but it is actually the shortest of the class. For instance, the YZ250FX has a seat height of 37.6 inches, the KTM 250SXF has a seat height of 37.7 inches, and the CRF250RX has a seat height of 38 inches.
Can you lower a KX250X?
Lowering the seat height of these dirt bikes is doable. Here are some free and cheap mods to lower a KX250FX dirt bike:
Set the sag and spring rates
Adjusting the suspension VIA setting the sag and spring rates is basically essential. Whether you install a lower kit and/or a short seat, it's still a good idea to double-check that the sag and spring rates are set properly for your riding style and weight. Once you've got the suspension adjusted to your liking, then you should move on to one (or two) of the next three options.

Shave the seat
Although it takes effort, shaving down the stock seat is a fairly common method for lowering a dirt bike's seat height. If you're like me, however, you may be hesitant to start hacking away a perfectly good seat. If that's similar to your line of thinking, check out the next option.

Buy a shorter seat
Good news, you don't have to hack at your stock seat! Instead, they make aftermarket seats for these dirt bikes. Buying a new KX250X short seat is what I would do if needed because that way I could save the stock seat for if I ever sold the bike. (tall people won't want to go buy a new 'normal' seat).

Buy a lowering kit
The last easy option for lowering the dirtbike is with a Kawasaki KX250X lowering kit. I have run across a couple of different brands, but I recommend the Devol lowering link. You can order these online or try a local shop or dealer (I doubt my local shop would have one). If you're planning to buy online, you can view pricing and read reviews of these on Amazon.
Suspension
Again, these 250cc Kawasaki dirt bikes are well-known for having great suspension.
The KX250X has adjustable front forks with 23-way compression damping and 20-way rebound damping. The front suspension, along with the rear suspension's 38-way rebound damping and adjustable preload gives you (the rider) an incredible ride.
Front Suspension
48mm inverted telescopic coil-spring fork with 23-way compression damping and 20-way rebound damping (12.4 inches travel)
Rear Suspension
Uni-Trak® with dual-range (2.25 turns high speed/21-way low-speed) compression damping, 38-way rebound damping, and adjustable preload (12.4 inches of travel)
---
Is the Kawasaki KX250X a Good Dirt Bike?
Yes, the KX 250X is a good dirt bike. I've mentioned this before, but again, it is a good dirt bike… but not a good dirt bike for a true beginner.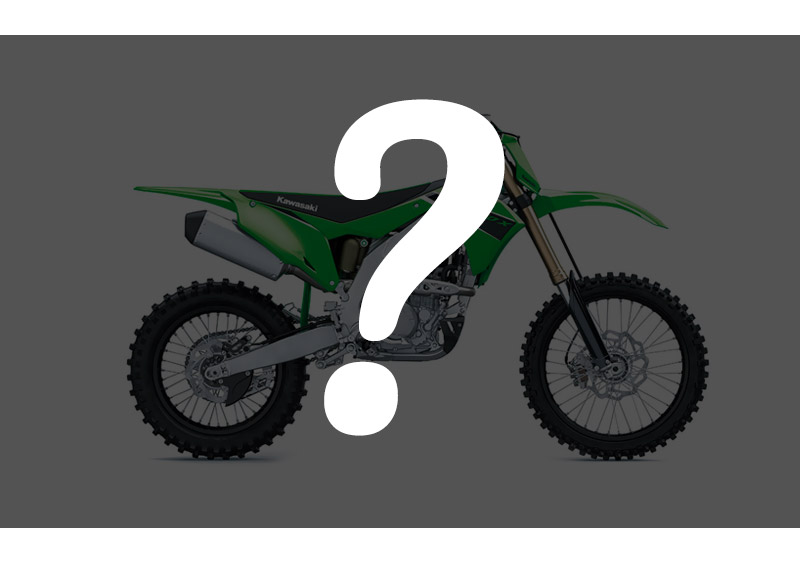 You've got to remember that these are motocross bikes that have been more tuned for enduro racing. With that engineering and tuning comes certain characteristics that some consider advantageous, while others don't. In the end, it really depends on your priorities and the kind of dirt bike that you're after.
For example, if you are more interested in slow, tight, and technical trails, this is not the bike that I would recommend. Can you get by on these types of trails? Absolutely, but if that's the majority of your riding, you might be happier with something else.
Also, if you are new to riding and are just getting into it, it would be easier to learn on a different bike.
On the other hand, if you're coming from a dirt bike riding background where you've spent some time riding an older bike like a Honda XR 250 R, a KLX 230 R, a Honda CRF 230 F, or a Yamaha TTR 230, and are ready for the next level, this is a good option.
These are serious dirtbikes that are made to rip. They soak up whoops, roots, and rocks better than most dirt bikes in their class, and they allow you to feel (and be) in control while doing it.
If this is the TYPE of dirt bike that you're after, here are the main pros and cons:
Positive Reviews
Great handling
High-performance, adjustable suspension
Awesome motor
Electric start
Fuel-injected
Fun high-revving engine
Light and narrow chassis
Negative Reviews
Not cheap
Small gas tank for an enduro
I'd personally like it to have a headlight
Can be expensive to rebuild (4-stroke race bike)
Not good for slow trail riding
Race-bike maintenance required
Don't last as long as less-performance dirtbikes do
Buyers Guide (Best Year, Pricing, etc.)
After reviewing all of the specs, characteristics, positives, and negatives, you just might be ready to buy one. Let's say you do…
Here are a few things to consider when buying a dirt bike:
Where to buy
Who to buy from
The best year to buy
What they are worth/cost
Where to Buy?
If you're planning to buy new, we obviously don't need to get into too many details. All you've got to do is head over to your local Kawasaki dealer and pay them what they want. Done.
But, what if you'd like to buy used? Finding (and buying) a used KX 250X isn't complicated, but it just might prove to be difficult. Why do I say that? Because they're so new that they're hard to find used.
Best Year
Since these dirtbikes were first released in 2021, there hasn't been much time for significant changes, modifications, etc. Naturally, the newest years are often the "best year to buy" but not always. In this case, however, the newer the better (so far).
Kawasaki is consistent with making updates to their MX bikes. With their strong line-up of winning bikes and riders (Ricky Carmichael is the GOAT), Kawasaki is, without a doubt, dedicated to keeping their dirtbikes on the podium. So, you can expect these dirt bikes to get plenty of updates passed on from the MX bike.
How much does a Kawasaki KX250X cost?
Here's the price of one of these dirt bikes according to Kawasaki's website:
BASE MSRP: $8,499
Destination Charge: $425
Freight Surcharge: $300
So, you can expect to pay around $9,400 for a 2023 Kawasaki KX250X after the dealer adds the miscellaneous other prices to the MSRP.
How much is a used Kawasaki KX250X worth?
If you really are considering a used KX 250X and you aren't sure what they are worth, here's what I (and probably you) would do: Track down as many different listings as I could.
Now, this is a great method… normally. In this situation, however, we aren't going to find too many different bikes for sale.
For example, I just did a quick search on Facebook Marketplace to see how many used KX250X dirt bikes I could find. There was ONE for sale on FB Marketplace that was a little over 250 miles away from me. (not an ideal distance to look at a bike!)
Here's the ad:
2023 Kawasaki KX250X – $7,100
"2023 Kx250x Only about 7 hours, and barely rode about 10 times on trails. Too much power for my dad, serious buyers only $7100 obo"
As you may suspect, the bike looked brand new.
Searching Craigslist resulted in a nearly identical outcome to Facebook… ONE dirt bike for sale, also too far away. Here's the ad:
2022 KX250X – $8,000
"New Kawasaki KX250x, less than 10 hours ride time. This is Kawasaki's version of a cross-country bike. Literally the same as the standard KX, these just come with an 18″ rear wheel and a kickstand. Same bang for the buck as a standard KX. 
Tires still have whiskers and are hardly worn. 
Due to some life changes, this bike has barely been ridden. It's the real deal. 
Zero damage to the frame, plastics anything.  
Push button ignition. 
All-around custom suspension tuned by TBT for rider weight at 165 lbs.
Pro Circuit aftermarket exhaust.
Radiator guards.
Skid plate.
D'cor seat.
Has had first oil and air filter change. 
Garage kept, showroom condition."
Between the two, it's obvious that the 2023 is the better deal. For the condition that it's in and the fact that it's around $1,500 less than new, it's not a bad price at all.
Is the Kelley Blue Book price accurate?
When you look up the Kawasaki KX250X value on JD Power, it looks straightforward. But with this being such a new model, you're not going to get too much value from doing so.
Here's a screenshot that I took of the price that JD Power values this used 250 at:
As we can see, it's the same price as a new one. Not much help.
For this particular dirt bike, it doesn't seem like the price is accurate. However, if there was more than one KX250X for sale, it would be much easier to determine. For now, it looks like it's going to be much easier to buy new. But if you do find a good deal on a used bike (like the $7,000 KX250X in California), you'd better be ready to jump on it.