Yamaha YZ250FX Review (Horsepower, Weight, Top Speed, etc.) – Worth Buying?
BraapAcademy.com earns a small commission from qualifying purchases.
This does NOT cost you extra.
Are you thinking about getting a Yamaha YZ250FX dirt bike, or do you already have one and you'd like to learn more about it? I've put together this full review of the motorcycle to cover all of the most important specs like the dirt bike's top speed, weight, height, horsepower, and more.
Overall, this 250 Yamaha is an awesome bike, but that doesn't mean that it's awesome for every rider and every type of riding.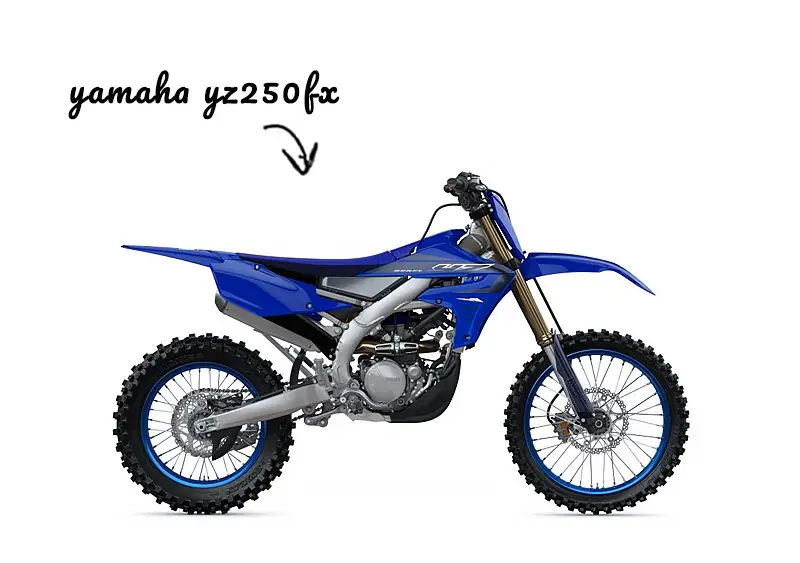 Since there can't be one perfect dirt bike that can do everything well, it's good to know the little quirks and specifics that come with owning and riding one of these YZ250FX Yamaha dirt bikes.
Therefore, we'll take a look at the type of riding that this dirt bike is designed for, as well as which type of rider would do best on this bike. We'll also take a look at how much maintenance it needs, how much they cost, and more.
---
What is a Yamaha YZ250FX?
The Yamaha YX250FX is a 250cc, DOHC four-stroke dirt bike.
A Yamaha YZ250FX is essentially a YZ250F motocross bike that has been tuned and set up for enduro and trail riding.
What does "tuned for enduro and trail riding" really mean
Start with a full-blown motocross bike (high-performance everything: suspension, chassis, handling, engine, and even the durable graphics, LOL), and add some nice cross-country "creature" comforts like the following:
Electric start
2.16 gallon fuel tank
Smaller, 18 inch rear wheel
Revised intake duct
Intake port
Exhaust Muffler
Balancer weight position (better power throughout RMP range)
All-in-all, this is one serious off-road Yamaha trail bike. Even though it may not "technically" be a motocross bike (anymore), it still isn't a good beginner trail bike.
Instead, it falls somewhere in the middle, but still a race bike. As a comparison, it's a competitor with the Honda CRF250RX and the Kawaski KX250X, if that helps.
Who Should Buy?
Whether you should buy one of these models or not, depends largely on your budget, the level of rider you are, and the type of riding you plan on doing.
Ultimately, this is not an ideal beginner dirt bike. Can a beginner ride it and still have fun on it? Yes, but this is a race bike and there are other, less expensive, AND better-suited options for beginners.
Not only do these cost more than some of the entry-level dirt bikes like a Honda CRF230F, a Kawasaki KLX230R, or a Yamaha TT-R230 dirt bikes, but they require more maintenance and are less forgiving to ride.
If you're planning to do the majority of your riding in enduro races, this is a great option. However, it's definitely a "race" bike so if you're looking for a bike that's a bit more tamed, you may want to check out the slightly (but not too much) more tamed Yamaha WR250F. (It's basically the same bike, just softer and quieter.)
Although it's a race bike, this 250cc does have great low-end power… you can actually lug these around! But still, this is NO put-put dirt bike.
Here are some different reasons to buy (and not to buy) one of these dirt bikes:
Reasons to consider buying one
You'd like a full-sized dirt bike for enduro racing or trail riding
You prefer trail and enduro riding over motocross tracks
Prefer a motocross bike characteristics and feel
You already know how to ride and have experience
Aggressive and fast riding is the plan
Reasons not to buy one
You want a good dirt bike to learn on
Tight, slow trails are your favorite (these are made to go fast)
You plan on converting it to a street-legal motorcycle (better options out there)
Plan to take these riding throughout CA without worry
You like 2 strokes
Yamaha YZ250FX Specs
Here are all of the YZ 250FX specs taken from the Yamaha website:
Engine Specifications
Chassis Specifications

Miscellaneous
| | |
| --- | --- |
| Colors | Blue |
| Model ID | YZ250FX |
Here's a recap of the most important specs:
Manufacturer: Yamaha
Model Name: YZ250FX, YZ 250FX, YZ 250 FX
Dirt Bike Type: Offroad, Enduro, Trail
Years Made: 2015-2023 (present)
Seat Height: 37.6 inches
Curb Weight: 245 (all fuel, fluids, etc.)
Top Speed: ~90 mph
Horsepower: ~38 HP
---
YZ250FX Engine & Transmission
Yamaha is one of the best dirt bike brands today, and the YZ250FX has only been further proof of that.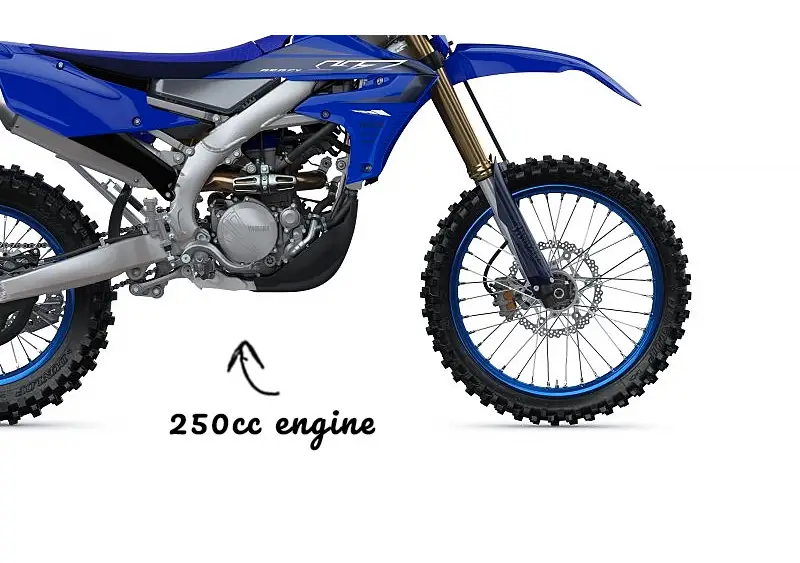 These are the same 250cc engines that are in the YZ250F motocrossers (which happen to be one of the best engines in its class), but they are tuned slightly differently.
The FX model falls in between a pure YZ motocross bike and a WR, producing a sharp, low-end power that carries on up into the higher speeds where it shines.
Horsepower
The Yamaha YZ250FX produces 38 (technically 37.9) horsepower.
Of course, the final horsepower will differ slightly from year to year, but they are all right around the mid-to-upper thirties.
Looking at the competition to compare, the Honda CRF250RX has 37 horsepower, the KX250X has 40 horsepower, and the KTM 250SXF has 40 horsepower (technically 39.8). Therefore, Yamaha's 38 HP is a respectable number.
If you compare those numbers to a more entry-level dirt bike like the TTR230's 15 horsepower, or the Honda CRF230F's 18 horsepower, you can see that these race bikes have more than double the horsepower.
Top Speed
Are you wonder just how fast a YZ250FX can go? Of course you are. The top speed for a Yamaha YZ250FX ranges from about 85-90 mph.
Ultimately, the slope, terrain, and rider all play a small part in what the machine's final top speed is, but it won't make too much of a difference.
Items that will impact the dirt bike's top speed more significantly are things like big bore kits, taller gearing, and other after market performance mods.
Either way, the competition's top speed is about the same, not that it matters too much. Very rarely are you going to hit top speed on a dirt bike… at least not while you're out riding trails or on an enduro track.
Let's get real here… 85+ miles per hour on a dirt bike is FAST. It's very rare that you'll ever want to go that fast… unless of course, you're going to throw your dirt bike sand tire on and head to the dunes.
Maintenance
The YZ250FX Yamaha requires quite a lot of frequent maintenance. Being a competition race bike, these high-performance machines need constant attention.
However, as long as you keep up with their maintenance, these bikes should run strong for quite a while.
YZ250FX Maintenance Schedule
Below is the list of maintenance items that I grabbed from a 2023 Yamaha YZ250FX owner's manual.
The manual calls for the inspection or maintenance of items at different times. In order to keep up with the recommendations, you can expect to address these items after every race (2.5 hours), after every third race (7.5 hours), after every fifth race (12.5 hours), or as required.
The majority of these require attention after every 12.5 hours or "as required."
Valve
Valve spring
Valve filter
Camshaft
Timing chain
Timing chain tensioner
Camshaft sprocket
Piston
Piston ring
Piston pin
Cylinder head
Cylinder
Engine oil (check after every race)
Oil filter element
Oil strainer
Clutch (check after every race)
Transmission
Shift fork, shift cam, guide bar
Nut (generator rotor)
Exhaust pipe, silencer, protector (check after every race)
Crankshaft
Throttle body
Air filter (check after every race)
Breather system
Spark plug (check after every race)
Cooling system (check after every race)
Engine guard
Frame
Fuel tank, fuel pump
Fuel hose
Front fork legs (check after every race)
Protector guide
Rear shock absorber (check after every race)
Brakes (check after every race)
Swingarm (check after every race)
Relay arm, connecting rod (check after every race)
Sidestand (kickstand)
Steering head (check after every race)
Tire, wheels (check after every race)
Drive chain (check after every race)
Drive chain guide (check after every race)
Drive chain guide and drive chain support
Cables (check after every race)
Levers
Brake pedal, footrest (check after every race)
Outside nuts and bolts (check after every race)
Battery
After the initial break-in, most of the items on the list require attention (usually an inspection) after every 12.5 hours, but some are more frequent. If you aren't a fan of doing maintenance on your dirt bike, you'll probably want to consider a different bike.
What motor oil does a Yamaha YZ250FX use?
The FX models take the same oil as the majority of their competition dirt bikes: Yamalube 10W-40, 10W-50, 15W-40, 20W-40, or 20W-50
Engine oil change capacity:
0.77 US qt (0.73 L) – standard oil change
0.79 US qt (0.75 L) – with oil filter removal
1 US qt (.95 L) – after disassembly
---
Yamaha YZ250FX Handling
The YZ250FX is one of the best-handling dirt bikes in its class.
Equipped with top-of-the-line suspension parts, the FX model has a reputation for handling like it's on rails.
Being a motocross shoot-off, these 250FX models are a bit longer than most beginner trail bikes out there. This makes for a more stable and smooth ride at faster speeds, however, that also means that they don't handle as well at slower speeds… like on tight trails.
All in all, these Yamaha dirt bikes handle great.
Weight
The Yamaha YZ250FX weighs 245 pounds.
Compared to its competition's weight (the CRF250RX weighs 238 lbs, and the Kawasaki KX250X weighs 240 lbs), Yamaha is right in there.
Does a Yamaha WR250F have a weight limit?
No, Yamaha does provide a weight limit, at least not in the owner's manual or on their website. That said, there is a 1-person capacity listed.
Does that mean the bike can handle any, and all weight? Not necessarily.
These are designed for dirt bike "jockeys" so if you're pushing the scale over ~240 pounds, you may want to consider upgrading or stiffening up some of the suspension.
Overall, you probably don't need to worry about overloading this bike as far as general use goes.
Seat Height
The Yamaha YZ250FX seat height measures 37.6 inches.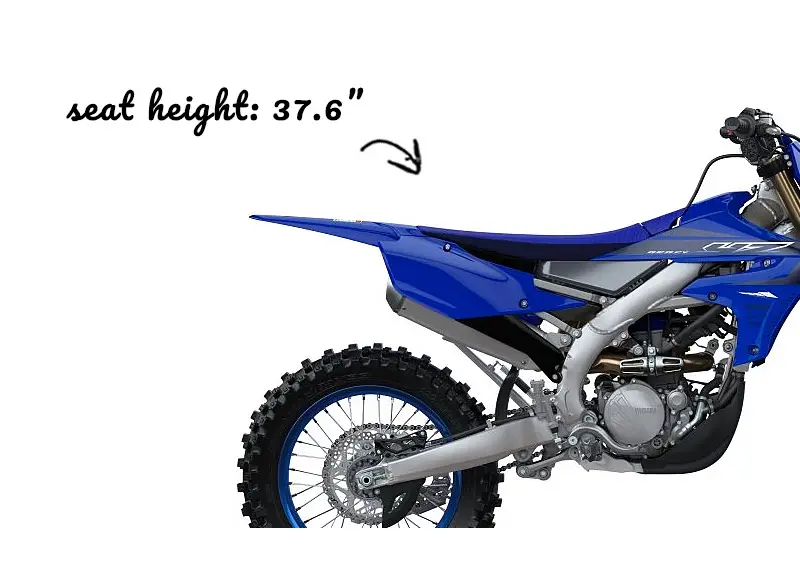 Typically, a dirt bike with a seat height of 37 inches is good for someone who is approximately 5'10" tall. However, you can't just go off of a person's height, so it's best to sit on a bike to get an accurate feel for how tall it is.
In the end, this is a full-size dirt bike and it's fairly tall.
When compared to other similar dirt bikes, the YZ250FX is right in there. For instance, the CRF250RX has a seat height of 38 inches, the KX250X has a seat height of 37.2 inches, and the KTM 250SXF has a seat height of 37.7 inches.
Can you lower a YZ250FX?
For those who want a full-size dirt bike but find themselves a little too short, there are ways to lower many of them. Here are a few different ways to lower a YZ250FX dirt bike:
Properly set your sag and spring rates
Shave the seat
Buy a short seat
Install a lowering kit
Before you go out and start spending money on various seats or lowering kits, it's a good idea to double-check that the sag and spring rates are properly set. After verifying that they're set properly, now can move on to the next two options.
Option #2: Shaving your seat is a fairly common method used to lower a dirt bike's seat height without compromising its stance. However, it isn't as easy as it sounds for everyone, so if you'd prefer not to deal with it, there are other options.
Option #3: Instead of butchering your stock seat, you could purchase an aftermarket seat instead. This is a good idea because this will allow you to save the stock seat and leave it alone.
If you're interested in buying a short seat, I recommend the one from Yamaha. Click here to view pricing and read reviews on Amazon
Option #4: The fourth option for lowering this bike is with a Yamaha YZ250FX lowering kit. There are a few different brands out there, but I recommend the YamaLink. You can order these online or possibly through a local shop. Click here to view pricing and read reviews on Amazon.
Suspension
These 250 Yamaha enduro racers are well-known for having great suspension.
The YZ250FX has adjustable front forks that have speed-sensitive damping which makes for a balanced ride between handling and bump absorption. Overall, these spring-type forks are extremely functional and allow for tuning for many different riding conditions and styles, but the bike is not a put-put bike.
Basically, everything about this bike wants to go fast. These handle and perform more optimally at higher speeds than at lower speeds.
Front suspension: KYB® spring-type fork with speed sensitive damping; fully adjustable (12.2 inches travel)
Rear suspension: KYB® single shock; fully adjustable (12.5 inches of travel)
---
Is the Yamaha YZ250F a Good Dirt Bike?
The Yamaha YZ250FX is an awesome dirt bike made by a great dirt bike company. Having said that, it isn't a great dirt bike for every rider.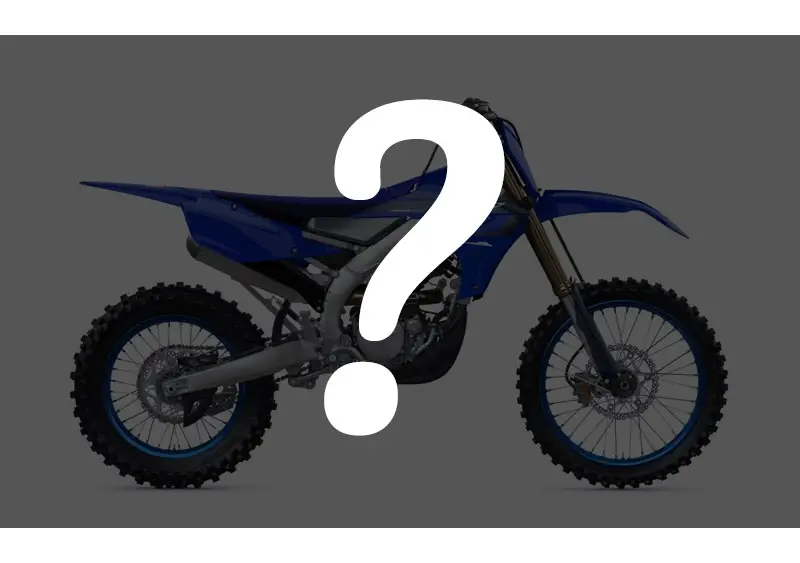 Being that these are motocross dirt bikes tuned for enduro, they naturally have certain characteristics – which can be considered good or bad, depending on your priorities.
For example, if prefer slow, technical, and tight trails, this would not be the ideal dirt bike for you. Could it get the job done? Absolutely.
Additionally, if you're looking for a dirt bike to learn how to ride on this would be a poor choice.
Alternatively, this is a great dirt bike for ripping around in the woods at faster speeds. These soak up the terrain better than most dirt bikes out there and they inspire true confidence for many riders.
Assuming that you're considering one of these, here are a few of the pros and cons:
Positive Reviews
Nice, adjustable suspension
Quality Yamaha dirt bike
Electric start
Fuel-injected
Excellent low to mid power (pulls throughout RPM range)
Handles on rails (feels like it)
Negative Reviews
Not cheap
Expensive to rebuild (4-stroke race bike)
Not as stable at low speeds
Buyers Guide (Best Year, Pricing, etc.)
Now that we've gone through all of the specs, positives, and negatives, you may be interested in buying one. After all, they are super cool dirt bikes.
Here are a few more things to consider:
Where to buy
Who to buy from
Best year
Value
Where to Buy?
Obviously, we don't need to get into too many details if you're planning on buying a new 2023 Yamaha YZ250FX. Just head over to your local Yamaha dealer and pay them what they want.
Done.
Where to buy used? Finding (and buying) a used YZ 250 FX isn't quite as straightforward as buying a new one, but it still isn't difficult. All you have to do is head over to Facebook Marketplace, Craigslist, Cycle Trader, or any other website that you prefer.
Basically, as long as you can see it in person, sit on it, start it up, inspect it and hopefully give it a short test ride, that's what you should be after. There's no better way to get a feel for a dirt bike than by checking it out in person.
Best Year
Since the first year of the YZ250FX was in 2015, there have been a handful of changes from year to year, but not any complete overhauls.
Yamaha seems to release a few minor updates like graphics, etc., each year, but they haven't been fixing what isn't broken… which is the majority of the bike remains the same.
If you are planning to buy a used one, you really can't go wrong buying one year over another. But, does that mean that the newest year isn't worth getting? Not necessarily.
Generally, newer is better and I would say that's the case with this dirt bike as well. In fact, there were a decent amount of changes made to the 2022 Yamaha YZ250FX.
Here's the list of updates:
New intake port
A different exhaust camshaft profile
Revised timing chain and tensioner
Improved clutch basket and collar
Updated water temperature sensor
High-volume muffler
Newly shaped air boot
New ECU setting
Front axle thickness
Footpeg material and shape
Updated Frame and motor mounts
Revised front and rear braking
Updated front fork settings
While that list isn't short or insignificant by any means, you can see that getting a 2021 wouldn't be the end of the world.
In the end, if you can get a 2022, or newer, that would be ideal.
How much does a Yamaha YZ250FX cost?
Here's what they cost new:
BASE MSRP: $8,899
Destination Charge: $450
Freight Surcharge: $275
Ultimately, you should expect to pay around $9,650 for a 2023 Yamaha YZ250FX after the dealer adds the price of the destination and freight charges.
How much is a used Yamaha YZ250FX worth?
If you're considering a used YZ 250FX and you aren't sure what they are worth, here's what I (and probably you) would do: Track down as many different listings as I could.
As long as you can find a few different used bikes for sale, you can get a well-rounded idea of what they're worth in your area.
We can do this by starting off at Kelley Blue Book to see what they list it for. According to KBB, a used 2020 Yamaha YZ250FX is worth $8,120.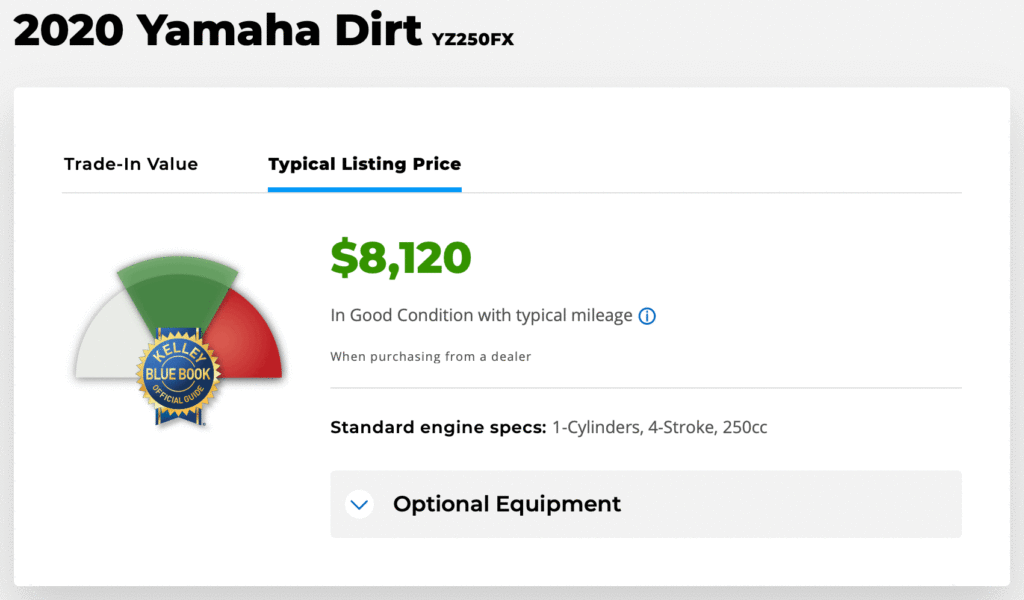 The "Typical Listing Price" is what most people will want for their dirt bike. In case you're curious, the "Trade-In Value" is $5,610.
With that in mind, we can also check to see how JD Power values this used 250: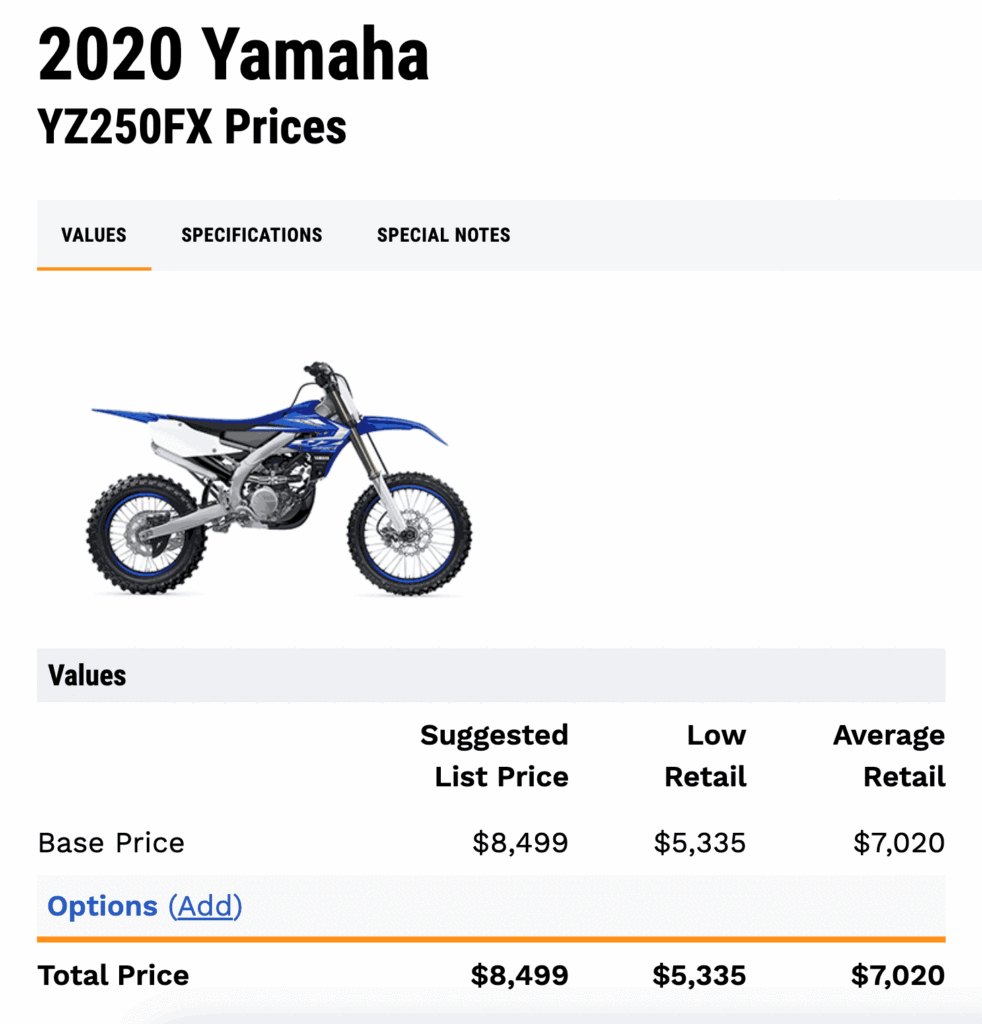 According to JD Power, a 2020 Yamaha YZ 250FX is worth $8,499.
More often than not, the JD Power and Kelley Blue Book prices will be very similar. However, not always. Obviously, this is one of those cases where the prices are close.
Is the Kelley Blue Book price accurate?
Assuming the Kelley Blue Book and JD Power values are accurate, we can expect to pay around $8,300 for a used 2020 YZ250FX.
Let's see if that's really what these dirt bikes cost. (spoiler alert: it isn't!)
I searched Facebook Marketplace to see how many used YZ250FX dirt bikes I could find. Sadly, there weren't any for sale within 100 miles of me. After expanding my search radius beyond what I would prefer, I was able to find a few for sale.
Here are the models for sale:
2020 Yamaha YZ250FX – $6,000 (good condition, some nice aftermarket parts)
2019 Yamaha YZ250FX – $6,200 (looks NEW, over 100 hours on the bike)
2021 Yamaha YZ250FX – $7,000 (looks great, low-hour bike)
2017 Yamaha YZ250FX – $6,100 (in great shape, 48 hours)
Out of the four that I found on Facebook, the 2020 YZ250FX was the best deal, in my opinion.
Here's the ad:
2020 Yamaha YZ250FX – $6,000
"Trail an[d] track bike. Bluetooth sync with app to tune bike, etc. Skid plate, Work connections radiator guards, Kickstand, 6 speed transmission, Fuel light an[d] check engine light, Arc breakaway levers, Amr graphics kit. Have a spark arrestor kit for the bike. Red stiker bike…"
After looking for these dirt bikes on FB, it seems like the KBB & JD Power prices are a little high. So, I decided to check Craigslist as well.
Unfortunately, searching Craigslist was quite similar to searching Facebook. I didn't find any of these dirt bikes for sale in my area. I was able to find a 2015 and a 2016 YZ250FX for sale, both for $5,500.
After looking at everything online, the KBB and JD Power values don't seem to be accurate for this dirt bike.
Not only was it difficult to find a used 250FX, but when I did they were actually cheaper than the estimated value (which seems backward according to supply VS. demand).
After all of that, you can expect to pay around $6,500 for a used Yamaha YZ250FX, if you can find one.